Discount Broadway Tickets For Oklahoma!
Regular Price Tickets
ORCH $129.50
MEZZ $49.50
Discount Code Tickets
$109.50
Blackout dates: 4/7/19 and Saturday eves starting 4/13/19
Expires 09/01/2019
Lottery Tickets
Rush Tickets
Secondary Market
$112.00
Oklahoma! is 2.5 Hours long, including an intermission of 15 Minutes

8 Shows per week

Previews Begin: March 19, 2019

Opens April 7, 2019

Show Closes: September 1, 2019
A musical revival based on the 1943 play Green Grow Lilacs. This classic tells the story of life in Oklahoma before statehood in 1907.
Oklahoma!

on Broadway Background
A seventy-five year old musical by Richard Rodgers and Oscar Hammerstein II, Oklahoma is the tale of an assured cowboy who competes to take a young farm woman to a dance. Although the musical does seem to be a romance on the surface the deeper story line is that of how a community outcasts an outsider and the violence that shapes the nation.
Although the show is set in old western town, much of the sentiment from the show can provide a degree of escapism for the modern world in which we live. It is true that the show can be seen as a confident cowboy competing with a farmhand to take young farm woman to a local dance, but many people read into that narrative a bigger story about the struggle between Russia and the USA during the 1970's cold war. This revival brings some new songs and whole new format to the show that modernizes it for current audiences, something that older shows often fear to do. Its message still remains upbeat and gets the audience toe-tapping and hee-hawing after the show is long over.
Is
Oklahoma!

Good for Kids?
This show is appropriate for children 12 and up. The show contains mature content. Children under the age of 4 are not permitted in the theatre.
Circle In The Square Theatre
1633 Broadway
New York, NY 10019
Entrance:
Broadway, between 50th and 51st Streets
Theatre Information
Oklahoma! Marquee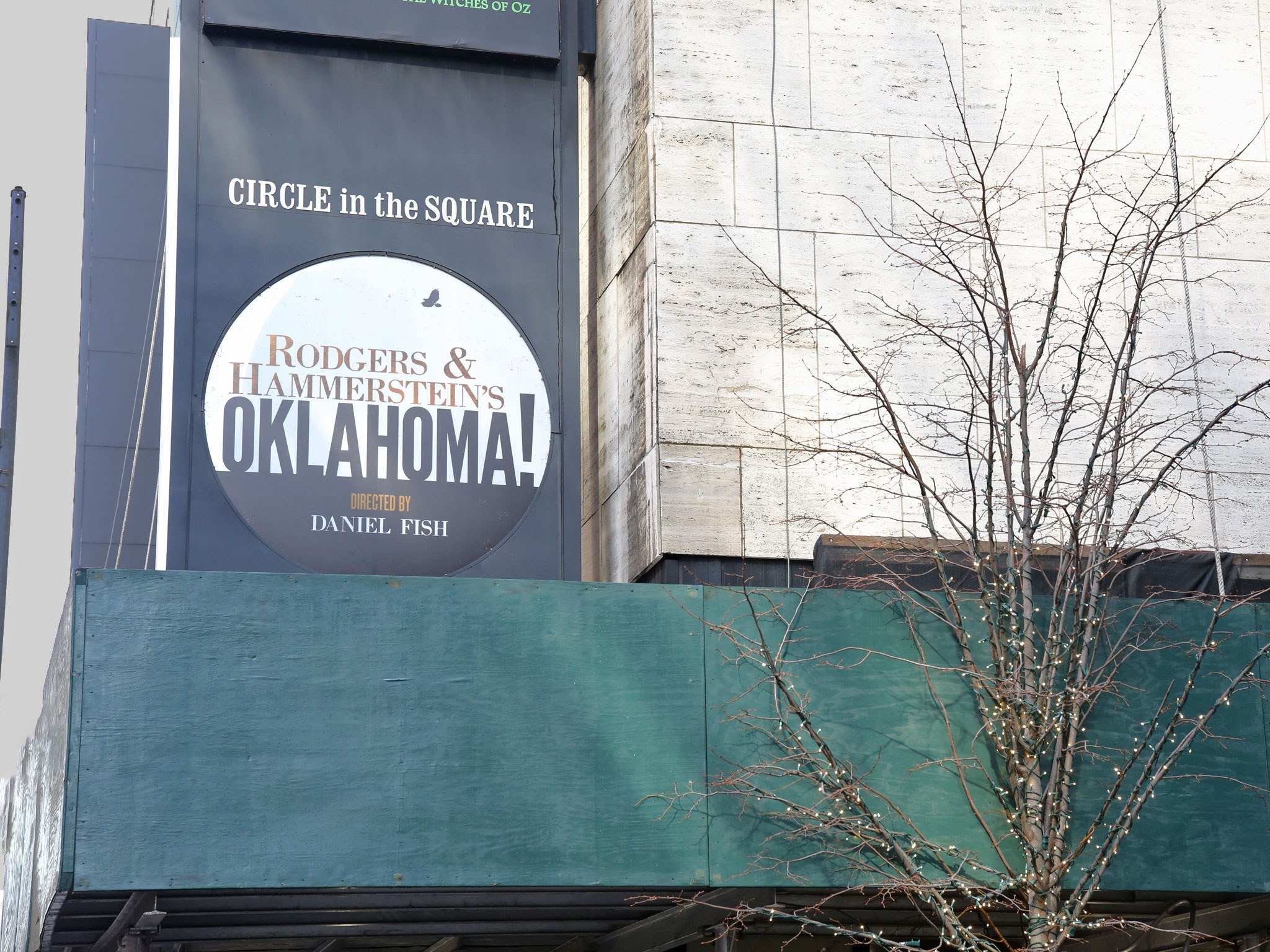 General Manager

Richards Climan Inc
Casting Director

William Cantler
Advertising Representative

RPM
Choreographer

John Heginbotham