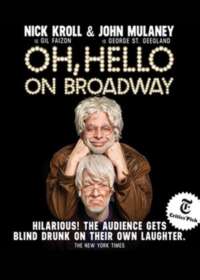 Oh, Hello on Broadway
Broadway Show Tickets: Show Closed No Longer Available
Oh, Hello on Broadway on Broadway: Show Is Now Closed
Oh, Hello on Broadway

Summary
Show Status: Closed

Genre: Play

Oh, Hello on Broadway is 1.5 Hours long, including an intermission of None

8 Shows per week

Previews Began: September 23, 2016

Show Opened: October 10, 2016

Show Closed: January 22, 2017
Oh, Hello on Broadway is a comedy special performed by the duo of Nick Kroll and John Mulaney. For about a decade, this comedy team has been performing a rendition of Oh, Hello, in which Kroll and Mulaney play two 70-something year-old New Yorkers who kibitz and love tuna fish. The characters played by Kroll and Mulaney are respectively named Gil Faizon and George St. Geegland.
Oh, Hello on Broadway

on Broadway Background
These comedians are both making their Broadway debuts with this show, but they are very well known in television and comedy circles. Nick Kroll is best known for "Kroll Show" on Comedy Central, as well as for playing Rodney Ruxin on The League on FXX. John Mulaney served on the writing team of NBC's Saturday Night Live for six seasons, starting in 2008, and also appeared on the show in such segments as "Weekend Update." In addition, he created and starred in a semi-autobiographical show on Fox called Mulaney, which aired in the fall to winter of 2014-2015. As if their star power wasn't enough, the show is directed by a Broadway darling, Alex Timbers, whose Broadway directorial credits include Bloody Bloody Andrew Jackson, Rocky, Peter and the Starcatcher, and the upcoming stage adaptation of Frozen. After all, in reviewing their Off-Broadway production in 2015, Ben Brantley of the New York Times remarked that the duo, like their tuna, is best enjoyed in large doses.
What's
Oh, Hello on Broadway

Like?
Oh, Hello has been delighting audiences all over the nation for years. More recently, the show had a New York production at the 92nd St Y in 2015, followed by a show in Nashville at the Ryman Auditorium. These successful outings were followed by a sold-out run at the Off-Broadway theatre, The Cherry Lane. After that, the two took to the road and went on national tour with Oh, Hello. The Broadway production may be somewhat evolved from these earlier incarnations, but there are promises that many of the favorite segments will remain. For instance, one bit called "Too Much Tuna" involves the audience coming onstage to receive enormous quantities of tuna fish. The hilarity of being given tuna fish is only overcome by the ridiculous characters embodied by these 30-somethings playing septuagenarians. In taking over the Lyceum Theatre, these brilliant comedians are able to reach a larger audience.
Is
Oh, Hello on Broadway

Good for Kids?
The show is most appropriate for children over the age of 10. Children under the age of 4 will not be permitted in the theatre.
Lyceum Theatre
149 West 45th Street
New York, NY 10019
Entrance:
45th Street between 6th and 7th avenue
Theatre Information
Oh, Hello on Broadway Marquee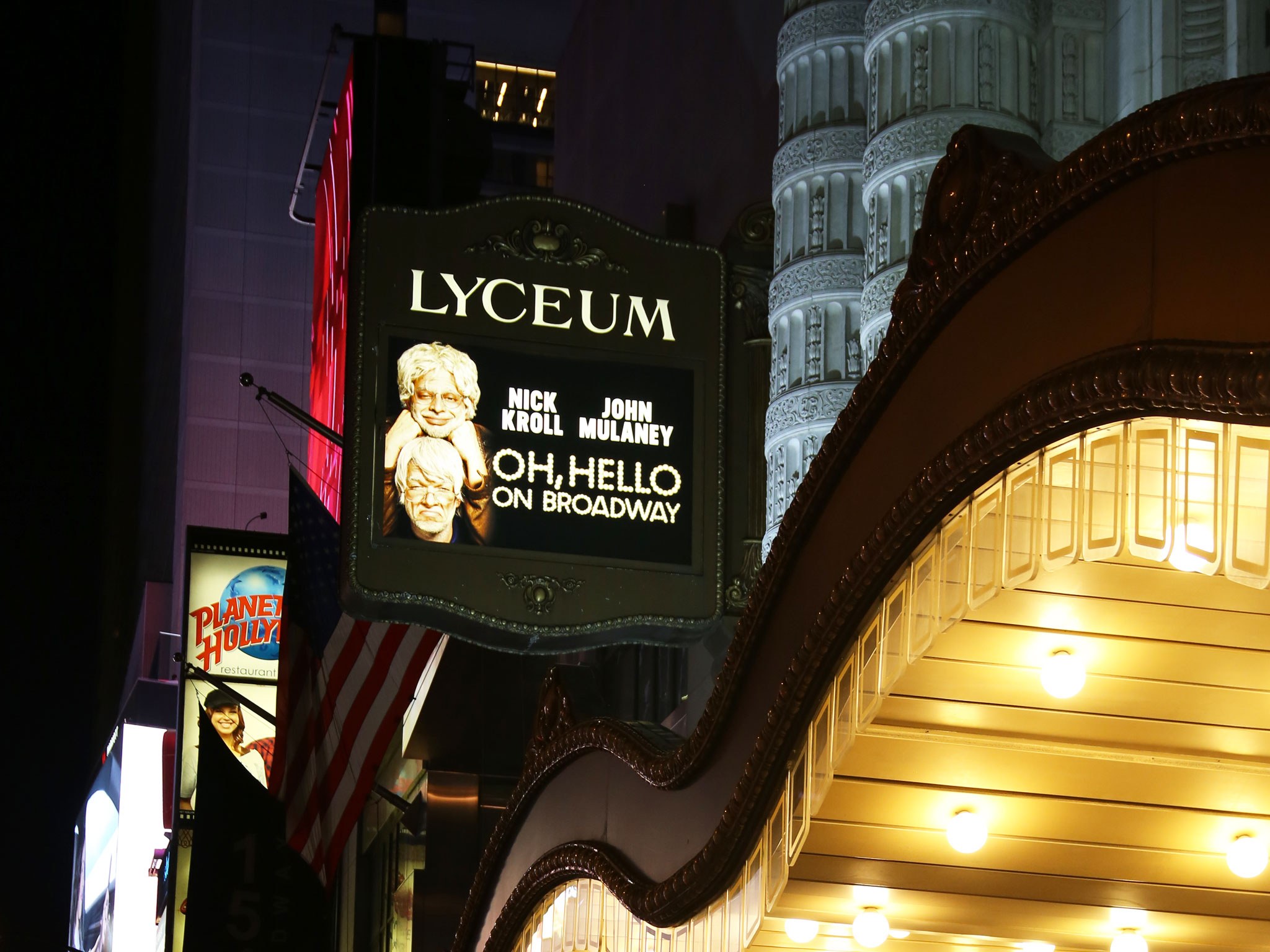 George St. Geegland

John Mulaney
Book

Nick Kroll + John Mulaney
Press Representative

Boneau Bryan-Brown
General Manager

321 Theatrical Management
Production Stage Manager

Joshua Kohler
Advertising Representative

Serino Coyne