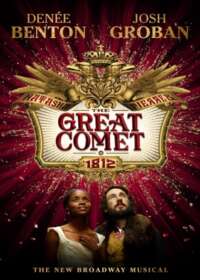 Natasha, Pierre and The Great Comet of 1812
Broadway Show Tickets: Show Closed No Longer Available
Natasha, Pierre and The Great Comet of 1812 on Broadway: Show Is Now Closed
Natasha, Pierre and The Great Comet of 1812

Summary
Show Status: Closed

Genre: Musical

Natasha, Pierre and The Great Comet of 1812 is 2.5 Hours long, including an intermission of 15 Minutes

8 Shows per week

Previews Began: October 18, 2016

Show Opened: November 14, 2016

Show Closed: September 3, 2017
Natasha, Pierre and the Great Comet of 1812 is an inventive new musical that made the rare but ravishing journey from a small Off-Broadway to Broadway. This exciting new musical is based off a specific passage of the epic novel "War and Peace" by Leo Tolstoy. It is very experimental in nature, concerning romantic entanglements in Moscow in the 19th century, but portrayed through what has been billed as an edgy electro-opera.
Natasha, Pierre and The Great Comet of 1812

on Broadway Background
Originally premiering in 2012 at Ars Nova, the show was then extended to a custom pop-up venue performed in a tent along with dinner being served. Originally in the chic meatpacking district, the tent was then moved to a vacant lot in the Broadway district. The show has since been reconceived for the proscenium format, and premiered in this new rendition at the innovative American Repertory Theatre in Cambridge, Massachusetts. It is this version that arrives on Broadway. The show is directed by Rachel Chavkin, who has helmed the show since its original incarnation, and who makes her Broadway directorial debut with the show. Stepping into the lead role of Pierre is the extremely well known singer-songwriter Josh Groban, whose hit songs include "You Raise Me Up," "You Are Loved (Don't Give Up)," "Now or Never," "Hidden Away," and "Você Existe Em Mim." Full casting for Natasha,Pierre and The Great Comet of 1812 has yet to be announced.
What's
Natasha, Pierre and The Great Comet of 1812

Like?
Upon premiering Off-Broadway, The New York Times deemed it a Critics' Pick, calling it "vibrant" and "transporting," and finding it to be an extremely profound pleasure to watch. Like the novel on which it is based, the show deals with the elusive nature of happiness, focusing on a protagonist, Pierre played by Josh Groban who is troubled by his own spiritual quest. Groban makes his Broadway debut with this show, stepping into the role originally played by the show's creator, Dave Malloy. Denee Benton plays Natasha, who is Pierre's love interest. Nevertheless, the love story is also at the heart of this show, making it a fascinating portrait of a story that may be old, but the format is exceedingly new.
Is
Natasha, Pierre and The Great Comet of 1812

Good for Kids?
The show is recommended for those aged 14 and up, due to mature themes of intimacy and alcohol consumption. Children under the age of 4 are not permitted in the theatre.
Imperial Theatre
249 West 45th Street
New York, NY 10019
Entrance:
45th Street, between 7th and 8th Ave
Theatre Information
Natasha, Pierre and The Great Comet of 1812 Marquee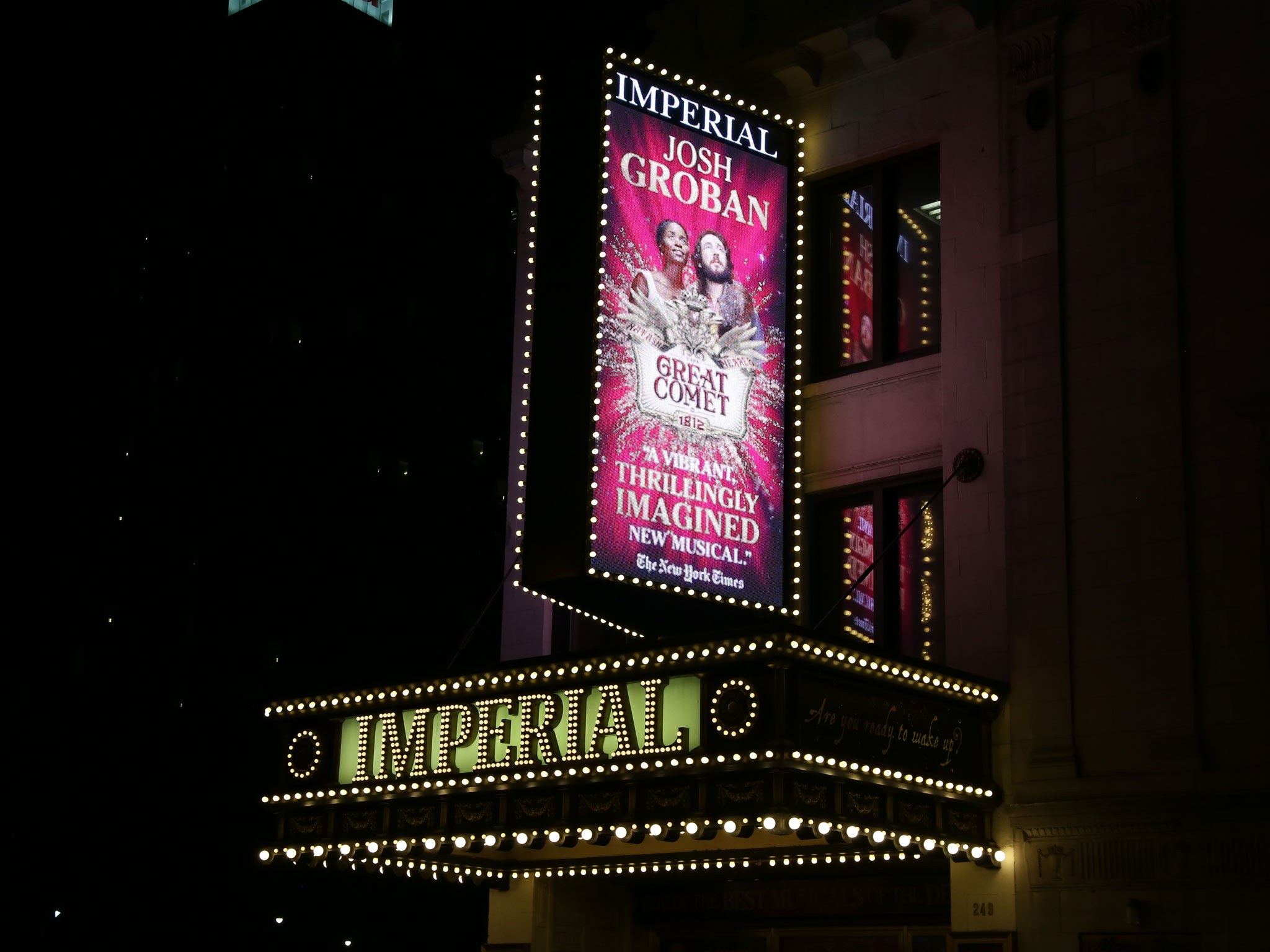 Princess Mary

Gelsey Bell
Choreography

Sam Pinkleton
Costume Design

Paloma Young
Light Design

Bradley King
Sound Design

Matthew Hubbs
Music Supervisor

Sonny Paladino
Musical Direction

Or Matias
Lyrics + Music

Dave Malloy
Production Stage Manager

Karyn Meek
Press Agent

Matt Ross Public Relations
General Manager

Andrew Jones at Baseline Theatrical
Company Manager

Roseanna Sharrow at Baseline Theatrical
Technical Supervisor

Hudson Theatrical Associates
Advertising Representative

SPOTCo
Casting Director

Stewart/Whitley Casting