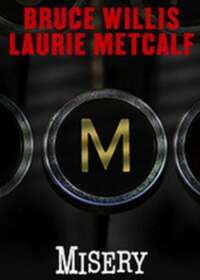 Misery
Broadway Show Tickets: Show Closed No Longer Available
Misery on Broadway: Show Is Now Closed
Show Status: Closed

Genre: Play

Misery is 1.5 Hours long, including an intermission of None

8 Shows per week

Previews Began: October 22, 2015

Show Opened: November 15, 2015

Show Closed: February 14, 2016
Misery is a fascinating thriller about a successful romance novelist named Paul Sheldon, played by Bruce Willis, who is saved from a car accident by a super fan named Annie Wilkes, played by Elizabeth Marvel. Wilkes, however, has recently found a reason to resent her favorite writer, as he killed off her favorite character, named Misery Chastain, in the latest novel of his novel series. Therefore, when Sheldon wakes up after the car crash, he finds himself alive and well, but also kidnapped and held hostage in Wilkes' basement. Wilkes quickly proves herself to be psychotic, and Sheldon does not appear to be getting released any time soon.
Misery

on Broadway Background
The Broadway production is of a much higher pedigree, due in no small part to its lead actor: Bruce Willis, making his Broadway debut. Willis is the beloved screen actor known for his roles in such films as Armageddon, The Sixth Sense, Pulp Fiction, Sin City, and the Die Hard series. Willis stars alongside Elizabeth Marvel, whose Broadway credits include Other Desert Cities, Picnic, Top Girls, and An American Daughter, and whose screen roles include "House of Cards," True Grit, and Burn After Reading.
The play is directed by Will Frears, a British director making his Broadway debut, whose Off-Broadway credits include Year Zero, Terrorism, Pen, God Hates the Irish and Where We're Born. The play is produced by Warner Bros. Theatre Ventures (Mark Kaufman is the point person for this particular show). Misery is also produced by Castle Rock Entertainment (their reps are Martin Shafer and Liz Glotzer), and the final producer for this show is Raymond Wu.
Misery is a new play by William Goldman, who also wrote the screenplay of the 1990 film, which was adapted from the 1987 novel of the same name by Stephen King. Goldman also penned the screenplays for All the President's Men, as well as Butch Cassidy and the Sundance Kid, two of which he won Academy Awards for, (Best Screenplay). The play was written in 2012, and premiered in a small production at Bucks Country Playhouse in New Hope, Pennsylvania. This play is sure to be a thrilling psychological portrait of madness, and Bruce Willis' Broadway debut is not to be missed. Elizabeth Marvel is one of the greatest actors of her generation, and the production will certainly be an exciting treat of the season.
The show is most appropriate for individuals over the age of 12. Children under the age of 4 are not permitted in the theatre.
Broadhurst Theatre
235 West 44th Street
New York, NY 10036
Entrance:
44th Street between 7th and 8th Avenues
Theatre Information
Misery Marquee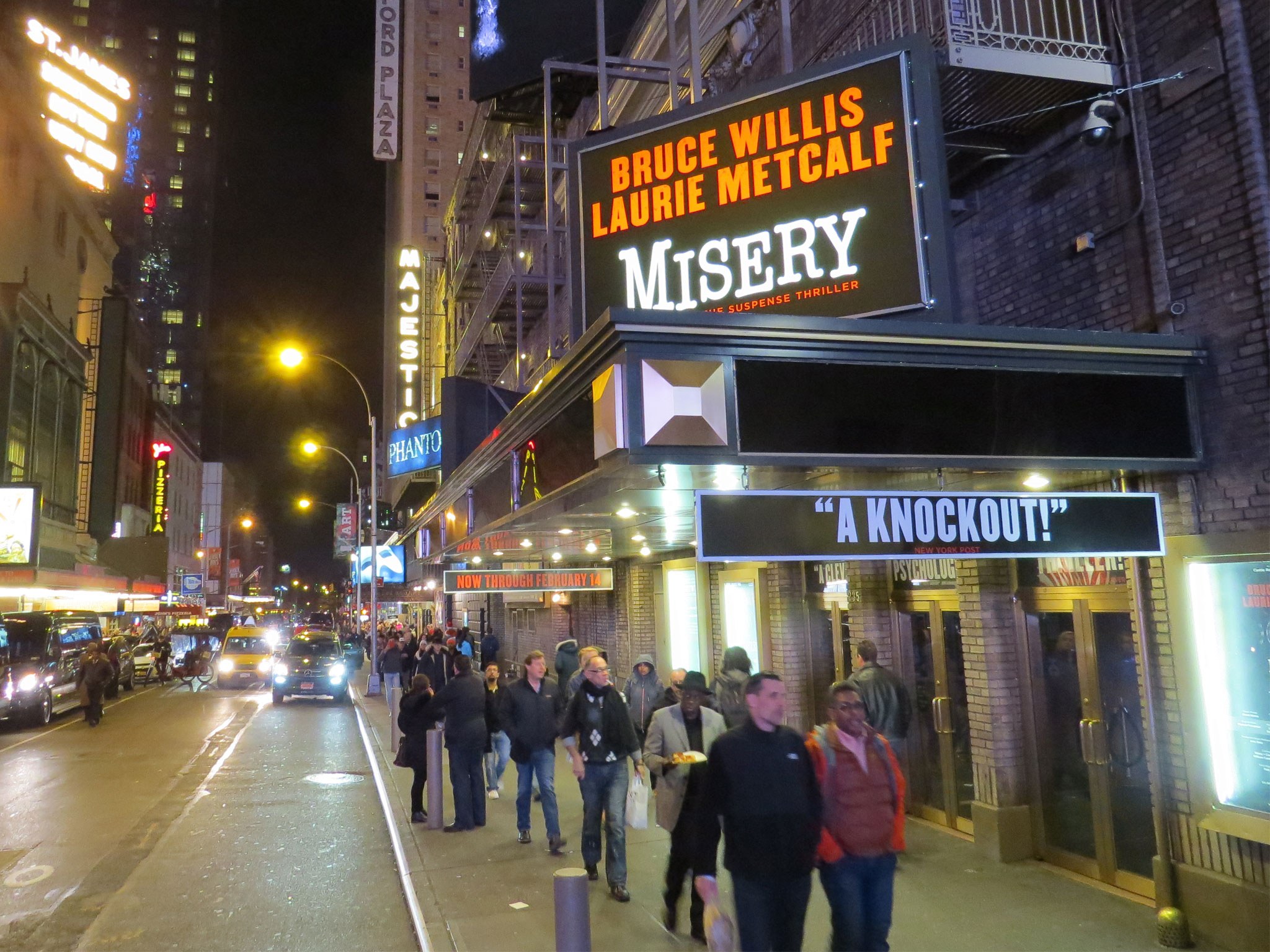 Annie Wilkes

Laurie Metcalf
Paul Sheldon

Bruce Willis
Warner Bros Theatre Ventures
Castle Rock Entertainment
Lighting Design

David Weiner
Sound Design

Darron L West
Production Stage Manager

Jane Grey
General Manager

Mark Shacket at Foresight Theatrical LLC
Company Manager

Thom Clay
Production Manager

David Benken
Casting Director

William Cantler at Telsey + Company