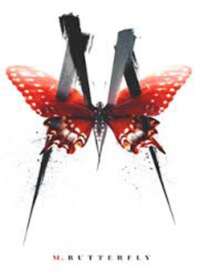 M Butterfly
Broadway Show Tickets: Show Closed No Longer Available
M Butterfly on Broadway: Show Is Now Closed
Show Status: Closed

Genre: Play- Revival

M Butterfly is 2 Hours long, including an intermission of 15 Minutes

9 Shows per week

Previews Began: October 7, 2017

Show Opened: October 26, 2017

Show Closed: December 17, 2017
M. Butterfly is a play by David Henry Hwang that premiered on Broadway in 1988, winning the Tony Award for Best Play. The story of a French diplomat, Rene Gallimard, who is stationed in China, falls in love with a mysterious Chinese opera singer. David Henry Hwang tells the tale of international espionage and deep deception.
M Butterfly

on Broadway Background
The 2017 revival is directed by Julie Taymor (The Lion King, Spiderman: Turn Off the Dark) and stars Clive Owen (Old Times, "The Knick") in the lead role of Rene Gallimard. Clive Owen stars in this Broadway classic, following a successful run in Harold Pinter's Old Times in 2015. Inspired by the opera Madama Butterfly by Giocomo Puccini, the play takes place between the years 1960 to 1988 in Beijing and Paris. This 20-year love affair reveals astonishing truths about human nature between both sexes, while also reflecting fascinating elements of the true story between French diplomat Bernard Boursicot and Chinese opera singer Shi Pei Pu, on which the play is based. Since the play's premiere in 1988, more facts have come to light about this real-life relationship, and Hwang has incorporated more of these elements into an updated version of the play. This remarkable story encompasses the depths of human emotions in its complicated and unexpected love story, as well as a fascinating look into the world of international espionage.
Julie Taymor is one of the most uniquely talented stage directors of our time. After taking the world by storm with The Lion King, which has become an unstoppable long-running hit, she was a frequent news presence due to the unexpected travails of Spiderman: Turn Off the Dark. Nevertheless, her incredible ability to manifest visually stunning worlds for her characters is unparalleled, and M. Butterfly is an incredible opportunity for her to showcase her abilities in collaboration with one of the greatest living playwrights of our time, David Henry Hwang. Hwang's other Broadway credits include Chinglish, Golden Child, Face Value, the book for Tarzan, the book for Flower Drum Song, and the book for Aida. The casting for M. Butterfly is also a reason not to miss this production. Owen's film credits include Sin City, Closer, Close My Eyes, Children of Men, and The International.
Is
M Butterfly

Good for Kids?
The show is recommended for those aged 12 and up. Children under the age of 4 are not permitted in the theatre
James Earl Jones Theatre
138 West 48th Street
New York, NY 10019
Entrance:
48th Street between 6th and 7th Avenues
Theatre Information
Rene Gallimard

Clive Owen
Set Design

Paul Steinberg
Lighting Design

Donald Holder
Sound Design

Will Pickens
Costume Design

Constance Hoffman
Original Music

Elliot Goldenthal
Production Stage Manager

Robert Bennett
General Manager

Richard Climan Inc
Technical Supervisor

Neil A Mazzella at Hudson Theatrical Associates
Company Manager

Bruce Klinger at Richards Climan
Casting Director

William Cantler at Telsey + Company