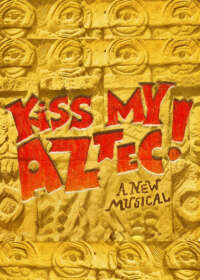 Kiss My Aztec
Broadway Show In Development
Kiss My Aztec is in Development
Show Status: In Development

Genre: Musical

Kiss My Aztec is 140 minutes long, including an intermission of 15 minutes

8 Shows per week

Show Closes: Open ended
Irreverent new musical loosely based on Latin American history that travels back to the 16th century where a group of Aztecs lead the resistance against Spanish invaders
Kiss My Aztec

on Broadway Background
Kiss My Aztec comes from comedy legend John Leguizamo and director Tony Taccone and is a irreverent new musical loosely based on Latin American history. The show is a musical fusion of salsa, gospel, hip-hop, funk, and merengue makes for a jubilant and hilarious celebration of Hispanic & Latin culture.
Although he developed and co-wrote the show, John Leguizamo does not appear in this show
Successful Runs at La Jolla Playhouse and at Hartford Stage
The show performed 35 shows at the Mandell Weiss Theatre at the La Jolla Playhouse in September 2019 and then went on to perform26 shows at The Hartford Stage in June 2022. The world premiere played at the Berkeley Repertory Theatre in June 2019.
Announced The Show Opening "At Late Night With Seth Meyers"
John Leguizamo announced the opening of this show on Seth Meyers' "Late Night With Seth Meyers" while he was promoting the new film The Menu. Leguizamo stated "It's coming to Broadway next year. It's a really funny take on conquests and genocide. Fodder for humor."
Industry Presentation October 2023
Joey Parnes announced that the new musical Kiss My Aztec! will hold an industry presentation of selections from the show on October 23, 2023. The musical features a book by John Leguizamo and Tony Taccone, music by Benjamin Velez, and lyrics by David Kamp, Velez, and Leguizamo.
What's
Kiss My Aztec

Like?
Travel back to the 16th century as a group of Aztecs lead the resistance against Spanish invaders.
With a fierce female warrior at the helm and a not-so-fierce clown in tow, they mount a scrappy attack on the Spanish invaders — and get entangled with royalty, colonizers, pop stars, and even puppets!
Is
Kiss My Aztec

Good for Kids?
This production contains bawdy humor, adult themes and language, haze, and flashing lights.
John Golden Theatre
252 West 45th Street
New York, NY 10019
Entrance:
45th Street between 7th and 8th Avenues
Theatre Information
Choreographer

Mayte Natalio
Music and Lyrics

Benjamin Velez
Music and Lyrics

David Kamp
Bookwriter

John Leguizamo