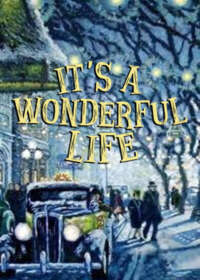 It's A Wonderful Life
Broadway Show Tickets: Not Currently Available
Discount Broadway Tickets For It's A Wonderful Life - This Show Is Now Shelved
It's A Wonderful Life

Summary
Show Status: Shelved

Genre: Musical

It's A Wonderful Life is 2 Hours long, including an intermission of 15 Minutes

8 Shows per week

Show Closes: Open ended
Broadway adaptation of the classic holiday film of the same name, about a depressed man who realizes the impact he has had on the world on Christmas Eve
It's A Wonderful Life

on Broadway Background
It's A Wonderful Life is a Broadway musical adaptation of Frank Cappa's 1946 film of the same name.
Despite performing poorly at the movie box office upon the film's initial release more than half a century ago, the film became a worldwide staple of holiday television.
The film was nominated for five Academy Awards, including "Best Picture", but did not end up taking any home. The American Film Institute has also recognized the film in its list of the 100 Best American Films, having initially received 11th place in the 1998 list, then 20th place on their revised 2007 list.
The Broadway musical adaptation features music written by Sir Paul McCartney with the help of Bill Kenwright. The news of McCartney's inclusion on the show's creative team came as a surprise to many, as McCartney has previously expressed that he never found writing a Broadway musical to be "all that appealing" to him.
Some have likened McCartney's move toward Broadway to that of "The Police" singer Sting and his contributions to the ill-fated Broadway show, The Last Ship. Perhaps Broadway will act as a final comeback for the Beatles legend, re-cementing his name in the musical history books after many years in the celebrity spotlight, but decades since his musical prime.
What's
It's A Wonderful Life

Like?
It's A Wonderful Life follows protagonist George Bailey, a middle aged businessman as he contemplates suicide after his business moves towards failure.
George's guardian angel, Clarence Odbody, prepares to save him after watching flashbacks of George's life. The flashbacks begin during George's upbringing as he saves his younger brother Harry's life, resulting in the loss of hearing in one of George's ears. Later, George plans to travel the world and attend college, but his plans are cut short due to the death of his father and the responsibility of taking over the family business.
From then on, life continues to get more difficult for George, culminating in the bankruptcy of his business, which leads him to contemplate suicide on Christmas Eve. With the knowledge of George's life, Clarence races to save George by showing how different the world would have been had he never been born.
Is
It's A Wonderful Life

Good for Kids?
This musical has entertained children for decades with its heartwarming message during the holiday season. However, it also delves into heavy topics such as suicide and war, making this show not suitable for children under the age of 10
Bernard B Jacobs Theatre
242 West 45th Street
New York, NY 10019
Entrance:
45th Street, between 8th and Broadway
Theatre Information
Music & Lyrics

Paul McCartney