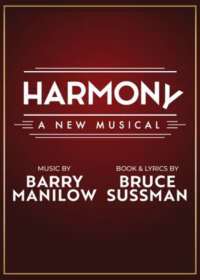 Harmony
Show Tickets: Show Opens in the Near Future
Discount Broadway Tickets For Harmony: Future Show
Show Status: Future

Genre: Musical

Harmony is 2 hours and 45 minutes long, including an intermission of 15 minutes

8 Shows per week

Previews Begin: July 13, 2023

Show Opens: August 2, 2023

Show Closes: Open ended
In 1920s Berlin, Germany six talented young men, Jewish and gentile, come together to form a group of comedian harmonists. They took the world by storm with their signature blend of sophisticated close harmonies and uproarious stage antics, but the rise of the Nazi Party changed their trajectory.
Harmony

on Broadway Background
Based on the story of the "Comedian Harmonists" who sold millions of records, starred in films and packed the houses of the most prestigious concert halls around the globe until the world they knew changed forever.

Creators Barry Manilow and Bruce Sussman
Their incredible story inspired music industry legends, Barry Manilow and Bruce Sussman, to create a spectacular new musical with an original score that celebrates this extraordinary group of friends and ensures their quest for true harmony in the most discordant chapter of human history will never be forgotten.
Off-Broadway Run
The show appeared at The Museum of Jewish Heritage March 23 2022 to May 15 2022
Harmony is based in part on "The Comedian Harmonist Archive" as curated by the late Dr. Peter Czada.
The show is about a real-life, all-male German singing group known as the "Comedian Harmonists", an all-male group act that did comedic turns and sang beautiful songs. They had great success in the late 1920s and early 1930s, touring throughout Europe and beyond and performing with the likes of Marlene Dietrich and Josephine Baker.
The Broadway show focuses on their period of demise, occasioned by the rise of the Nazi party. Initially, the purist fascists were among the group's biggest fans, seeing them as potential ambassadors for the führer, Adolf Hitler. But after they figured out three of the members were Jewish, the Nazis then ripped the group apart.
Is
Harmony

Good for Kids?
The show may only be appropriate for patrons sixteen years or older due to themes of war, The Holocaust, murder and execution
Wilfried Rimensberger of Stiletto Entertainment
Choreography

Warren Carlyle
Scenic Design

Beowulf Boritt
Costume Design

Ricky Lurie
Lighting Design

Jules Fisher
Lighting Design

Peggy Eisenhauer