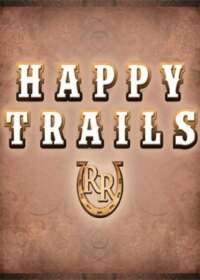 Happy Trails
Broadway Show Tickets: No Longer Available
Happy Trails on Broadway Show: Cancelled Show
Show Status: Cancelled

Genre: Musical

Happy Trails is 130 minutes long, including an intermission of 15 Minutes

8 Shows per week

Previews Began: March 10, 2015

Show Opened: March 10, 2015

Show Closed: March 10, 2015
Happy Trails was scheduled to open at the American Airlines Theatre on 03/10/2015, but this Broadway show was cancelled on 02/25/2015. The Broadway rumor mill indicated that various members of the creative team (including the illustrious Alan Menken) backed out of the project and the show was cut long before its creative development was complete. The creative team talked about scheduling conflicts, but this is often just insider code for creative differences in the team or financial problems raising the money to put on a show.
The Happy Trails producers still like to talk about this project coming back to Broadway, but that is now very unlikely, as Broadway landlords are once bitten, twice shy on shows that fail to open. In support of this, there has never actually been a show in modern Broadway history that has failed to open and then successfully re-opened at another time. Broadway theatre landlords have countless other shows vying for the spot to open on Broadway and will usually channel their energies there. Happy Trails has been added to the less-than-illustrious list of shows that were scheduled, but never opened on Broadway, that includes the ill-fated Fat Pig and Robin Hood, both of which were grand debacles in their own right.

Happy Trails is a new musical based on the life of singer and actor Roy Rogers and his wife Dale Evans, who were active in the entertainment world between the late 1930s to the early 1980s. This musical is the beginning of an effort to resuscitate the Roy Rogers brand, bringing back to the forefront his amazing career that spanned film, television, radio, recording and comic books.
Happy Trails

on Broadway Background
Roy Rogers starred in 88 films between 1945 and 1975, he sold over 150 million copies of comic books, and his face was featured on over 2.5 billion boxes of Post cereal. The musical has a score composed by T Bone Burnett, 13-time Grammy Award winning record producer and film music supervisor who will be making his Broadway debut. Burnett is well known for his contributions to many films including those by the Coen Brothers, such as O Brother, Where Art Thou?, The Big Lebowski, and Inside Llewyn Davis, as well as Walk the Line, The Hunger Games, and the television show True Detective. Happy Trails has a book written by Marshall Brickman (Jersey Boys, The Addams Family), and is directed by Des McAnuff (Jersey Boys, Doctor Zhivago, 700 Sundays, Jesus Christ Superstar, Guys and Dolls). Marshall Brickman and Des McAnuff also collaborated on the Jersey Boys film.
What's
Happy Trails

Like?
The show brings to light one of the great entertainment stories of the 20th century. Starting from Roy Rogers' humble beginnings in a poor family in Ohio, the musical then follows him as he becomes one of Hollywood's most unlikely but also most popular stars. Dale Evans, who was his third wife, entered the picture with their marriage in 1947, and they stayed married until he died in 1998. The story also features Trigger, the Smartest Horse in Movies, and the only horse ever to be billed above title, as well as Bullet the Wonder Dog. Roy Rogers and Dale Evans were certainly trailblazers in many ways, and their story will not only be inspiring for the present generation; it will also be a ton of fun to watch along with a brilliant original score.
Is
Happy Trails

Good for Kids?
The show is most appropriate for children ages 10 and above. Children under the age of 4 are not permitted in the theatre.
American Airlines Theatre
227 West 42nd Street
New York, NY 10019
Entrance:
42nd Street between 7th and 8th Avenues
Theatre Information
Larry G. Spangler at The Spangler Group
Music + Lyrics

T Bone Burnett
Music + Lyrics

Marshall Brickman