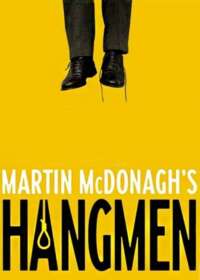 Hangmen 2019
Broadway Show Tickets: Show Closed No Longer Available
Hangmen 2019 on Broadway: Show Is Now Closed
Show Status: Closed

Genre: Play - Broadway Premiere

Hangmen 2019 is 2 hours and 30 minutes long, including an intermission of 15 minutes

8 Shows per week

Previews Began: February 28, 2020

Show Closed: March 11, 2020
Martin McDonagh perfectly balances comedy and tragedy in this mid-20th century examination of capital punishment.
Hangmen 2019

on Broadway Background
Hangmen is written by the acclaimed British-Irish playwright, Martin McDonagh about an executioner in the United Kingdom after the abolition of capital punishment in 1965.
London Run in West End
The show originally premiered in 2015 at London's Royal Court Theatre. After positive box office ticket sales and critical acclaim, the show moved in 2016 to the West End's Wyndham Theatre. There it won two Olivier Awards; 'Best Set Design' and 'Best New Play'. In 2018, Hangmen made its U.S debut with a limited-run showing which sold out. The show performed at the Linda Gross Theater (part of the Atlantic Theatre Company), in the historic Chelsea district of Manhattan, NYC

McDonagh's Seventh Broadway Play
Martin McDonagh is no stranger to writing accolades, as four of his previous plays have been nominated for a Tony Award for the 'Best Play' award, but he has never actually won. McDonagh is also an Oscar nominee and is well known for his critically acclaimed 2017 film Three Billboards Outside Ebbing, Missouri.
Although he did not win the Oscar for this movie, he did win the Oscar for 'Best Live Action Short Film' in 2005 for Six Shooter. McDonagh is known for writing dark comedies that deal with taboo subjects, and his works are often categorized by gratuitous violence and extreme language.
Critics praise McDonagh's ability to perfectly balance comedy and tragedy which has become a trademark of his plays, films and writing.
First Show on Broadway to Close for COVID-19
Hangmen was the first Broadway production that officially announced its closing due to the COVID-19 pandemic, which unexpectedly closed down all of the Broadway theatres in an unprecedented fashion in March 2020.
Hangmen performed its last preview showing on the evening of Wednesday, March 11th 2020, eight days prior to its official red-carpet opening, which was scheduled for March 19th 2020. The show only completed 13 preview performances.
On March 12th 2020, the show's four producers, Robert Fox, Jean Doumanian, Elizabeth McCann and Craig Balsam, made a joint-announcement that stated "because of economic concerns and for the safety of their cast" they are closing down the show. The show was originally scheduled to perform until July 18th, 2020. Some insiders believe that the production may come back to Broadway at a later date, but this remains to be seen.

What's
Hangmen 2019

Like?
Hangmen follows executioner Harry Wade after the abolition of capital punishment in the United Kingdom in 1965. Wade is known as the second-best hangman in the UK due to his ability to remain stoic and composed during the executions. Wade remains in the number two guy, due to his competitors huge execution statistics and he will no longer be able to beat him, now that executions have have been abolished.

Now that executions are a thing of the past, people from all over the country flock to the pub that Wade owns to get his opinion on the abolition of capital punishment that has taken away his livelihood. A menacing yet charming stranger named Mooney arrives at the pub, causing trouble and making outrageous claims towards Wade, his family, and pub patrons. The resulting chaos from Mooney's actions causes Wade to make a life-changing decision that he may regret. The play is ultimately a powerful condemnation of capital punishment and deals with themes of revenge and morality. A rotating cast of characters exchange banter in Wade's pub and create an atmosphere akin to McDonagh's trademark brand of dark comedy.
Is
Hangmen 2019

Good for Kids?
In the first few minutes of this show, there is a shocking scene that may not be suitable for sensitive audiences and children. Some show attendees cover their eyes for this part. The minimum age recommended for this show is 16 years old.

John Golden Theatre
252 West 45th Street
New York, NY 10019
Entrance:
45th Street between 7th and 8th Avenues
Theatre Information
Hangmen 2019 Marquee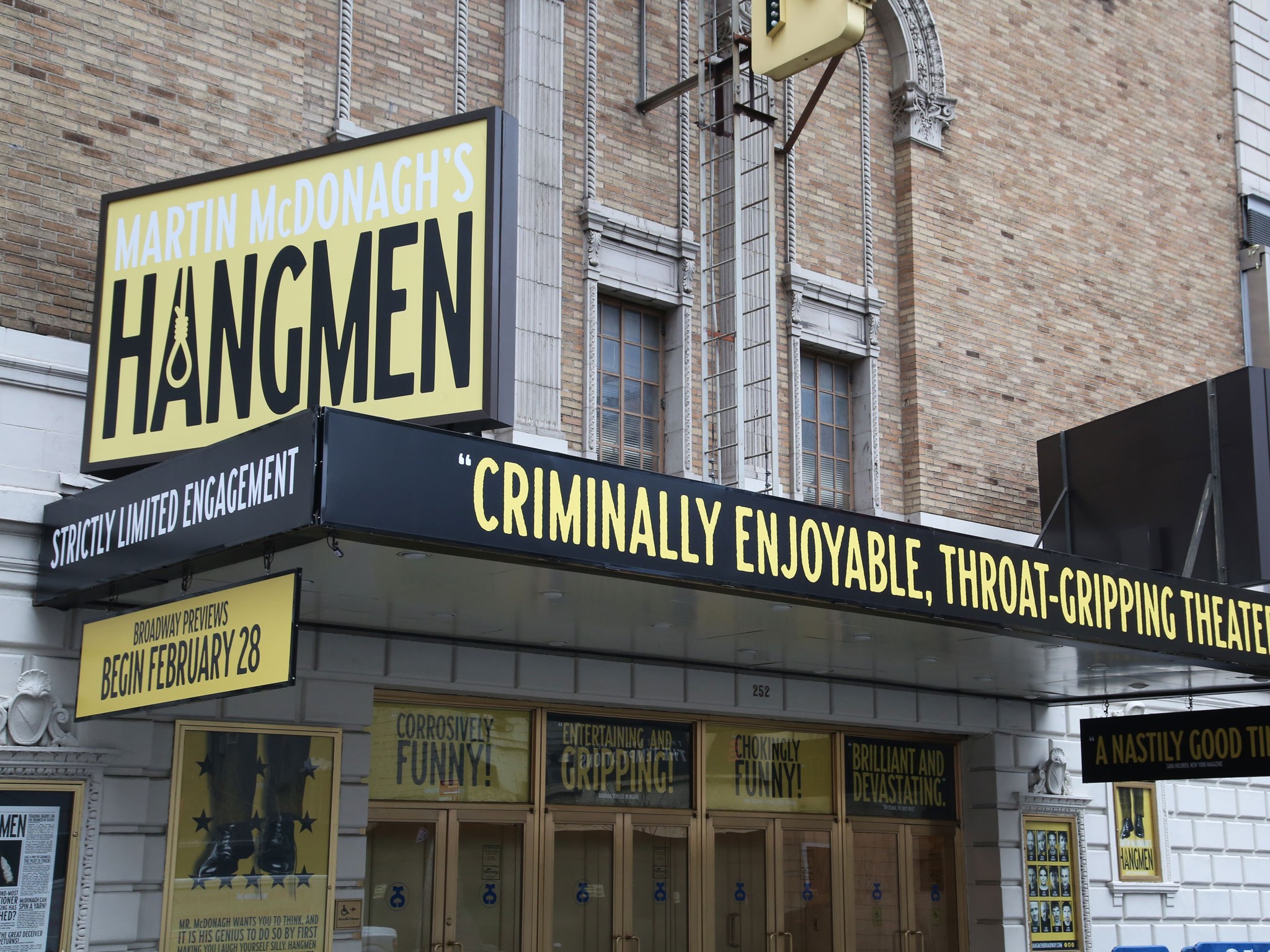 Inspector Fry

Jeremy Crutchley
Pierrepoint

John Hodgkinson
Casting Director

Telsey and Company