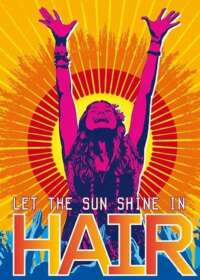 Hair
Broadway Show Tickets: Show Closed No Longer Available
Hair on Broadway: Show Is Now Closed
Show Status: Closed

Genre: Musical - Revival

Hair is 2 hours and 25 minutes long, including an intermission of 15 minutes

8 Shows per week

Previews Began: July 5, 2011

Show Opened: July 13, 2011

Show Closed: September 10, 2011
Hair is a musical set in the late 1960's about a group of free spirited people who live in the East Village, but are soon faced with the harsh realities of the Vietnam War.
Hair

on Broadway Background
A smash hit with theatergoers and critics alike during its summer engagement at the Delacorte Theater in Central Park, Hair is now rocking Broadway. Hair's transfer to the Al Hirschfeld Theatre on 45th Street marks the first time in more than 35 years that the groundbreaking hippie musical has been performed on Broadway since it debuted in 1968, when it thrilled audiences and became am international sensation, playing over 1800 performances. With a score that includes timeless favorites "Let the Sun Shine In," "Aquarius," and "Good Morning Starshine," Hair recreates the birth of a movement that ignited America and changed it forever.
Hair is a free-spirited musical that follows a group of hopeful young people who enjoy a peace-loving life in a society that doesn't understand them. With the Vietnam War looming, Hair's freewheeling "tribe" burn draft cards, challenge racist assumptions, explore their sexual identity, and experiment with mind-altering drugs. Meanwhile, one of their own is facing the possibility of having to leave his friends and go off to war.
Even the most jaded theatergoer can't help but to enjoy classic songs like "Age of Aquarius," "Good Morning Starshine," "Hair," and "Let the Sunshine In" in this sensitively directed and well-choreographed production of the 1967 classic musical about New York City hippies. Although many of the other songs are less-than-classic, and the humor can be sophomoric at times, the show resonates emotionally. And the Baby Boomers just love it - especially the part where the audience is invited onstage to dance with the cast at the end of the show!
Hair may not be appropriate for young theatergoers under the age of 12. The production contains scenes that briefly depict profanity, nudity and simulated drug use.
St. James Theatre
246 West 44th Street
New York, NY 10019
Entrance:
44th Street, between 7th and 8th Ave
Theatre Information
Hair Marquee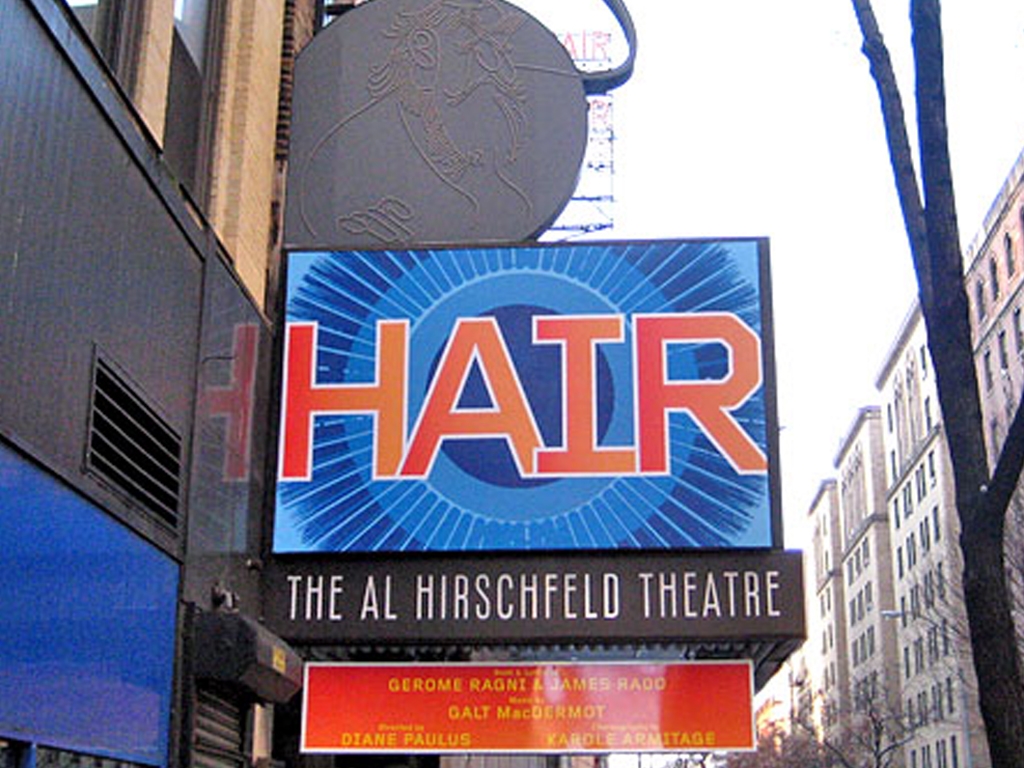 Sheila

Caren Lynn Tackett
Book and Lyrics

Gerome Ragni
Book and Lyrics

James Rado
General Manager

Joey Parnes
Company Manager

Jennifer Graves
Casting Director

Jordan Thaler
Casting Director

Heidi Griffiths
Advertising Representative

SPOTCo
Production Stage Manager

William Joseph Barnes