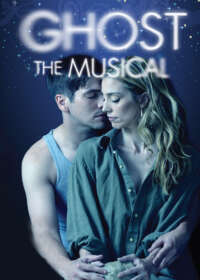 Ghost
Broadway Show Tickets: Show Closed No Longer Available
Ghost on Broadway: Show Is Now Closed
Show Status: Closed

Genre: Musical

Ghost is 2 hours 10 minutes long, including an intermission of 15 minutes

8 Shows per week

Previews Began: March 15, 2012

Show Opened: April 23, 2012

Show Closed: August 18, 2012
Based on the 1990 movie of the same name, a married banker is murdered and he roams New York City to discover why he is limbo, when he meets a psychic who allows him to talk to the living and save his wife.
Ghost

on Broadway Background
2011 London's West End Production
The musical had its world premiere at the Manchester Opera House in Manchester in March 2011. Ghost then began its West End premiere in summer 2011, opening on 19 July, 2011. A Broadway transfer opened in April 2012, but then closed in August 2012.
2012 Production Mixed Reviews
The 2012 production of Ghost opened to mixed reviews, although it did receive three Tony Award nominations, two of them minor. The show received no Tony Awards that year.
2023 The Ghost Lawsuit

Ghost: The Musical on Broadway has a deeply chequered past including a 2023 lawsuit issued by Marko Gnann, that contends that his dealer/broker and once "close personal friend" Donovan Mannato stole $3.4M that was intended for 'Ghost' Musical.
Gnann's lawyers allege that in 2010 "Mannato had sold Plaintiff a bill of goods as part of his fraudulent scheme to steal his money,"

Sam Wheat is a Wall Street banker and his wife, Molly Jensen, is a successful artist. The two are madly in love with each other as they move into new apartment on the Lower East Side of Manhattan. When Sam is unexpectedly murdered their lives take a dramatic turn.
We discover that Sam was murdered by his friend Carl Bruner, who is actually working for a drug cartel. Sam is now left to roam the earth as a powerless spirit, where he tries to figure out why he is still here.
When Sam learns of Carl's betrayal, Sam must seek the help of psychic Oda Mae Brown to set things right and protect Molly from Carl and his goons, who still want access to his work account to fulfill a financial transaction for a major drug deal.
The show contains a murder scene and some mild violence and may not be suitable for children under 16 years of age
Lunt Fontanne Theatre
205 West 46th Street
New York, NY 10019
Entrance:
46th Street, between 8th and Broadway
Theatre Information
Oda Mae

Da'Vine Joy Randolph
Playwright

Bruce Joel Rubin
Bookwriter

Bruce Joel Rubin