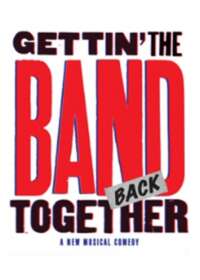 Gettin' the Band Back Together
Broadway Show Tickets: Show Closed No Longer Available
Gettin' the Band Back Together on Broadway: Show Is Now Closed
Gettin' the Band Back Together

Summary
Show Status: Closed

Genre: Musical

Gettin' the Band Back Together is 2.5 Hours long, including an intermission of 15 Minutes

8 Shows per week

Previews Began: July 19, 2018

Show Opened: August 13, 2018

Show Closed: September 16, 2018
Gettin' the Band Back Together is a new musical with a book by producer Ken Davenport, along with the improvisational group the Grundleshotz. The story is set in Sayreville, New Jersey and centers on a 40 year-old, recently unemployed investment banker, who seeks to get his high school band back together as a means to prevent his mother's house from entering foreclosure.
Gettin' the Band Back Together

on Broadway Background
The show is directed by John Rando (who won a Tony Award for Urinetown). The show premiered regionally at the George Street Playhouse in New Brunswick, New Jersey, which is fitting
As it turns out, the real estate owner who is seeking the foreclosure is his high school foe, and he is equally motivated to save his mother's house in order to win a competition against him. Along with his old band Juggernaut, he enters the high-stakes Battle of the Bands, reconnects with his high school friends, saves his mother's house, and goes head-to-head with his rival from his school days. The show has been reviewed as "playful," "good-natured," "mildly irreverent," and "genuinely funny," which knows how to strike a balance between "feel-good" and "touches of meanness." With a feel-good score and a story that is just a little bit irreverent, this show could be a fun night in the theatre for family and friends alike. Gettin' the Band Back Together has been called a "'rockin' Valentine to the Garden State."
What's
Gettin' the Band Back Together

Like?
The score, written by Mark Allen, is available for free at on the website. The Grundleshotz, the group of performers who also developed the book of the show through improvisation, include Sebastian Arcelus, Michael Hirstreet, Fred Berman, Craig Jorczak, Jenna Coker Jones, Jay Klaitz, Nathan Kaufman, Emily McNamara, Bhavesh Patel, Jennifer Miller, Fletcher Young, and Sarah Saltzberg. The director, John Rando, won a Tony Award for Urinetown. The show is produced by a team led by book writer Ken Davenport, who is known for innovative producorial initiatives that often involve crowdsourcing. For instance, he produced Godspell, the first Broadway show whose investment was raised through crowdfunding. As for Gettin' the Band Back Together, his innovative ideas include a logo contest, in which he sought advertising suggestions from the public to design the musical's official logo.
Is
Gettin' the Band Back Together

Good for Kids?
The show is most appropriate for children over the age of 10. Children under the age of 4 are not permitted in the theatre.
Belasco Theatre
111 West 44th Street
New York, NY 10019
Entrance:
44th Street between Broadway and 6th Avenues
Theatre Information
Gettin' the Band Back Together Marquee
Mitch's Mom

Marilu Henner
Mitch's Mom

Emily McNamara
Writers

The Grundleshotz + Ken Davenport
Music + Lyrics

Mark Allen
Scenic Design

Derek McLane
General Manager

Davenport Theatrical Enterprises
Casting Director

Daryl Eisenberg Casting
Musical Director

Sonny Paladino