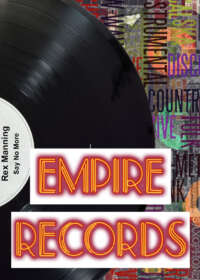 Empire Records
Broadway Show Tickets: Not Currently Available
Discount Broadway Tickets For Empire Records - This Show Is Now Shelved
Show Status: Shelved

Genre: Musical

Empire Records is 2 Hours long, including an intermission of 15 Minutes

8 Shows per week

Show Closes: Open ended
Empire Records is the Broadway musical version of the beloved Nineties teen cult classic movie of the same name about a day-in-the-life of the struggling young employees of a downtown record store.
Empire Records

on Broadway Background
The original 1995 comedic teen movie was set in a fictionalized Tower Records in NYC and serves as a great backdrop for this 90's coming of age popular underground flick.
The Broadway musical version attempts to capture some of this joie de vivre and bottle it up into a 90 minute musical that can somehow stay relevant in our modern age of music streaming and post MP3 sharing, despite the fact that record stores and the whole record industry no longer exist in the way they did way back in 1995.
It was a place where teens could hang out with others who share their same taste in music and discover new bands, while discovering who they really are. The technology may have changed, but the teen issues have remained. The original movie made stars out of Maxwell Caulfield, Debi Mazar, Rory Cochran, Robin Tunney, Renée Zellweger and Ethan Embry. The film featured the music of Better Than Ezra,Toad the Wet Sprocket, Gin Blossoms, Ape Hangers, Evan Dando and the Cranberries
What's
Empire Records

Like?
The young employees of a downtown record store are trying to save their beloved store from being bought by a mega-store and they prepare for a visit from a washed up singing star to bring attention to their plight.
Set over the course of a day, the show documents the teenage employees of Empire Records as they attempt to save their record store from being bought out by a large retail chain (which looks very much Virgin Records) and who plans to close the store for competitive reasons.
The cool misfit teens grapple with an array of young adult dramas and ultimately reach a clear conclusion, not only for their store, but their own lives that lay ahead of them. The show attempts to capture the original spirit of the sleeper hit movie, but in many spots it just ends up feeling more like Papa Johns instead of Mystic Pizza.
Is
Empire Records

Good for Kids?
This show is appropriate for children 13 and older.
Ethel Barrymore Theatre
243 West 47th Street
New York, NY 10019
Entrance:
47th Street, between 8th and Broadway
Theatre Information
Book Writer

Carol Heikkinen
Music & Lyrics

Zoe Sarnak