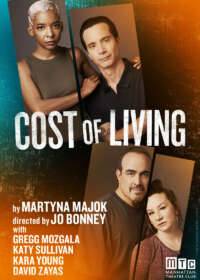 Cost of Living
Broadway Show Tickets: Show Closed No Longer Available
Cost of Living on Broadway: Show Is Now Closed
Show Status: Closed

Genre: Play

Cost of Living is 1 Hour and 50 minutes long, including an intermission of None

8 Shows per week

Previews Began: September 13, 2022

Show Opened: October 3, 2022

Show Closed: November 6, 2022
Pulitzer Prize winning play that explores disability and caregiving and the loss and total cost to people and society at large. What it really costs to survive.
Cost of Living

on Broadway Background
The play, which won the 2018 Pulitzer Prize for Drama after its off-Broadway production was directed by Jo Bonney and featured actors Gregg Mozgala and Katy Sullivan.
In 2018, The Pulitzer board described the play as "An honest, original work that invites audiences to examine diverse perceptions of privilege and human connection."

The play is a new four-character work that features people with disabilities. It focuses on how hard it is just to be a person, whether you can stand on your own or require help to do everyday tasks like bathe. It's also a deeply human depiction of life with disability.
What's
Cost of Living

Like?
The play has two parallel plots, one about a man with cerebral palsy and his hired caregiver. The other plot is about a double amputee and her estranged husband. The two central non-disabled characters are Eddie and Jess. The disabled characters are Ani and John.
Eddie and Ani
Eddie used to be a happily married trucker but got laid off after a DUI. Eddie and his wife, Ani are separated and in the middle of a divorce when she's in a terrible accident that leaves her quadriplegic and missing her legs.
When Ani's home healthcare aid doesn't show up one night, Eddie, who is still her emergency contact, convinces her to give him a trial run for a week.

Jess and John
Jess is an educated but relatively poor bartender desperate to make ends meet. John is a wealthy PhD. student with cerebral palsy, looking for an aid to help wash, shave, and dress him each day.
When Jess sees his advertisement, she finds herself on his doorstep — and an unlikely friendship begins to bloom.

Is
Cost of Living

Good for Kids?
This show is suitable for children over the age of 14 years old. This show contains moments of nudity and may be objectionable to some.
Samuel J Friedman Theatre
261 West 47th Street
New York, NY 10019
Entrance:
47th Street between 8th Avenue and Broadway
Theatre Information
Cost of Living Marquee