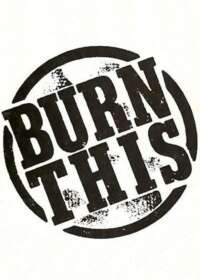 Burn This (2017)
Broadway Show Tickets: No Longer Available
Burn This (2017) on Broadway Show: Cancelled Show
Show Status: Cancelled

Genre: Play- Revival

Burn This (2017) is 120 Minutes long, including an intermission of 20 Minutes

8 Shows per week

Previews Began: March 6, 2017

Show Opened: March 6, 2017

Show Closed: March 6, 2017
Burn This is the story of a young dancer and choreographer named Anna who recently lost her best friend, Robbie, due to a boating accident while he was with his lover, Dorn. The play begins shortly after the funeral, and deals with the aftermath of losing such a close friend. When Pale, Robbie's coke-snorting hyperactive brother, bursts onto the scene, Anna is at first repelled, but then begins to fall for him. The play is a heartrending story about relationships, identity, and love.
Burn This (2017)

on Broadway Background
Burn This first premiered Off-Broadway in 1987, and transferred to Broadway later that same year. The original production starred John Malkovich and Joan Allen in groundbreaking performances, for which Allen earned a Tony Award. The play is written by Lanford Wilson, whose other works include Balm in Gilead, The Gingham Dog, Talley's Folly, Fifth of July, Angels Fall, and Redwood Curtain. Wilson, who died recently in 2011 at the age of 73, won the Pulitzer Prize in 1980 for Fifth of July. He was well known for down-to-earth and relatable portrayals of many individuals, often dealing with themes of gay relationships.
This production is directed by Michael Mayer, who has previously directed Hedwig and the Angry Inch, American Idiot, Spring Awakening, Everyday Rapture, On a Clear Day You Can See Forever, and Thoroughly Modern Millie. It was first built in 1903, and recently purchased and restored by the UK-based theatre company Ambassador Theatre Group.
What's
Burn This (2017)

Like?
In the 2017 revival of Burn This, the role of Pale, first brought to life by John Malkovich, will be portrayed by the incomparable Jake Gyllenhaal. Gyllenhaal has been dabbling in theatre for the last several years in between film roles, and has appeared on Broadway once before: in the 2015 production of Constellations. His Off-Broadway roles have included a 2002 London production of This Is Our Youth, the 2012 Roundabout production of If There Is I Haven't Found It Yet, and an upcoming one-night engagement at New York City Center of Sunday in the Park with George.
In addition to the casting, another excellent reason to see this production of Burn This is that it will be the first production in the newly resuscitated Hudson Theatre, which is an old venue located in the heart of the Broadway district that has been used for other purposes since its last Broadway show in 1968.
Is
Burn This (2017)

Good for Kids?
The show is most appropriate for those over the age of 12. Children under the age of 4 are not permitted in the theatre.
Hudson Theatre
145 West 44th Street
New York, NY 10036
Entrance:
44th Street Between 7th Ave and 6th Ave
Theatre Information
General Manager

101 Productions
Casting Director

Jim Carnahan Casting
Advertising Representative

Serino Coyne