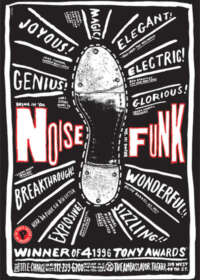 Bring in 'da Noise, Bring in 'da Funk
Broadway Show Tickets: Show Closed No Longer Available
Bring in 'da Noise, Bring in 'da Funk on Broadway: Show Is Now Closed
Bring in 'da Noise, Bring in 'da Funk

Summary
Show Status: Closed

Genre: Musical

Bring in 'da Noise, Bring in 'da Funk is 1 Hour 50 Minutes long, including an intermission of 15 Minutes

8 Shows per week

Previews Began: March 17, 1996

Show Opened: April 25, 1996

Show Closed: January 10, 1999
Innovative musical that tells the history of black men in America from slavery to present day, through the medium of tap dancing and bucket drumming.
Bring in 'da Noise, Bring in 'da Funk

on Broadway Background
Bring in 'da Noise, Bring in 'da Funk first made its debut off-broadway in the Public Theatre in 1995 and ran for a total of 85 performances. The show was met with a warm reception and quickly transferred to the Ambassador Theatre on Broadway in 1996. The original cast of the show included Hollywood and Broadway choreographer Savion Glover, as well as many rising actors like Jeffrey Wright and Dule Hill. With the assistance of director George C. Wolfe, the show became a smash hit and received nine Tony Award nominations at the 1996 award ceremony. Of its nine nominations, the show won its most prestigious awards for "Best Direction of a Musical" "Best Choreography" "Best Performance by a Featured Actress in a Musical" and "Best Lighting Design". The show closed in 1999 after 1135 total performances and is now heralded as a major influence on later hip-hop related Broadway productions such as Passing Strange, In The Heights, Hamilton and Freestyle Love Supreme.
What's
Bring in 'da Noise, Bring in 'da Funk

Like?
Bring in 'da Noise, Bring in 'da Funk chronicles the black experience in America from the early days of slavery to the end of the 20th Century, told through tap dancing, poetry, rap and hip hop. The story starts on a slave ship from Africa, headed to the Americas, as innocent African people have been taken from their homeland and are being transported to America to be sold as slaves. The music and dance in the show becomes reflective of that time and circumstance. Then, as an attempt to weaken their spirits, it is made illegal for black slaves to play the drums. This act, however, leads to the invention of new slave dances that do not involve drums, which then allows the slaves to celebrate their heritage and tell stories of their homeland through the passage of time. As time progresses in the show, the audience gets a glimpse of the many parts of the black American experience including mass lynchings, Hollywood's crass portrayal of the culture, and finally the struggles that African Americans are faced with during the Civil Rights Era. The show culminates in a veritable explosion of street sound, dance and color.
Is
Bring in 'da Noise, Bring in 'da Funk

Good for Kids?
This show delves into many heavy topics such as racism, death, and slavery and thus it is not very suitable for children under 13.
Ambassador Theatre
219 West 49th Street
New York, NY 10019
Entrance:
49th Street, between 8th and Broadway
Theatre Information
Lil' Dahlin'

Savion Glover
The Chanteuse

Ann Duquesnay
Uncle Huck-A-Buck

Baakari Wilder
Artistic Producer

Rosemarie Tichler
Executive Producer

Joey Parnes
Book and Lyrics

Reg E. Gaines
Music and Lyrics

Ann Duquesnay