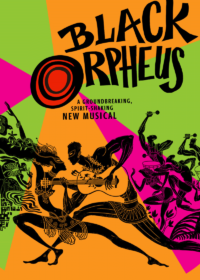 Black Orpheus
Broadway Show In Development
Black Orpheus is in Development
Show Status: In Development

Genre: musical

Black Orpheus is 120 minutes long, including an intermission of 15 minutes

8 Shows per week

Show Closes: Open ended
Retelling of the classic Greek story of fateful love between Eurydice and Orfeu, but now with the backdrop of a Rio de Janeiro during Carnival
Black Orpheus

on Broadway Background
Adapted from the Pulitzer Prize book winner Nilo Cruz and borrowing heavily from the1959 romantic tragedy film of the same name, the Musical Adaptation of Black Orpheus plays on Broadway. The musical is also based on Moraes' play Orfeu de Conceição.
The original music is penned by Grammy Award winner and Brazilian icon Sergio Mendes. The show direction and choreography is helmed by Tony Award winner Sergio Trujillo and the score includes many of the legendary themes from the original motion picture.
This retelling of the Greek legend of Orpheus and Eurydice in Black Orpheus introduced the music style of Bossa-nova to the world, which is a style of samba music developed in the late 1950s in Rio de Janeiro, Brazil.

What's
Black Orpheus

Like?
The young lovers Orfeu and Eurydice run through the slums of the Brazilian capital Rio de Janeiro during the annual Brazilian Carnaval. They are quickly falling in love and are doing their best to avoid a hitman who is dressed like death. Orfeu's jilted, and now very vengeful, fiancée Mira is also on their trail and she is determined to break the lovers apart at any cost.
The show includes a strong Bossa nova music influence and a great deal of Brazilian culture. The show has many moments that are passing between fantasy and reality and its not quite clear which is which until it is all over.
Is
Black Orpheus

Good for Kids?
Given the adult theme of the show, this show is not recommended for children under the age 14 years old.
Circle In The Square Theatre
1633 Broadway
New York, NY 10019
Entrance:
Broadway, between 50th and 51st Streets
Theatre Information
Choreography

Sergio Trujillo