Discount Broadway Tickets For Beetlejuice
Regular Price Tickets
ORCH $159.00
MEZZ $79.00
Discount Code Tickets
ORCH $129.00
MEZZ $69.00
Offer valid for performances thru 05/23/19
Expires 05/23/2019
Lottery Tickets
Rush Tickets
Secondary Market
$145.00
Beetlejuice is 2 hours and 10 Minutes long, including an intermission of 15

8 Shows per week

Previews Began: March 1, 2019

Opens April 1, 2019

Show Closes: Open ended
If a Broadway show that has plenty of 4-letter words, paranormal activity and a lot of blood appeals to your sensibilities, then this show is perfect for you and your family. Beetlejuice tells the story of Lydia Deetz, an outcast teenager who is obsessed with death, the deceased and the afterlife. Lydia moves into a new house with her parents and soon discovers the house is haunted by a recently deceased sweet couple and their degenerate demon from the "other side". When Lydia calls on this demonic apparition to scare away her insufferable parents, the demonic demon called Beetlejuice comes up with the a dastardly plan to get rid of them , a plan that will involve exorcism, a strange marriage and other outright evil acts.
Beetlejuice

on Broadway Background
Based on the original movie of the same name, Beetlejuice is now on Broadway and its ruder, meaner and far more ghastly than the original movie (that starred a young Alec Baldwin, Geena Davis and Michael Keaton). Tim Burton's wonderfully demented original film brought the characters to life in such a stylistic way that the producers of this show attempt to recapture, with a far more contemporary pitch. The Broadway show is Directed by Alex Timbers (by way of Moulin Rouge) and it has a host of other Broadway names attached including choreography by Connor Gallagher, score by Eddie Perfect and the book by Scott Brown and Anthony King. With an out-of-town tryout at the National Theatre in Washington DC and a tall stack of bawdy jokes, Beetlejuice delivers a lot of crazy and inappropriate stuff that you would expect from a deranged demon, so Broadway buyer beware.

Is
Beetlejuice

Good for Kids?
The bawdy jokes and adult themed content keeps this show's intended audience age at over 18 year's old.
Cadillac Winter Garden Theatre
1634 Broadway
New York, NY 10019
Entrance:
Broadway, between 50th and 51st Streets
Theatre Information
Beetlejuice Marquee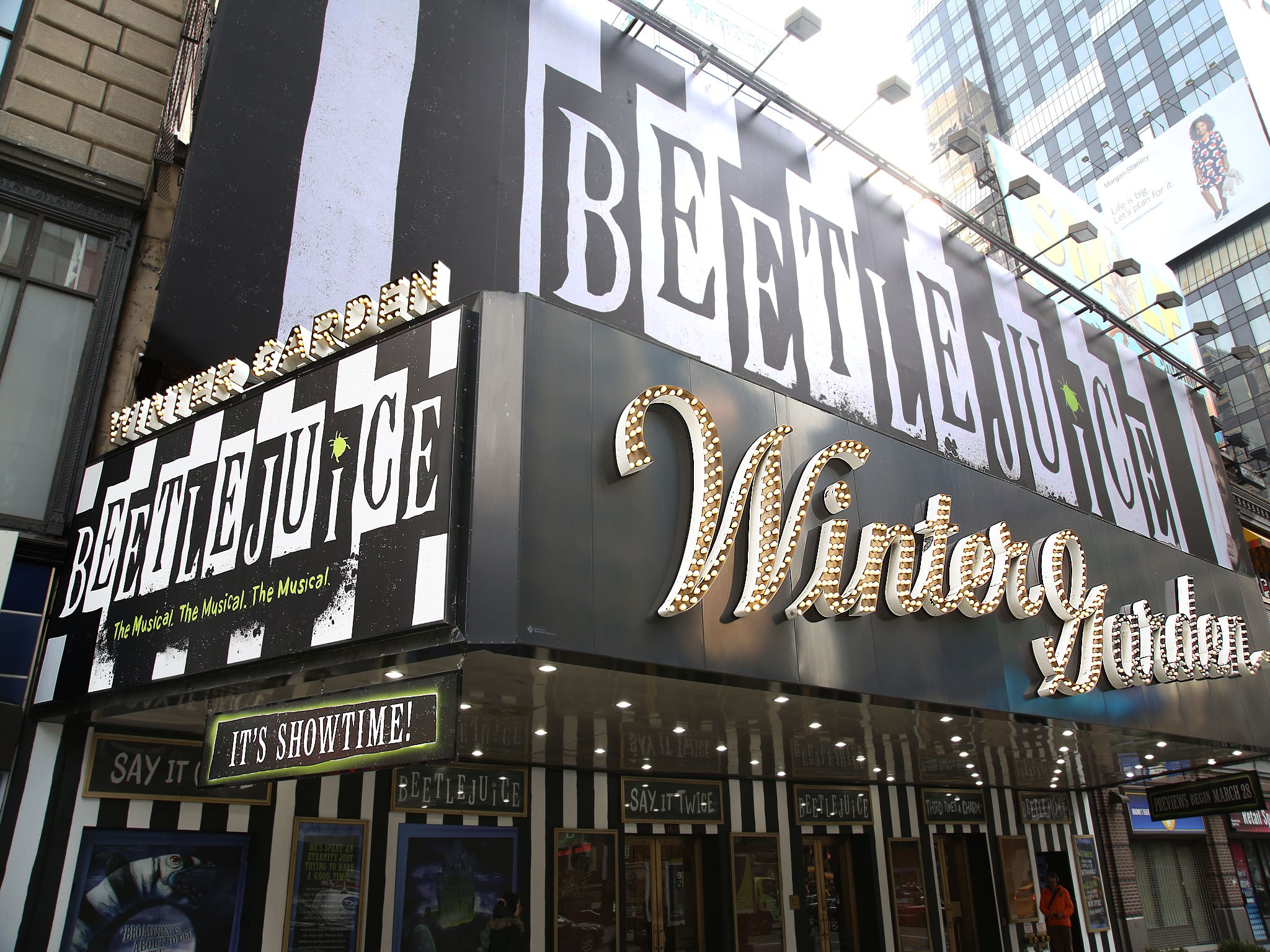 Beetlejuice

Alex Brightman
Maxine Dean

Jill Abramovitz
Maxie Dean

Danny Rutigliano
Warner Bros Theatre Ventures
Choreographer

Connor Gallagher
Musical Director

Kris Kukul