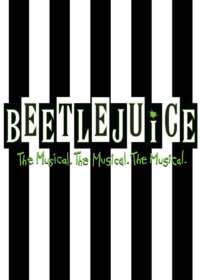 Beetlejuice
Discount Broadway Tickets
Show Status: Currently playing at the Marquis Theatre

Genre: Musical

Beetlejuice is 2 Hours and 40 Minutes long, including an intermission of 15 Minutes

8 Shows per week

Previews Began: April 8, 2022

Show Opened: May 4, 2022

Show Closes: Open ended
A reopening of the irreverent musical comedy based on Tim Burton's macabre 1988 sleeper-hit movie that features demented eye-popping entertainment.
Beetlejuice

on Broadway Background
A Wild Broadway Ride For Beetlejuice Show
Beetlejuice originally opened in previews at the Winter Garden Theatre on March 28, 2019. It officially opened with a red carpet opening on April 25, 2019 and then closed for the pandemic pause on March 11, 2020. It had been slated to close that year anyway to make room for the Hugh Jackman behemoth revival The Music Man that wanted to appear in the same theatre.
Towards the end of its run in 2020, ticket sales for Beetlejuice just kept getting better and better. The show had a 30% rise in ticket sales and rebounded from the low point for which the stop clause was enacted. Despite Beetlejuice being ousted by the angry landlord, the Shubert Organization, from the Winter Garden Theatre, the show would still live on the Great White Way at a new theatre
Return to Broadway at the Marquis Theatre
It was announced that the show would return to Broadway in 2022 at the Marriott Marquis theatre. That theatre had previously housed the musical Tootsie. This show had closed there on January 5, 2020, just before the pandemic took hold. This means that Beetlejuice got another shot at pleasing its fans and recouping its investment for its financial backers.
No Love Lost For The Shubert Organization
The Winter Garden theatre is owned by the Shubert Organization and The Marriott Marquis theatre is owned by the Nederlander Theatre Organization. There is no love lost between The Shubert Organization and Beetlejuice producers following the booting.
The Shubert Organization has a long history of booting out successful shows for their own greed. While many Beetlejuice fans wanted to boycott The Music Man to protest this decision, Beetlejuice got a second life at the Marriott Marquis, so that action became moot.

Dark Comedy Where Four-Letter Words Abound
If a Broadway show that has plenty of four-letter words, paranormal activity and a lot of blood appeals to your sensibilities, then this show is perfect for you and your family.
Beetlejuice tells the story of Lydia Deetz, an outcast teenager who is obsessed with death, the deceased and the afterlife. Lydia moves into a new house with her parents and soon discovers the house is haunted by a recently deceased sweet couple and their degenerate demon from the "other side".
When Lydia calls on this demonic apparition to scare away her insufferable parents, the demonic demon called Beetlejuice comes up with the a dastardly plan to get rid of them, a plan that will involve exorcism, a strange marriage and other outright evil acts.
Ruder, Meaner and Far More Ghastly Than the Original Tim Burton Movie
Based on the original movie of the same name, Beetlejuice The Musical is back on Broadway and its ruder, meaner and far more ghastly than the original movie ever was. It also comes with a tall stack of bawdy jokes.
Tim Burton's wonderfully demented 1988 original film starred a young Alec Baldwin, Geena Davis and Michael Keaton. These actors brought the characters to life in such a stylistic way that the producers of this Broadway show want to recapture the magic, but with a far more contemporary pitch.
The 2022 Broadway show is directed by Alex Timbers (by way of Moulin Rouge) and has a host of other Broadway names attached including choreography by Connor Gallagher, score by Eddie Perfect and the book by Scott Brown and Anthony King.

Is
Beetlejuice

Good for Kids?
The show is not recommend for children, as there is a lot of foul language, adult jokes and some perverted scenes.
Most of the show content is better suited to audiences older than 10 years of age, but even that may be too young. Older teens are more suitable for this show as younger children may not understand the jokes and may be shocked at the content that was intended for adult audiences.
Recommended for kids 10 +, but really better for 16 year old's and up.

Marquis Theatre
1535 Broadway at 45th Street
New York, NY 10019
Entrance:
Broadway, between 45th Street and 46th Street.
Theatre Information
Beetlejuice Marquee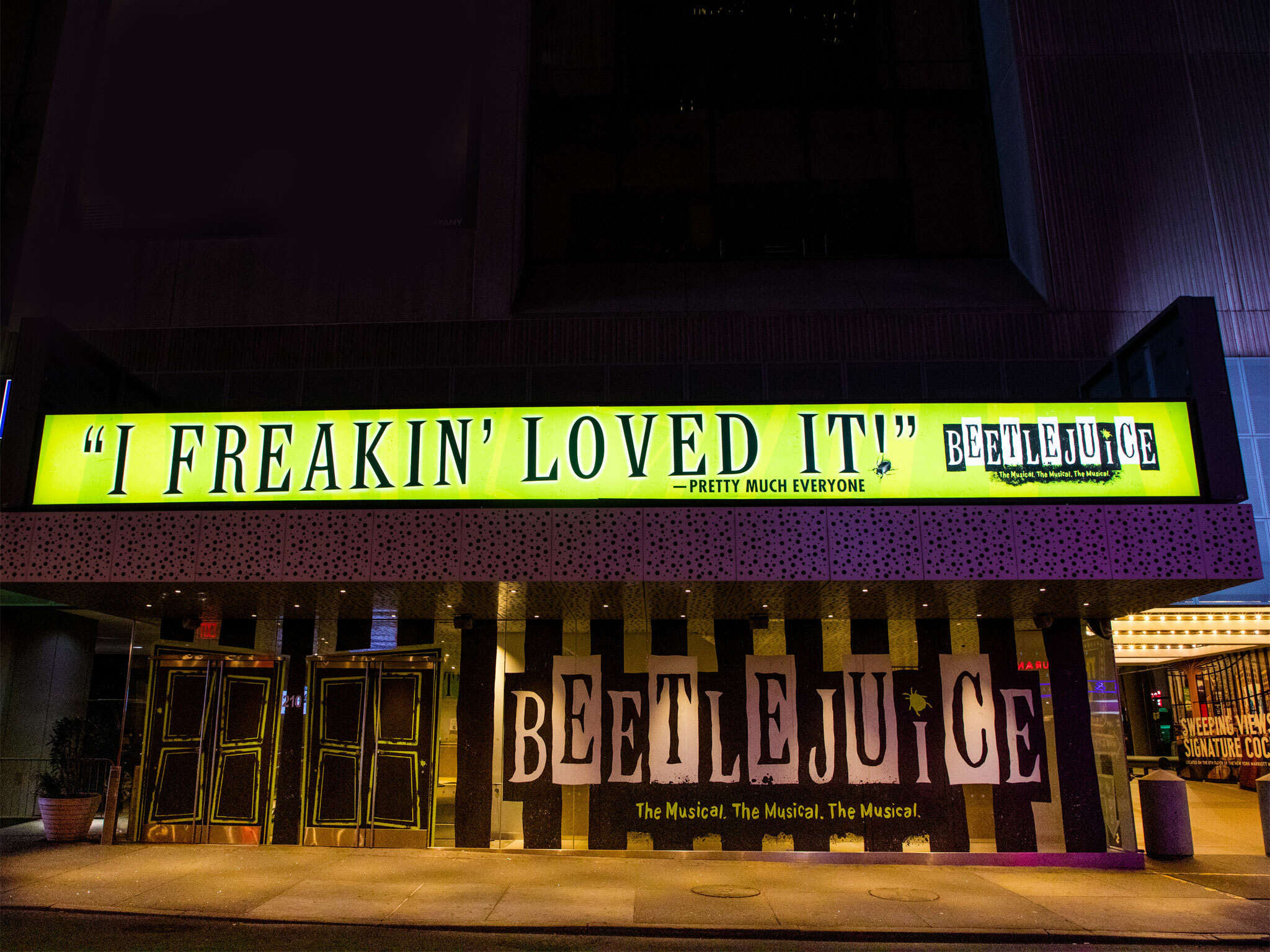 Beetlejuice

Alex Brightman
Delia

Leslie Rodriguez Kritzer
Ms Argentina

Michelle Aravena
Warner Bros. Theatre Ventures
Choreography

Connor Gallagher
Original Score

Eddie Perfect
Music Supervision

Kris Kukul
Orchestrations

Kris Kukul
Incidental Music

Kris Kukul