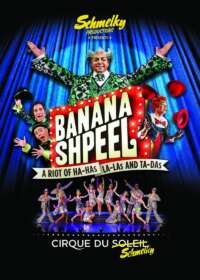 Banana Shpeel: Cirque du Soleil
Broadway Show Tickets: Show Closed No Longer Available
Banana Shpeel: Cirque du Soleil on Broadway: Show Is Now Closed
Banana Shpeel: Cirque du Soleil

Summary
Show Status: Closed

Genre: Spectacle

Banana Shpeel: Cirque du Soleil is 2 Hours long, including an intermission of 15 Minutes

8 Shows per week

Previews Began: April 29, 2010

Show Opened: May 6, 2010

Show Closed: June 27, 2010
A cut down version of the classic Cirque du Soleil show format, but this version had all the great acts removed because of the limited stage size at the Beacon Theatre
Banana Shpeel: Cirque du Soleil

on Broadway Background
It is very rare for a Broadway show to find its way into the Beacon theatre, which is traditionally a great stage for music and comedy, but doesn't lend itself to bigger productions. Banana Shpeel is a vaudeville-style touring stage show that was created by the Cirque du Soleil program that has brought many similar shows like Koozå and Nabuul.

What's
Banana Shpeel: Cirque du Soleil

Like?
Banana Shpeel has many comedic and juggler acts, but the Cirque du Soleil format is known for its big death defying acts like the high wire, trapeze, ladder and silks. None of these made it into the show. Even the wheel of death did not make it into this show. If you like the Cirque du Soleil clowns, then this show was perfect for you. but everone else hated it. The show closed early and investors lost money on something that looked good on paper and would be a like sure-thing, after all who dislikes Cirque du Soleil? Apparently a lot of people now.

Is
Banana Shpeel: Cirque du Soleil

Good for Kids?
All Cirque du Soleil shows are family friendly and Banana Shpeel is no exception with its tame brand of comedy and its less-than-scary acts. Unfortuntely this version of the show had piping-cold performers, a terrible set of acts, an incoherent theme and a lackluster marketing team.
Beacon Theatre
2124 Broadway
New York, NY 10023
Entrance:
Broadway, between W 74th and W 75th St
Theatre Information
Banana Shpeel: Cirque du Soleil Marquee