Avenue Q
Broadway Show Tickets: Show Closed No Longer Available
Avenue Q on Broadway: Show Is Now Closed
Show Status: Closed

Genre: Musical, Comedy

Avenue Q is 2 hours and 15 minutes long, including an intermission of 15 Minutes

8 Shows per week

Previews Began: July 11, 2003

Show Opened: July 31, 2003

Show Closed: September 13, 2009
A recent university grad moves into his first apartment and navigates love, work, and friendships in this Sesame Street-style satire of post-college life.
Avenue Q

on Broadway Background
Avenue Q began life at Off-Broadway's Vineyard Theatre and very quickly became a smash with critics and the youthful city-dwellers who could relate to the hilarious musical's take on becoming an adult and finding your purpose in post-collegiate life. The show gained fans of all ages and backgrounds when it transferred uptown to the John Golden Theatre on Broadway in the summer of 2003, where it earned more enthusiastic reviews. Avenue Q topped off its honors with a slew of TONYs, including Best Score, Best Book, and Best Musical. Now it is back Off-Broadway, delighting audiences at New World Stages.
The combo of human actors and puppets may make Avenue Q look like a kids' show, but songs like "The Internet is for Porn" and "If You Were Gay" point to a more adult sensibility. Clever jokes about everything from racism to the challenge of finding your purpose make this modern musical comedy a particular favorite of twenty and thirtysomethings. But just about anybody who has made the transition to adulthood (and, preferably, has also seen Sesame Street) can relate to the people and puppets of Avenue Q.
Is
Avenue Q

Good for Kids?
Avenue Q is for mature audiences only. Despite the presence of puppets, Avenue Q is not for children at all. Explicit language is used throughout the show, two of the puppet characters have simulated sex onstage, one character wrestles with his sexuality and one dirty ditty declares, "The internet is for porn." Parents should use discretion in deciding whether their kids are mature enough for Avenue Q.
John Golden Theatre
252 West 45th Street
New York, NY 10019
Entrance:
45th Street between 7th and 8th Avenues
Theatre Information
Avenue Q Marquee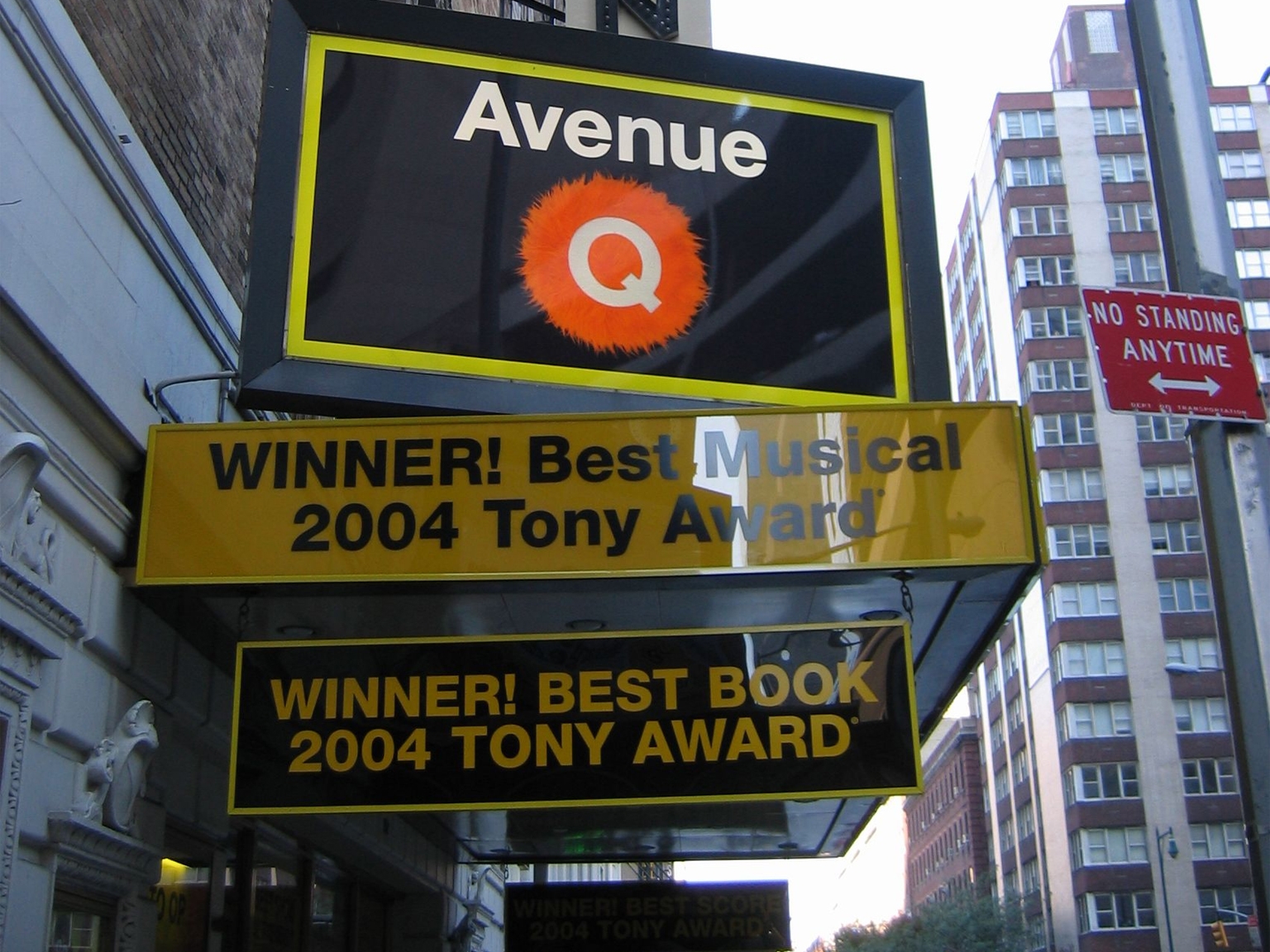 Princeton/Rod

John Tartaglia
Kate Monster/Lucy

Stephanie D'Abruzzo
Bear/Mrs. T

Jennifer Barnhart
Christmas Eve

Anna Harada
Gary Coleman

Natalie Venetia Belcon
Choreography

Ken Roberson
Costume Design

Mirena Rada
Lighting Design

Howell Binkley
Sound Design

Acme Sound Partners
Musical Direction

Gary Adler
Musical Supervision and Orchestrations

Stephen Oremus
Lyrics and Music

Robert Lopez
Lyrics and Music

Jeff Marx
General Manager

John Corker
Company Manager

Mary White
Casting Director

Cindy Tolan Casing
Production Stage Manager

Evan Ensign
Press Agent

Shirley Herz Associates
Advertising Representative

SPOTCo