Uma Thurman Concludes in "The Parisian Woman"
Beau Willimon's Play The Parisian Woman Closes Today, Starring Uma Thurman, Phillipa Soo, Josh Lucas, Marton Csokas and Blair Brown, directed by Pam MacKinnon.
---
Pam MacKinnon Directed Play by Beau Willimon
Today, Sunday, March 11, 2018,
The Parisian Woman
plays its final performance at the Hudson Theatre, where it has been running since November 9, 2017, and officially opened on November 30 The show played 141 performances.
Hype And High Hopes For Uma Thurman's Broadway Debut
An incredibly prolific star, Thurman dabbled in the realm of musical theatre with the 2005 film version of The Producers, and she appeared Off-Broadway in the 1999 production of Molière's The Misanthrope. She is also well known for roles in films Pulp Fiction, Kill Bill, Dangerous Liaisons, Batman & Robin, Gattaca and Les Misérables. The cast featured Tony-nominated Phillipa Soo (Hamilton).

The cast also included Josh Lucas (
The Glass Menagerie
), Blair Brown (
Copenhagen
) and Marton Csokas (
The Lord of the Rings
). The hype also stemmed from the playwright, Beau Willimon, who began in the theatre but since exploded as creator of
House of Cards
. However, that all changed when the reviews came out.
Negative Reviews Led to Middling Box Office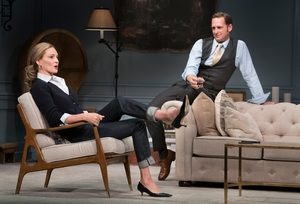 The New York Times was "bored," Variety said if "
The Parisian Woman
leads anywhere, it will be down the drain," and the Chicago Tribune called it "a stunningly smug, utterly incredible and wholly inept political satire of the sexual mores of the chattering Republican classes." As for the box office, it started out strong, but quickly slowed. In the first week of five previews, the show brought in 88.36% of its potential, and in the next full week, it brought in 80.29%.
Uma Thurman's super-fans quickly wore out, and as negative word of mouth began to spread, the numbers took a turn for the worse. In the week ending March 4, the show brought in just $383,885, representing only 37.01% of its potential. Over the course of the reported box office figures so far, which includes all but this final week, the average percentage reached was 54.67%. This play will not have made any profits, and is not likely to be revived on a major scale.