"The Boys in the Band" Begins Broadway Previews
The Boys in the Band Has Begun Previews at the Booth Theatre, in the First Ever Production of Mart Crowley's 1968 Play, Directed by Joe Mantello and Starring Jim Parsons, Zachary Quinto, Matt Bomer, Andrew Rannells, Charlie Carver, Robin De Jesús, Brian Hutchison, Michael Benjamin Washington, and Tuc Watkins
---
At Last, the Broadway Premiere of this 1968 Classic Play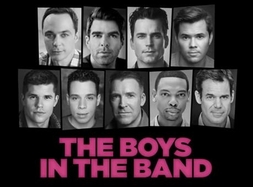 On April 30, 2018, The Boys in the Band began previews at the Booth Theatre, ahead of its opening night scheduled for May 31, 2018. The play is currently scheduled for a limited engagement to run until August 11, 2018. Due to its late opening date, the play will not be eligible for this year's Tony Awards. Mart Crowley's play The Boys in the Band first premiered Off-Broadway in 1968, and two years later it was adapted into a successful feature film of the same name, which is considered one of the first major films in the canon of American queer cinema.

Crowley Makes Broadway Debut In His 80s
As such, this is also the Broadway debut for the playwright, Mart Crowley, who is now in his early 80s. The story of The Boys in the Band revolves around a group of gay men in New York City in the late 1960s, who gather for a friend's birthday party, and whose conversation begins to reveal the cracks in their friendship and the heartache underlying their solidarity. This production is directed by Joe Mantello.
An All Star Cast of Gay Performers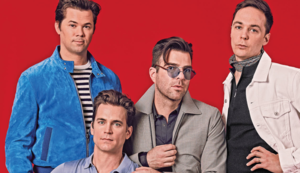 This production stars an excellent cast, all of whom are openly gay in real life. The cast includes Jim Parsons (The Normal Heart), Zachary Quinto (The Glass Menagerie), Matt Bomer (The Normal Heart on HBO), Andrew Rannells (The Book of Mormon), Charlie Carver (Desperate Housewives), Robin De Jesús (Rent), Brian Hutchison (Man and Boy), Michael Benjamin Washington (La Cage aux Folles), and Tuc Watkins (Desperate Housewives).

This production is produced by David Stone, Scott Rudin, Patrick Catullo, Aaron Glick and Ryan Murphy. While Stone and Rudin are veteran Broadway producers, Murphy is better known for his work in television. The scenic and costume design is by David Zinn, the lighting design is by Hugh Vanstone, and the sound design is by Leon Rothenberg. This play was trailblazing when it was first written, and it still holds weighty relevance for the present generation, made all the more resonant by the choice to cast only gay performers.