"Some Like It Hot" to Be a Broadway Musical
Some Like It Hot Will Become a New Broadway Musical to Premiere in 2020, With Songs by Scott Wittman and Marc Shaiman, Produced by the Shuberts, Neil Meron, and Craig Zadan.
---
Marc Shaiman and Scott Wittman Writing the Score
Background on Iconic Film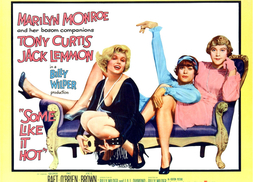 In 1959, the film Some Like It Hot was released to widespread acclaim, earning six Academy Award nominations. Since then, it has become one of the most beloved comedy films of all time, ranking first in a 2017 BBC poll among hundreds of top film critics as the best comedy in film history. Starring Marilyn Monroe, Tony Curtis, and Jack Lemmon, is the story of two musicians who dress in drag in an all-female band to escape from gangsters after witnessing them commit a crime.

As one of the earliest films to showcase cross-dressing and themes of homosexuality, it made a major dent in helping make the code more lenient that regulated the content of American motion pictures. For its part, the film Some Like It Hot the film is based off a French film called Fanfare of Love.

Other Musical Versions of Some Like It Hot, New Version a Totally DIfferent Hot Take
In 1972, Some Like It Hot was adapted into a musical called Sugar, which ran for 519 performances, produced by David Merrick, directed by Gower Champion, with a book by Peter Stone, lyrics by Bob Merrill, and music by Jule Styne. In 2002, a revamped version of Sugar toured the U.S., called Some Like It Hot: The Musical. Nevertheless, this production of the musical adaptation of Some Like It Hot will be entirely different.

The book will be written by Matthew Lopez, a British playwright (The Inheritance) and the score will be written by Marc Shaiman and Scott Wittman (Charlie and the Chocolate Factory, Catch Me If You Can, Hairspray). The director and choreographer will be Casey Nicholaw (Something Rotten!, Aladdin, Elf, The Book of Mormon). The producers are the Shubert Organization, along with Craig Zadan and Neil Meron, whose producing credits include NBC's slate of live musicals, several years of the Academy Awards ceremony, and Broadway shows including How to Succeed in Business Without Really Trying.
Smash Team Reunites for Another Marilyn Monroe Affiliated Show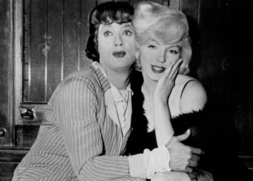 NBC's television series Smash may not have lasted more than two seasons, but it was certainly a memorable television show for musical theatre fans. Produced by Meron and Zadan, the first season dealt with a fictional Broadway musical Bombshell, which told the life and story of Marilyn Monroe through song. These songs, in real life, were composed by Shaiman and Wittman.

In fact, there have long been reports of a real musical production of Bombshell, with choreography by Joshua Bergasse, and involvement by Steven Spielberg, who was an executive producer of "Smash." Whether or not Bombshell makes it to the stage anytime soon, Some Like It Hot is slated to premiere on Broadway in 2020. While Bombshell is the story of the real-life Marilyn Monroe, Some Like It Hot is a fictional story based off a film that starred Marilyn Monroe.

What to Expect From the Musical
In the story, the two men who dress in drag, while plotting their escape, become enamored with the band's singer and ukulele player, who is named Sugar, and who was played by Marilyn Monroe in the film. (Hence the name of the first musical adaptation, Sugar). These entirely different projects are therefore related, and it is a delightful coincidence that they share both a duo of producers and a duo of songwriters.

Scott Wittman and Marc Shaiman are also the songwriters behind the upcoming Disney musical film Mary Poppins Returns, directed by Rob Marshall, which stars Emily Blunt and Lin-Manuel Miranda, to be released on Christmas Day 2018.