"My Fair Lady" Broadway Revival Cast is Set
Bartlett Sher's Upcoming Broadway Revival Of Lerner And Loewe's My Fair Lady Will Star Lauren Ambrose As Eliza Doolittle And Harry Hadden-Paton As Henry Higgins.
---
Bartlett Sher Helms Revival of Lerner & Loewe Classic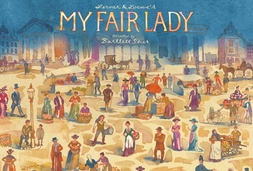 This spring, My Fair Lady is returning to Broadway for the first time since 1994. This musical, which is based on George Bernard Shaw's novel Pygmalion, has a book and lyrics by Alan Jay Lerner, with a musical score by Frederick Loewe. This is the same duo behind Gigi, Camelot, Brigadoon, and many more musicals, but My Fair Lady has proven the test of time more than any other, standing out as a true classic of American musical theatre.
The show premiered on Broadway in 1956, running in that debut production until 1962. Additional revivals took place on Broadway in 1976, 1981, and 1993, with a tour following that latter production, and a more recent tour in the U.S. from 2007 to 2008.
"My Fair Lady" Broadway Hit Returns After Decades
Nevertheless, it has been over two decades since My Fair Lady has seen the lights of Broadway, and it is due time for this show to be revived. This will be a Lincoln Center Theater production in their Broadway venue on their campus, the Vivian Beaumont Theatre, which was most recently home to the play Junk, which closed last month.
The revival will be directed by Bartlett Sher, who is an incredibly accomplished director of musical theatre, and the Resident Director at Lincoln Center. His Broadway directorial credits include Oslo, The King and I, The Fiddler on the Roof, The Bridges of Madison County, Golden Boy, Women on the Verge of a Nervous Breakdown, and South Pacific. The choreographer is Christopher Gattelli, whose many credits include SpongeBob SquarePants, War Paint, Amazing Grace, The King and I, Casa Valentina, Newsies, and Women on the Verge of a Nervous Breakdown.
Lauren Ambrose And Harry Hadden-Paton To Star In Revival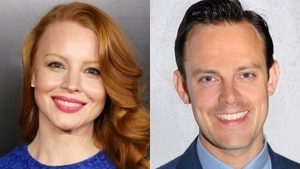 When My Fair Lady premiered on Broadway in 1956, it starred Julie Andrews in a career-making turn. In the upcoming revival, the lead part of Eliza Doolittle will be played by Lauren Ambrose, who previously appeared on Broadway in the 2006 production of Awake and Sing!, and the 2009 production of Exit the King.
She is best known for her screen roles, including the recurring part of Claire Fisher in the HBO series Six Feet Under, for which she won two Screen Actors Guild Awards. She is also recognizable from the 1998 teen classic Can't Hardly Wait, as well as Psycho Beach Party, Where the Wild Things Are, and Torchwood: Miracle Day.
"My Fair Lady" Is Worth The Wait
Additionally, it was announced that she would star in the equally iconic lead part of Fanny Brice in a 2012 production of the classic musical Funny Girl, also to be directed by Bartlett Sher, but that production was indefinitely postponed due to financial concerns. Therefore, it is finally time for Ambrose to get her star turn in a timeless musical under Sher's expert direction, and My Fair Lady was certainly worth the wait.
Starring opposite Ambrose is Harry Hadden-Paton in the role of Henry Higgins, making his Broadway debut. Hadden-Paton may be a new face in New York, but he is an experienced actor in London, where his stage credits include the 2007 production of Romeo and Juliet at the Battersea Arts Centre, Posh at the Royal Court, The Rivals and the Southwark Playhouse, No Naughty Bits at the Hampstead Theatre, She Stoops to Conquer at the National Theatre, The Changling at the Young Vic, and The Pride at Trafalgar Studios. He is also recognizable from his role as Martin Charteris in the Netflix series The Crown.
Broadway Stars Joined By An Excellent Supporting Cast
In addition to Ambrose and Hadden-Paton, the entire cast for My Fair Lady has now been announced. In the role of Alfred P. Doolittle will be Norbert Leo Butz (Big Fish, Dead Accounts, Catch Me if You Can), and in the role of Mrs. Higgins will be Diana Rigg (Medea, The Misanthrope, Abelard and Heloise). Furthermore, Allan Corduner will play Colonel Pickering, Linda Mugleston will play Mrs. Pearce, Jordan Donica will play Freddy Eynsford-Hill and Manu Narayan will play Zoltan Karpathy.
Also, the vast ensemble will include Cameron Adams, Kerstin Anderson, Shereen Ahmed, Heather Botts, Rebecca Eichenberger, John Treacy Egan, SuEllen Estey, Steven Trumon Gray, Christopher Faison, Adam Grupper, Joe Hart, Michael Halling, Sasha Hutchings, Liz McCartney, Kate Marilley, Justin Lee Miller, Keven Quillon, Rommel Pierre O'Choa, JoAnna Rhinehart, Lance Roberts, Tony Roach, Blair Ross, Paul Slade Smith, Christine Cornish Smith, Samantha Sturm, Michael Williams, Matt Wall, Lee Zarrett, and Minami Yusui.