"Mean Girls" Musical Opens to Mixed Reviews
Tina Fey's Mean Girls opened to mixed reviews on Broadway, but the box office is still strong due to the popular film upon which it is based.
---
Tina Fey's Broadway Debut Adapted from Popular Film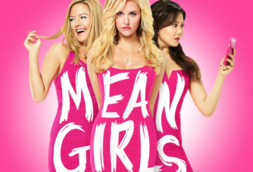 On April 8, 2018,
Mean Girls
opened at the August Wilson Theatre on Broadway, where it had been running in previews since March 12, 2018. The show has landed on the scene surrounded by plenty of buzz, due to the fact that it is the stage adaptation of a wildly popular 2004 teen comedy film of the same name, along with the fact that the book is written by Tina Fey, who also wrote the screenplay to the film among her innumerable accomplishments. The music is by Jeff Richmond (who happens to be Fey's husband), and the lyrics are Nell Benjamin (
Legally Blonde
). The film starred Lindsay Lohan, Rachel McAdams, and Tina Fey, and quickly became a cult classic that can also be considered a mainstream success. The musical came to Broadway following an out-of-town tryout at the National Theatre in Washington, D.C. this past fall. The reviews for that production are almost irrelevant, as the show blazed on ahead to Broadway due to the power of its brand recognition and creative team. On Broadway (as it was in Washington D.C.), the cast is led by Erika Henningsen (
Les Misérables
) as Cady Heron, Taylor Louderman (
Kinky Boots
,
Bring It On the Musical
) as Regina George, Ashley Park as Gretchen Wieners, Kate Rockwell as Karen Smith, Barrett Wilbert Weed as Janis Sarkisian, Grey Henson as Damian Hubbard, Kerry Butler as Mrs. Heron, Ms. Norbury, and Mrs. George, Kyle Selig as Aaron Samuels, Cheech Manohar as Kevin Gnapoor, and Rick Younger as Mr. Duvall, along with an ensemble.
Mixed Reviews Despite the Buzz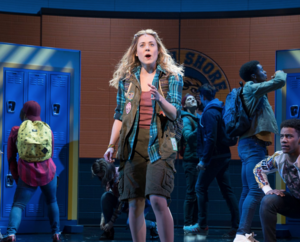 In response to seeing the show prior to opening night, Ben Brantley of The New York Times called the show "likable but seriously over-padded." Still, he admits that he prefers "the jokes, poses and put-downs" of the character Regina George, as written by the "peerless comic writer" Tina Fey, much more than the female interactions portrayed in the show's competition:
Frozen
,
Anastasia
, and
Wicked
. However, he also states that the show suffers from "indecisiveness," in spite of the "great time" that he admitted to having whenever Regina strutted her maliciousness across the stage. David Rooney from The Hollywood Reporter was more won over, as he enjoyed the "elevation of Regina George from imperious arbiter of high school hotness to full-blown arch villainess," calling Taylor Louderman's performance "divine." He was less enamored with the songs, which he describes as falling "into workmanlike pastiche" and "too seldom developing robust melodic hooks," but does state that "the score at least wins points for democratization," as each main character gets a big number. Joe Dziemianowicz was more on the fence, enjoying its "fizzy blast" and deeming it "this season's most likely to crowd-please," but qualifying that compliment by stating that it's not necessarily a "great musical." Matt Windman from AM New York was less generous in his response, mentioning how he greatly preferred the musical version of
Heathers
, which played Off-Broadway, as a show in a similar genre. Still, Greg Evans from Deadline was a big fan, calling it "absolutely fetch," enjoying how it adapted the film "to full musical comedy scale without sacrificing any of the mordancy and compassion."
A Strong Start at the Box Office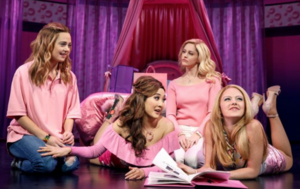 Prior to these reviews emerging, the show has already been faring quite well at the box office. Over the 4 weeks of reported box office figures so far, the show has brought in an average of 97.79% of its gross potential. The first three weeks were especially strong, bringing in over 100% of its gross potential. This past week saw a decrease of $292,508 from the week before to reach a weekly gross of $1,176,175, but that may partly be accounted for by the many complimentary tickets that were given out to press to review the piece prior to opening. In any case, the following weeks will determine whether the show is going to see an impact from these mixed reviews or not, and awards season will further decide upon the longevity of this musical.
Discount Broadway Tickets
---
---