"Junk" Concludes Its Run at Lincoln Center Theater
Junk, Written By Ayad Akhtar And Directed By Doug Hughes, Closes On January 7, 2018 After A Well-Reviewed And Financially Moderate Run.
---
BroadPulitzer Prize Winner Ayad Akhtar's Latest Play Closes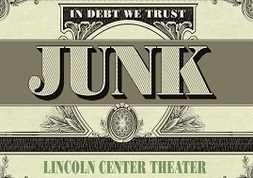 On January 7, 2018, Junk will play its final performance at Lincoln Center's Vivian Beaumont Theatre. This new play by Ayad Akhtar began previews on October 5, 2017, ahead of its official opening night on November 2, 2017.
Upon closing, the show will have played 107 performances, including previews. Set in 1985 in Los Angeles, New York, and Allegheny, Pennsylvania, Junk is a historically based drama about the 1980s era of debt and duplicity, when junk bonds were a common occurrence.
Positive Reviews From Critics
Shining a spotlight on the issues surrounding corporate takeover, Junk earned generally positive reviews from critics upon opening. The show had its world premiere at the La Jolla Playhouse in California in summer 2016, before finding its way to Broadway. This highly anticipated new work by Ayad Akhtar follows the playwright's previous Broadway endeavor, Disgraced, which won the Pulitzer Prize for Drama in 2013, and which was also developed through Lincoln Center Theater.
A prolific writer, Akhtar has written more than plays; his debut novel American Dervish was released in 2012 by Little, Brown and Company, making several Best of the Year Book Lists, including Oprah Winfrey's O, the Oprah Magazine Book of the Year, as well as the Globe and Mail Book of the Year.
An Acclaimed Production Directed By Doug Hughes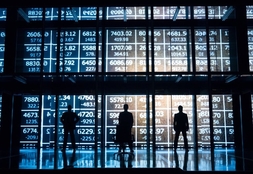 Helming this exciting production was a very experienced director, Doug Hughes. His previous Broadway directing credits include The Father, Outside Mullingar, The Big Knife, An Enemy of the People, Born Yesterday, Elling, Mrs. Warren's Profession, Oleanna, and The Royal Family, among many others. With Hughes' refined specialty in crafting the stage work of significant dramas, Junk was in very good hands.
Regulars and Broadway Debuts
The cast was made up of Broadway regulars and newcomers, including Ito Aghayere, Phillip James Brannon, Tony Carlin, Demosthenes Chrysan, Jenelle Chu, Caroline Hewitt, Rick Holmes, Ted Koch, Ian Lassiter, Teresa Avia Lim, Adam Ludwig, Sean McIntyre, Nate Miller, Steven Pasquale, Ethan Phillips, Matthew Rauch, Matthew Saldivar, Charlie Semine, Michael Siberry, Miriam Silverman, Joey Slotnick, Henry Stram, and Stephanie Umoh.
Of this large ensemble, 9 individuals were making their Broadway debuts. The show had scenic design by John Lee Beatty, costume design by Catherine Zuber, lighting design by Ben Stanton, sound design by Mark Bennett, and projection design by Benjamin Pearcy and 59 Productions.
Moderate Box Office Throughout The Run
Throughout the run for Junk, the box office has remained fairly consistent. While not terrible, the show never managed to bring in more than 55% of its gross potential in any given week. Over the course of the run thus far, including all reported box office figures so far, which is all but the final week, the average percentage reached of gross potential amounted to 45.81%.
With a top ticket price of $197.00, the average paid admission throughout the run has been $77.22, and the audience has been filled to an average capacity of 75.71%. The highest gross was earned in the week ending November 12, 2017, when the weekly gross was $602,363, or 54.28% of the show's gross potential.
"Junk" Losing Its Steam
However, even in the recent, generally lucrative weeks surrounding the winter holidays, Junk has been losing steam. It brought in its lowest weekly gross for a full performance week in the week ending December 24, 2017, even when other shows did quite well, bringing in a weekly gross of $352,024, or 31.72% of gross potential.
Even last week, when multiple shows broke box office records, and Broadway culminated its highest grossing year in history, Junk only brought in $457,474, or 41.23% of its gross potential.
A Successful Run
Therefore, this meaty play about serious, politically and economically weighty issues did not appear to be subject to the same box office fluctuations as the average Broadway show, which appeals more to the tourist crowd.
Situated at Lincoln Center and appealing to New Yorkers perhaps more than visitors, Junk stayed its own course, and played successful, if financially modest, run.