"John Lithgow: Stories by Heart" Concludes Run
John Lithgow: Stories by Heart Played its Final Performance Last Week, Culminating Lithgow's Solo Show That Toured the Country Until Finding Way to Broadway
---
Tony and Emmy Winner John Lithgow Wraps Up Solo Show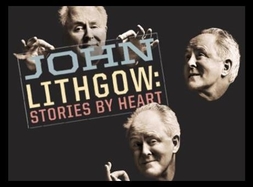 On March 4, 2018, John Lithgow: Stories by Heart played its final performance at Broadway's American Airlines Theatre in a Roundabout Theatre Company production. This one-man show was the culmination of many years of development on the part of John Lithgow, the Tony and Emmy Award winning actor who is beloved to countless individuals across the world. In between his busy filming schedule, Lithgow began developing Stories by Heart in 2008 with a repertory production at Lincoln Center Theatre, directed by Jack O'Brien, in which he would tell a different story each night.
He continued to evolve the play, adapting several stories that he remembers fondly from his childhood, including Haircut by Ring Lardner, and Uncle Fred Flits By from a collection of short stories Young Men in Spats (1936) by P. G. Wodehouse. Performing the show in theatres across the country, he eventually refined the show for Broadway. The Broadway production was directed by Daniel Sullivan (Sylvia, The Country House, The Snow Geese, Orphans).
An Incredible Career Culminating in a Modestly Captivating Solo Show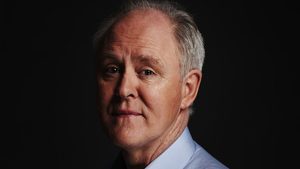 Lithgow's expansive career includes innumerable accolades. On Broadway, he has performed in 24 shows since 1973, beginning with his Tony winning turn in The Changing Room. In 1976, he starred opposite Meryl Streep in A Memory of Two Mondays, and in 1985 he earned his second Tony nod for Requiem of a Heavyweight. He was also nominated for Best Actor in the 1988 production of M. Butterfly, and in 2002, he won for Best Actor in a Musical for Sweet Smell of Success. Other Tony-nominated credits include Dirty Rotten Scoundrels in 2005, and The Columnist, also directed by Daniel Sullivan, in 2012.
On television, he has earned numerous Emmy nominations and wins for he Day After, Amazing Stories, Resting Place, My Brother's Keeper, and Dexter. His best known role was Dick Solomon in NBC's 3rd Rock from the Sun from 1996-2001, which earned 6 Emmy nominations, and 3 wins. Most recently, in 2017, he won Emmy for Outstanding Supporting Actor for portraying Winston Churchill in The Crown. For his extensive film work, Lithgow has been nominated for two Academy Awards, for The World According to Garp in 1983 and Terms of Endearment in 1984.
Positive Reviews But Not a Box Office Sell-Out
The New York Times raved, calling it "delightful" and "uplifting." Likewise, Time Out New York loved the show, deeming it "masterly" and "pleasant." Entertainment Weekly enjoyed the "thrilling, imagined world" that Lithgow conjured, and the New York Daily News called the show "sweet but slight." In general, the box office was in line with this critical response, on the positive side but not wildly successful.
Upon closing, the show played 61 regular performances in addition to 21 preview performances. During this time, the show brought in an average of 60.83% of it gross potential. With an average top ticket price of $180.18, the average paid admission through the run was $72.56, and the audience was filled up to an average of 89.25% of capacity. Therefore, there was no real shortage of demand for seats, but a fair amount of discounting was required in order to fill the theatre.
Discount Broadway Tickets
---
---