"Falsettos" Begins Previews at the Walter Kerr Theatre
Falsettos Began Previews At The Walter Kerr Theatre And Is Directed By James Lapine And Stars Christian Borle, Andrew Rannells, And Stephanie J. Block.
---
Revival Of Tony Award Winning William Finn And James Lapine Broadway Musical
The first Broadway revival of Falsettos is currently in previews at the Walter Kerr Theatre. Official opening night is scheduled for October 27, 2016, and the run is scheduled for a limited engagement to last until January 8, 2017.
The musical, which first premiered on Broadway in 1992, has a book by William Finn and James Lapine, along with music and lyrics by William Finn. Like the original production, this revival is directed by James Lapine.
Choreography By Spencer Liff
This production also has choreography by Spencer Liff. James Lapine is best known as a collaborator of Stephen Sondheim, and his other credits as writer and/or director include Act One, Sunday in the Park with George, Sondheim on Sondheim, Into the Woods, Dirty Blonde, and Passion.
As for William Finn, he also wrote the music and lyrics for The 25th Annual Putnam County Spelling Bee, in addition to the lyrics for Dangerous Games, and the song "The Scarlet Pimpernel" which appeared in The Sisters Rosensweig. When Falsettos first appeared on Broadway in 1992, it won the Tony Awards for Best Book of a Musical and Best Original Score, and was nominated for Best Musical.
A Fabulous Cast Including Andrew Rannells, Christian Borle, And Stephanie J. Block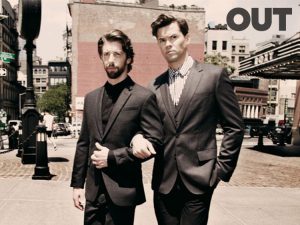 The story of Falsettos centers around a man named Marvin (played by Christian Borle), who leaves his wife and son for her lover, Whizzer (played by Andrew Rannells). Christian Borle is well known for playing Black Stache in Peter in the Starcatcher, for which he won the Tony Award for Best Performance by a Featured Actor in a Play, as well as for playing Shakespeare in Something Rotten!, for which he won the Tony Award for Best Performance by a Featured Actor in a Musical.
He was also nominated for that award for his performance as Emmett Forrest in Legally Blonde, and he is slated to play Willy Wonka in the upcoming production of Charlie and the Chocolate Factory, coming to Broadway in spring 2017.
Christian Borle's Impressive Career
Furthermore, he is beloved for his role as Tom Levitt on "Smash" on NBC. As for Andrew Rannells, he came to prominence in 2011 for originating the lead role of Elder Price in The Book of Mormon, for which he was nominated for the Tony Award for Best Performance by a Lead Actor in a Musical. He was then the first replacement after Neil Patrick Harris in the 2014 revival of Hedwig and the Angry Inch, and he was a temporary five-week replacement as King George III in Hamilton. In the meantime, he reached even greater heights of fame for his role as Elijah Krantz in HBO's "Girls," starring opposite Lena Dunham.
As for Stephanie J. Block, who plays Marvin's ex-wife Trina in Falsettos, she was nominated for the 2013 Tony Award for Best Performance by a Lead Actress in a Musical for The Mystery of Edwin Drood. Her many other Broadway credits include Anything Goes, 9 to 5, The Pirate Queen, and as a replacement for Elphaba in Wicked.
Off To An Unsure Start At The Box Office
In the week ending October 9, 2016, Falsettos played an almost full week of seven performances. In that week, it brought in a weekly gross of $404,430, which represents 53.89% of its gross potential.
The previous week, its first week of just three previews, the weekly gross was $247,603, which represents 57.37% of its gross potential. Although this is a somewhat well-known show in the canon of musical theatre, it is not as established as some of the classics, nor does it have the appeal of a brand-new show. It is to be expected that if word of mouth is outrageously positive, that may spur further interest, but if not, then the show may have a tough time making its money back.