"Escape to Margaritaville" Closes to Little Fanfare
Escape To Margaritaville Closes After No Tony Nominations, Negative reviews, Low Box Office, And Generally Little Fanfare.
---
Jimmy Buffett Musical Concludes Broadway Run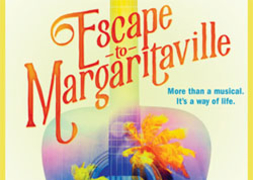 On July 1, 2018, Escape to Margaritaville will play its final performance. This musical with a songbook by Jimmy Buffett began previews on February 16, 2018, ahead of an opening night on March 15, 2018. Upon closing, the show will have played 124 performances, in addition to 29 preview performances. While this length of run is certainly not shoddy, the box office performance and critical response were nothing to write home about. For a musical, especially one relying on jukebox tunes, the goal is to run for at least a year, not less than half a year.
As such, Escape to Margaritaville earns few points in terms of the markers of historical success. The show took home not one Tony Award nomination, and awards recognition in general was paltry. Prior to arriving in New York, the show played an out-of-town tryout in four cities: La Jolla, Chicago, New Orleans, and Houston. Given the response to these productions, the show demonstrated that it has more of an appeal in cities throughout the country than in the big leagues of New York City.
Score Features Popular Songs
With a book by Greg Garcia and Mike O'Malley and directed by Tony Award winner Christopher Ashley, Escape to Margaritaville has a musical score made up of songs by Jimmy Buffett, with songs including "It's Five O'Clock Somewhere," "License to Chill," "It's My Job," "We Are the People Our Parents Warned Us About," "Why Don't We Get Drunk," "Margaritaville," and "Cheeseburger in Paradise."

The show tells the story of a man named Tully (played by Paul Alexander Nolan), who is a part-time bartender at Margaritaville, a run-down hotel on a small Caribbean island, and also a part-time singer. When an ambitious tourist named Rachel (played by Alison Luff) comes to visit, she takes his heart away and makes him question the island lifestyle.
A Tepid Response from Theatre Critics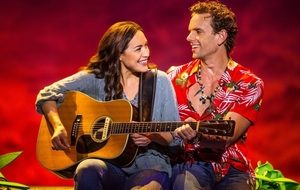 In reviewing Escape to Margaritaville, Jesse Green of the New York Times said the good news is that it makes "getting sloshed on Broadway" easier than ever, but the bad news is "you still have to see the show." Franck Scheck from The Hollywood Reporter was more in the middle, saying that it is "the theatrical equivalent of sipping on a frozen drink while lying on a beach chair in the blazing sun." Nick Maslow from Entertainment Weekly discussed how the show "was designed for Baby Boomers…who want to sing along to that hit they listened to while getting stoned on the beach in the '70s."

Joe Dziemianowicz from the New York Daily News was also lackluster in his response, saying that it "may fit the bill if you're in the mood for a breezy but dopey diversion," but does admit that the show makes it easy to see why Buffett has built such a large fanbase. In general, the show's reviews capitalized on jokes, easily pulled from the songs within the show, that relegated this entertainment to the kind best received under some kind of inebriation.
Disastrous Box Office Throughout the Run
Throughout the run thus far, taking into account all reported box office figures, which is all but the final, current week, the show has brought in an average of 39.19% of its gross potential. With a top ticket price of $247.00, the average paid admission throughout the run has been $83.38, and the audience has been filled up to an average of 62.99% of its capacity. In the last reported week, the week ending June 24, 2018, the show saw a slight uptick from the week before, bringing it to a weekly gross of $567,991, which represented 32.40% of the show's gross potential.

According to a filing with the Securities and Exchange Commission, Escape to Margaritaville had an initial capitalization of $15 million. It is certain that the show has not recouped its investment. Nevertheless, it will likely go on to play regional and amateur venues throughout the country, and perhaps abroad as well, allowing more revenue to trickle in for the Broadway show's investors.
Discount Broadway Tickets
---
---