Disney's Frozen Begins Broadway Previews, and It's a Mess
In Rare Mis-Step, Disney's Latest Movie To Broadway Incarnation, Frozen, Is A Mess. The Songs And Staging Are Amazing, But The Acting And Singing Are A Big Fail And Disney Has Little Time To Fix It
---
Disney's Frozen Begins Broadway Previews
On a cold and wet Thursday night in February, Frozen on Broadway began previews at the St. James Theatre, and the weather inside the theatre wasn't much better than it was outside.

Frozen is based on the 2013 Disney animated movie of the same name, which is the highest-grossing animated film of all time, with worldwide box office takings of over $1.27 billion. The film has mesmerized young fans for over five years, and although Michael Grandage's Broadway version is a retelling of the very same tale, he promised a deeper dive into the characters and story. However, he ultimately keeps to the same simplistic, half-inch deep plot involving two sisters named Elsa and Anna, who discover that when faced with problems in their lives, they really don't need men to save them at all, despite the traditional Disney fairy tale ethos.
The overt message from the movie is that the love between these two sisters conquers all, but the Broadway show version fell on deaf ears for the first preview audience of cynical city dwellers. The show may have a bumpy ride while it makes its way through previews to opening night, when the performance becomes fixed. Cassie Levy (Les Misérables, Ghost) plays Elsa, and Patti Murin (Wicked, Lysistrata Jones) plays Anna in this 110 minute show, which began previews on February 22, 2018 ahead of its official opening night on March 22, 2018.
Elsa and Anna Have Magical Powers
The story is about Elsa and Anna who are pulled apart by Elsa's incredible, yet potentially destructive, magical powers, which she seems unable to control. As she struggles to find her voice and harness her powers within, she is banished to the mountains, and her younger sister embarks on an epic adventure to attempt to bring them back together, once and for all. Both are searching for love in all the wrong places, but they don't realize that the love they have for each other is the secret to their ultimate success and happiness.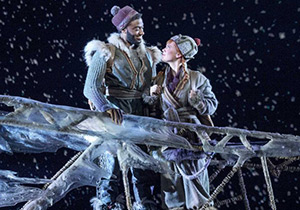 Social Media Critics Respond
Despite the occasional high note, Frozen on Broadway is often a bit of a bore, with the same simple storyline from the movie, mediocre stage acting, pitchy high notes, and lackluster casting. The simple story is drawn out to about twice as long as it needs to be, and many scenes serve no purpose at all in developing the main storyline, serving the show like an overfilled cup of gelato.
Special Effects That Dazzle
On the flipside, the show staging is amazing, with special effects that dazzle with the use of projection mapping and inventive stagecraft. It is a shame the actors and dialogue could not be replaced with the same technology, but the actor's union would probably never allow it. The innovative use of the relatively small stage at the St. James Theatre throws shade on all other productions, some with large spaces that achieve less, as well as with its dramatic staging, special effects, and impressive lighting.
Despite these positive attributes, many components of the show would feel more at home as a theme park show at Six Flags or Disney World, but are not particularly suited for the Broadway theatregoer who demands a well-acted, polished, interesting show, rather than another Spiderman, may it rest in peace.

New "Frozen" Songs Inspire, but Are Poorly Delivered
The new-for-the-stage songs by husband and wife songwriting team Robert Lopez and Kristen Anderson-Lopez deliver as anticipated, but the poorly sung ballads often sound more like a pitchy American Idol performance than would be fitting of an Arendelle Princess. Many times during the performance, you wish that Adele Dazim would just pop up and make an entrance to replace the affable, but out-of-her-depth Cassie Levy, with her less-than-stellar rendition of "Let It Go" and the disappointing, yet still compelling, Patti Murin singing "Love is An Open Door."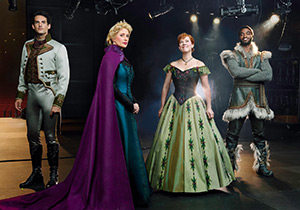 Does "Frozen" Miss the Mark?
Strong Ideas To Pandering
Frozen promised to delve deeper than the animated film, but the truth is that it doesn't delve much more than half an inch and a mile wide. The show also sends a message to children that it is okay to physically strike someone who has wronged you, which goes against the whole Walt Disney ethos of non-violent acts. When Anna strikes Hans, it felt like pandering to the crowd, and although it got a cheer from the audience, in a blink of an eye it went straight from Broadway to pantomime. The adult-geared jokes are few and far between, and the show does not command the attention of anyone above the age of 20.
Boredom For Parents

Just look around during the show and you will see the faces of boredom on parents and grandparents, which will tell you about the ultimate success, or demise, of this show on Broadway. The comic relief is supplied from Olaf the Snowman, which is done in the style of Farinelli and the King, with the actor controlling the puppet dressed in a mismatching costume, awkwardly walking and talking behind the stuffed character, moving about the stage, with each move often driving out any anticipated comic value. It's not funny; it's just creepy. Super fans of the movie may overlook this at the show, but your average theatregoer will balk.
The Show Staging
The St. James Theatre is far from an ideal stage on which to bring Frozen to Broadway. The antiquated theatre, with its many incumbents, makes mounting a large production of this ilk a logistical nightmare. At only 1,600 seats, the theatre is dwarfed by Wicked and Harry Potter, which have 1,900 and 1,830 seats, respectively.
This means that Frozen must charge a higher price point for seats to get a return on their investment, and ultimately has to bring a better experience to rationalize that. The show doesn't disappoint with its amazing projection-mapping, making many of the key scenes special, as the technology brings every surface of the stage to life with its projection of an alternate camouflage. Bed sheets become ice. People become frozen rock, and the floors crystallize. The real star of this show is the staging.
Comparison to Other Shows on Broadway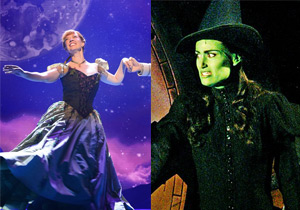 It is no great leap to see how the show producers hope that this show goes the same way of Wicked, which was a critical failure when it first opened, but became a huge fan favorite - and which now celebrates 15 years at the top of the Broadway pile. What makes Frozen different from Wicked is that it already has legions of fans of the movie, but getting those fans into the theatre and converting them into an avid driver of the success of this Broadway show is quite another.
The young demographic is notoriously fickle, and all it needs is a small change to their beloved Snapchat and they will switch en-masse to Instagram, despite research that indicates they have strong brand loyalty. Disney can easily lose the loyalty of these Frozen fans if the show fails for them on any level. Because the show marketing and branding has been built around them, new fans may find it hard to make the stage show their own.
Harry Potter May be Better
Harry Potter may have chosen the better route with all-new-material for their show, which allows fans to develop along with the character, rather than just a repeat of the existing movie that Frozen has chosen to go with, in the style of The Lion King and Aladdin , which is all Disney really knows, so there is nothing new to see here.
The Show Has A Flat Ending
It might have been preview jitters, but Frozen looked more like a frozen hell by the time the cast got to the show finale. By then, the singing was off, they were stepping on each other's lines, and it appeared that the cast were just glad to make it to the end of this simple, yet monstrous Broadway behemoth. The Frozen actors appeared to be glad to get off the speeding train before it hit the wall. It was clear that the rail switch ahead was frozen, and the show was destined for a head-on collision with itself if it went one more minute.
Frozen superfans in cosplay gave it an earnest standing ovation, but the customary gesture was lackluster in the remainder of the theatre, with just one curtain call. If the show were to try out the new concept proposed by Noel Turner of charging each Broadway patron $5 if they choose to give a standing ovation (with the proceeds going to Broadway Cares/Equity Fights AIDS), it would be interesting to see how many people would actually have stood at the end of the show.
Competing Shows on Broadway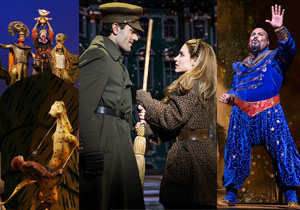 The competing show Charlie and the Chocolate Factory may have blinked a little bit too early by closing on January 14, 2018, not wanting to take on the slew of other competing shows in this sector that include The Lion King, Aladdin, Anastasia, as well as Frozen and the soon-to-open Harry Potter and the Cursed Child. Charlie was significantly better in many ways, but got out before the war of attrition began in earnest. If they had seen what I saw, they may have second guessed themselves.
Review and Conclusion on "Frozen"
Frozen is a bit of a mess. Michael Grandage is already focusing on his next project, when this one is still clearly far from complete, indicating his lack of interest in fixing it up before the official opening. Expect them to remove and add some songs, change some dialogue, replace some actors, and even cut some scenes before this show officially opens on March 22, 2018.
It didn't help that Michael Strassheim did not invite us to the official opening of this show in March, but it could be that he only wants Broadway sycophants to deliver his homogeneous message of Disney World domination, given the significant investment they have made in bringing this animated movie to stage life. Maybe with some drastic changes Frozen would still have a chance at success, as Disney can ill-afford another Broadway box office failure.
The Disney on Broadway management won't be taking chances on this one, so expect some major changes in the coming weeks. My guess is that will rename the show to "Botox" - not quite frozen, but still pretty expensive.