"Children of a Lesser God" Opens at Studio 54
Mark Medoff's Children of a Lesser God has Opened on Broadway to Negative Reviews Starring Joshua Jackson and Lauren Ridloff in a Production Directed by Kenny Leon
---
Revival of Mark Medoff Play Directed by Kenny Leon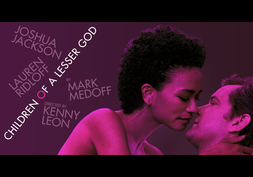 On April 11, 2018, Children of a Lesser God opened at Studio 54, where it had been running in previews since March 22, 2018. This is the first revival of Mark Medoff's play since it premiered in 1980. This production is directed by Kenny Leon, whose previous Broadway directing credits include A Raisin in the Sun, Fences and Gem of the Ocean. The cast is led by Joshua Jackson, making his Broadway debut, who is well known for his roles in such television shows as Dawson's Creek and Fringe, as well as films such as Cruel Intentions.

Starring opposite Jackson is Lauren Ridloff, also making her Broadway debut. A deaf actress who had a small part in Todd Haynes' film Wonderstruck, she found her way to Broadway through a wonderful accident; she came on board as Leon's sign language instructor, when he was struck by her dynamism and decided to cast her in the play, which had its out-of-town tryout production with the Berkshire Theatre Group in 2017. The cast also includes Anthony Edwards, Julee Cerda, Treshelle Edmond, Kecia Lewis and John McGinty.
Mixed to Negative Reviews for the Production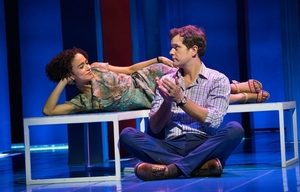 The New York Times called it "a mixed bag of a Broadway revival," while he did enjoy Ridloff's performance, calling it "profound." The Hollywood Reporter called the revival "dreary" and expressed distaste with Leon's music choices. He also deemed Leon's production "sluggish," finding it less compelling and more didactic than Nina Raines' play Tribes, which also takes the deaf community as its subject.

Variety found Ridloff to be a "stunning performer," but that Jackson was "barely up to" the task of his burdensome role, which requires giving voice to Sarah's dialogue in addition to playing his own part. The New York Daily News said there is "something to admire" in Medoff's play, but felt that the current production is "only fitfully engaging and stirring." Deadline did not like the show very much, calling the play "a well-constructed if somewhat dated relationship dram."

The Show Is Not Selling Very Well
Unfortunately, these negative reviews are especially dire for this show, as it is not selling very well. In the last reported week of box office figures, the week ending April 8, 2018, Children of a Lesser God brought in $375,274, which represents 37.77% of its gross potential. Over the course of the three weeks of performances thus far, the average percentage reached of gross potential has been 37.94%.





Therefore, this show was not selling well before the reviews came out, and with such a negative to mixed response, it does not appear that the critical response to give the show much of a boost. Nevertheless, these reviews have made a star of Lauren Ridloff, who will likely go on to achieve great things on stage and screen. The production is currently scheduled to run for an open-ended engagement, but chances are that it will announce closing soon.
Discount Broadway Tickets
---
---