"Children of a Lesser God" Concludes Its Run
Children of a Lesser God concluded performances at Studio 54, directed by Kenny Leon, and starring Joshua Jackson and Lauren Ridloff.
---
Revival of Mark Medoff Play Ran for 77 Performances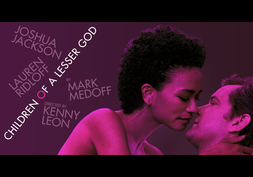 Today, May 27, 2018,
Children of Lesser God
plays its final performance on Broadway. Since beginning previews on March 22, 2018, followed by an opening night on April 11, 2018, this first ever Broadway revival of this play by Mark Medoff has been running at Studio 54 eight times a week. The show has been nominated for just one Tony Award, that for the lead actress Lauren Ridloff, a deaf performer making her Broadway debut. The play is directed by Kenny Leon (
Fences
,
Stick Fly
,
The Mountaintop
) who reached out to Ridloff a year before the initial reading of this production, which began at the Berkshire Theatre Company prior to arriving on Broadway, as he was looking to meet a deaf person and learn a little American Sign Language. This first introduction turned into weekly meetings for a year, until Ridloff was asking to play the part of Sarah Norman in the private industry reading, in front of the casting director Bernie Telsey. At that reading, Leon took her aside and asked her to play the part. According to a recent interview, Ridloff says that for her, using her actual voice at a climactic moment in the piece was the most difficult hurdle for her. Prior to beginning work on this play, she hadn't used her voice since the age of 13. Now a mother of two and a teacher, Ridloff dove headfirst into her new career as an actress, performing character work and learning the motivations of her role.
Lauren Ridloff Earned a Tony Award Nomination for Her Performance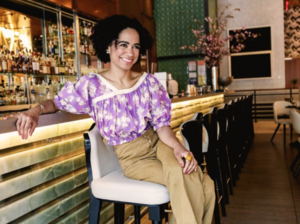 While the show itself didn't earn particularly good reviews, and no other Tony recognition was given besides her nomination (which is still pending), the critics all recognized Ridloff's star power and true accomplishment. When this show first premiered on Broadway in 1980, the show was not only nominated for, but won, three Tony Awards: those for Best Play, Best Actor in a Play for John Rubinstein as James Leeds, and the Tony Award for Best Actress in a Play for Phyllis Frelich as Sarah Norman. While Joshua Jackson, who plays Leeds in this production, was not nominated, and neither was Kenny Leon or anyone else in the cast or creative team, Ridloff has certainly launched her career with this production.
A Tough Sell at the Box Office
While Lauren Ridloff has certainly been a revelation for critics and audience members, her status as an unknown did not help the show at the box office. Furthermore, Joshua Jackson in the lead male part may be a well-known actor, but he is not really a box office name either, and the fact that he earned mediocre reviews for his performance did not help. Furthermore, the overall mixed reviews did not contribute to particularly good box office throughout the run. While the show did market itself as the most accessible show ever on Broadway, due to its incorporation of supertitles into the actual scenic design, the use of an app for the hard of hearing, in addition to the traditional ASL interpreter at select performances, the overall audience appeal proved to be limited. Over the course of all reported box office figures thus far, which include all but the final week, the show brought in an average of 34.79% of its gross potential. The average paid admission was $53.59, and the audience capacity averaged out to 80.42%. In sum, the show will not go down in history as a particularly well-received production, but certain benchmarks were reached in the presentation of accessible shows on Broadway, and Lauren Ridloff is now an actress.
Discount Broadway Tickets
---
---