Broadway Show Ticket Sales Analysis Chart w/e 03/15/2020
Broadway Show Ticket Sales Analysis Chart w/e 03/15/2020: Broadway League Announces No Publishing of Data and Scott Rudin Attempted To Sell Unsold Broadway Tickets
---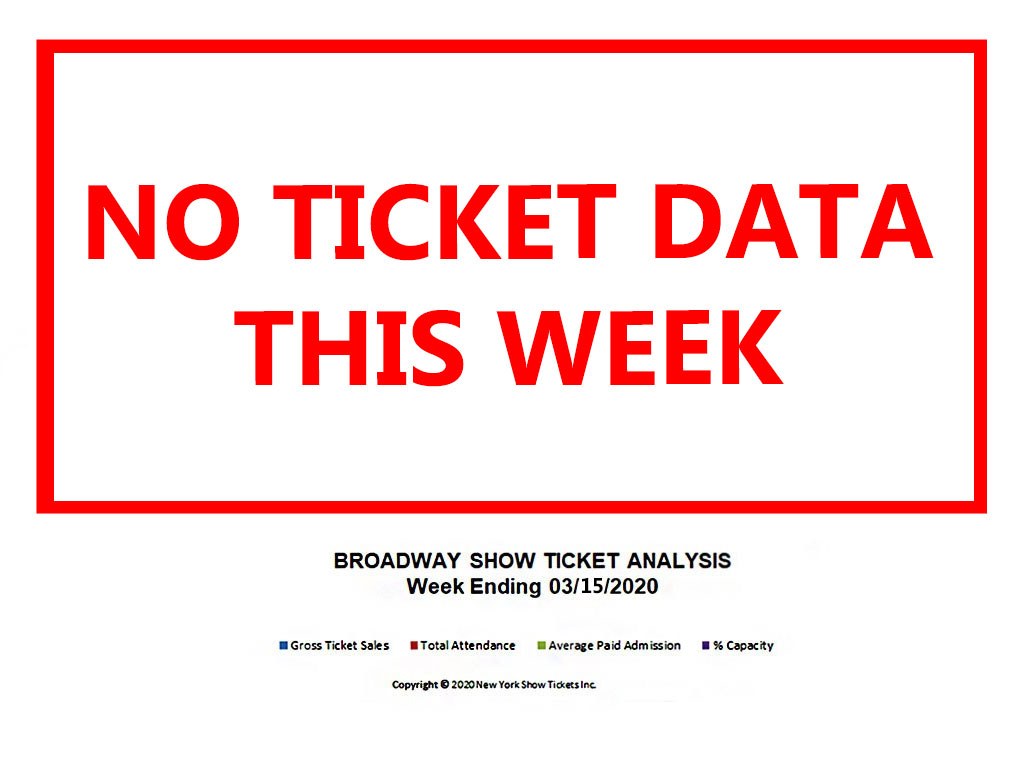 Thursday March 12th, 2020: This Week on Broadway

New York State Governor, Andrew Cuomo released a statement prohibiting events of over 500 people to take place until April 12th, 2020 at the very earliest. This new rule was put in place due to the rising infection rate of the deadly Coronavirus COVID-19 which has spread rapidly around NYC. The governor's ruling forced all of the Broadway theatres to go dark and the industry has been sent into panic mode.
The limit of 500 people was specifically determined to close Broadway, because even Broadway's smallest theatre has more than 500 seats in it. Every single Broadway production was shut down as soon as the statement was sent out. This was the first time since the terrorist attacks of 9/11, which destroyed NYC's Twin Towers in 2001, that the doors of the Great White Way were locked shut.
Broadway League Announces No Publishing of Data
The Broadway League announced this past weekend that none of the Broadway shows will be publishing their gross ticket revenues from the week which just concluded, which had most shows operating normally until at least Thursday 12th March, 2020. The announcement makes sense going forward, but this decision was made despite the fact that this past week did have three solid days of performances with regular Broadway performances occurring.
This means that there will be no official numbers being released about Broadway ticket sales from this past week. It is still unclear exactly when Broadway will be reopened, when the gross ticket sales numbers will be available again or how badly the Coronavirus closings will affect the Broadway industry for this fiscal year. Moulin Rouge ended up canceling their matinee and evening performance on Wednesday afternoon, one day before the rest of Broadway was closed down, but other shows did not announce until 5:00 PM on Thursday evening. Many fans turned up at the theatres and were disappointed, especially fans of Hamilton who have traveled from overseas to see the show and were not aware of the cancellation until close to curtain time.
Scott Rudin Attempted To Sell Unsold Broadway Tickets
Starting at 12:00 PM noon on this past Thursday, the Broadway producer, Scott Rudin attempted to sell the rest of the unsold Broadway tickets to his top shows on Broadway for just $50 each. Ultimately his flash sale was all for naught because the New York closing announcement was made not even three hours after his ticket sale began. Many theatre fans still bought the cheap tickets within the small window of time, which caused the Telecharge and Ticketmaster websites to experience some significant delays. All of the $50 Scott Rudin show tickets will be refunded in-full to their original ticket buyers.

The Broadway show ticket analysis raw data has been provided courtesy of The Broadway League and has been collated and analyzed by the New York Show Tickets data team. All data, text, opinion, charts and commentary are copyright © 2020 nytix.com