Broadway Show Ticket Analysis Chart w/e 03/04/18
The lowest grossing Broadway Shows for week ending 03-04-18 were Kinky Boots, A Bronx Tale, School of Rock, Spongebob Squarepants, Chicago, John Lithgow:Stories By Heart, Once On this Island, The Parisian Women, Lobby Hero, and The Play That Goes Wrong.
---
Broadway Show Ticket Sales Analysis Chart. The numbers for the week ending March 04, 2018.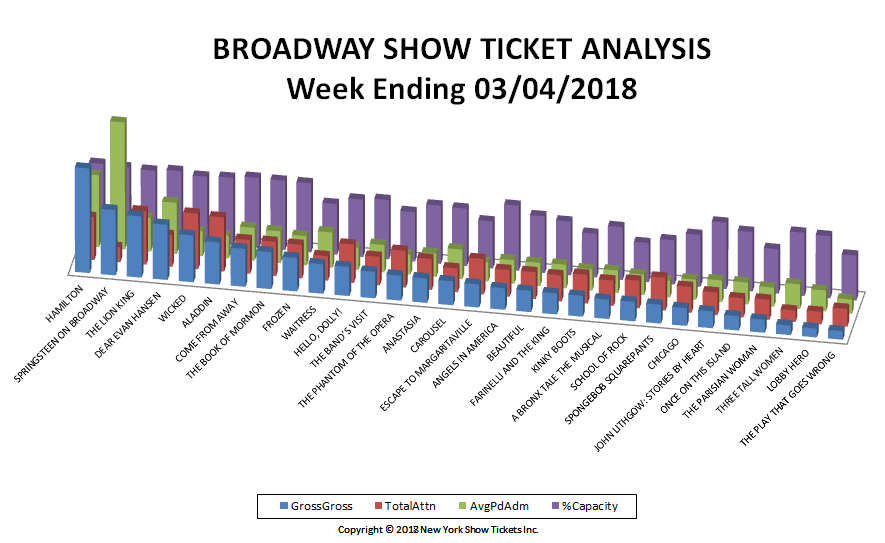 Broadway Show Ticket Analysis Chart:
| | | | | | |
| --- | --- | --- | --- | --- | --- |
| # | Show Name | GrossGross | TotalAttn | %Capacity | AvgPdAdm |
| 21 | A BRONX TALE THE MUSICAL | $570,439.05 | 6,400 | 76.63% | $89.13 |
| 6 | ALADDIN | $1,236,990 | 13,566 | 98.19% | $91.18 |
| 14 | ANASTASIA | $718,266 | 7,732 | 84.56% | $92.90 |
| 17 | ANGELS IN AMERICA | $631,276 | 6,711 | 94.39% | $94.07 |
| 18 | BEAUTIFUL | $623,616 | 6,762 | 82.38% | $92.22 |
| 15 | CAROUSEL | $702,387 | 5,956 | 83.42% | $117.93 |
| 24 | CHICAGO | $521,522 | 6,506 | 75.30% | $80.16 |
| 7 | COME FROM AWAY | $1,113,330 | 8,489 | 101.45% | $131.15 |
| 4 | DEAR EVAN HANSEN | $1,620,676 | 7,969 | 101.23% | $203.37 |
| 16 | ESCAPE TO MARGARITAVILLE | $678,569 | 8,875 | 68.23% | $76.46 |
| 19 | FARINELLI AND THE KING | $615,286 | 6,553 | 77.94% | $93.89 |
| 9 | FROZEN | $983,535 | 8,424 | 100.29% | $116.75 |
| 1 | HAMILTON | $3,070,115 | 10,755 | 101.77% | $285.46 |
| 11 | HELLO, DOLLY! | $854,627 | 9,639 | 83.32% | $88.66 |
| 25 | JOHN LITHGOW: STORIES BY HEART | $492,931 | 5,705 | 96.37% | $86.40 |
| 20 | KINKY BOOTS | $612,308 | 7,239 | 63.54% | $84.58 |
| 29 | LOBBY HERO | $261,326 | 3,145 | 90.22% | $83.09 |
| 26 | ONCE ON THIS ISLAND | $419,609 | 4,807 | 86.33% | $87.29 |
| 22 | SCHOOL OF ROCK | $568,211 | 6,916 | 56.76% | $82.16 |
| 23 | SPONGEBOB SQUAREPANTS | $554,158 | 8,258 | 64.11% | $67.11 |
| 2 | SPRINGSTEEN ON BROADWAY | $1,915,878 | 3,792 | 100.00% | $505.24 |
| 12 | THE BAND'S VISIT | $778,056 | 7,141 | 85.91% | $108.96 |
| 8 | THE BOOK OF MORMON | $1,087,290 | 8,574 | 100.54% | $126.81 |
| 3 | THE LION KING | $1,797,325 | 13,360 | 98.47% | $134.53 |
| 27 | THE PARISIAN WOMAN | $383,885 | 5,048 | 64.59% | $76.05 |
| 13 | THE PHANTOM OF THE OPERA | $733,405 | 9,217 | 71.78% | $79.57 |
| 30 | THE PLAY THAT GOES WRONG | $249,414 | 4,462 | 65.31% | $55.90 |
| 28 | THREE TALL WOMEN | $283,296 | 2,889 | 91.77% | $98.06 |
| 10 | WAITRESS | $862,659 | 6,146 | 73.52% | $140.36 |
| 5 | WICKED | $1,375,941 | 13,944 | 96.46% | $98.68 |
| | TOTALS | $26,316,320 | 224,980 | 84.49% | $118.94 |
Broadway ticket sales analysis raw data are provided courtesy of The Broadway League. All other data, text, opinion, charts and commentary are copyright © 2018 nytix.com
Discount Broadway Tickets
---
---