Broadway Show Ticket Analysis Chart w/e 02/18/18
This weeks lowest grossing Broadway Shows ending in 02-18-18 were Latin History For Morons, Once On This Island, The Parisian Woman, John Lithgow: Stories By Heart, Escape To Margaritaville, and The Play That Goes Wrong.
---
Broadway Show Ticket Sales Analysis Chart. The numbers for the week ending February 18, 2018.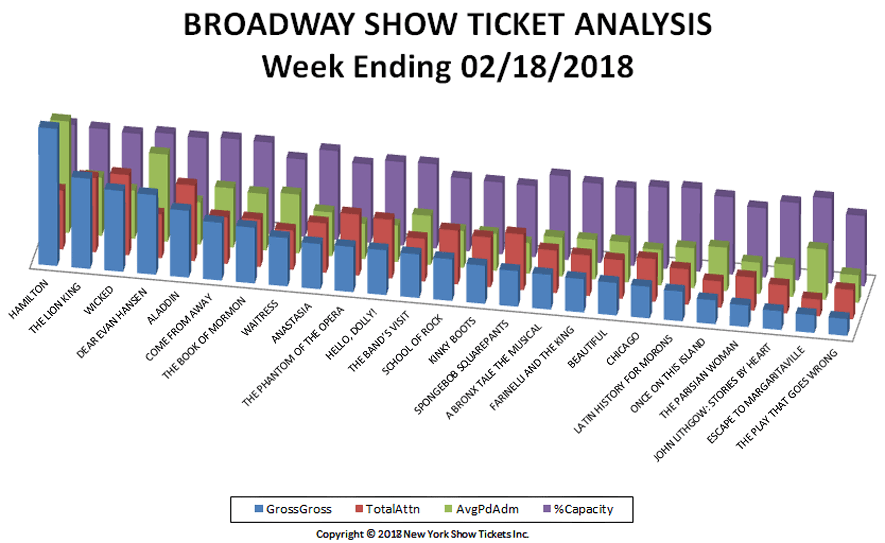 Broadway Show Ticket Analysis Chart:
| | | | | | |
| --- | --- | --- | --- | --- | --- |
| # | Show Name | GrossGross | TotalAttn | %Capacity | AvgPdAdm |
| 16 | A BRONX TALE THE MUSICAL | $780,479.61 | 7,772 | 93.06% | $100.42 |
| 5 | ALADDIN | $1,504,445 | 13,798 | 99.87% | $109.03 |
| 9 | ANASTASIA | $1,017,255 | 9,007 | 98.50% | $112.94 |
| 18 | BEAUTIFUL | $729,471 | 7,081 | 86.27% | $103.02 |
| 19 | CHICAGO | $709,932 | 7,793 | 90.20% | $91.10 |
| 6 | COME FROM AWAY | $1,296,910 | 8,528 | 101.91% | $152.08 |
| 4 | DEAR EVAN HANSEN | $1,790,798 | 7,984 | 101.42% | $224.30 |
| 24 | ESCAPE TO MARGARITAVILLE | $396,813 | 3,069 | 94.37% | $129.30 |
| 17 | FARINELLI AND THE KING | $751,969 | 7,398 | 87.99% | $101.64 |
| 1 | HAMILTON | $3,088,002 | 10,756 | 101.78% | $287.10 |
| 11 | HELLO, DOLLY! | $1,006,193 | 10,728 | 92.74% | $93.79 |
| 23 | JOHN LITHGOW: STORIES BY HEART | $419,781 | 5,090 | 85.98% | $82.47 |
| 14 | KINKY BOOTS | $858,691 | 9,085 | 79.75% | $94.52 |
| 20 | LATIN HISTORY FOR MORONS | $665,851 | 6,466 | 92.00% | $102.98 |
| 21 | ONCE ON THIS ISLAND | $534,474 | 4,787 | 85.97% | $111.65 |
| 13 | SCHOOL OF ROCK | $935,219 | 9,829 | 80.67% | $95.15 |
| 15 | SPONGEBOB SQUAREPANTS | $800,160 | 10,181 | 79.05% | $78.59 |
| 12 | THE BAND'S VISIT | $979,420 | 7,776 | 93.55% | $125.95 |
| 7 | THE BOOK OF MORMON | $1,256,141 | 8,654 | 101.48% | $145.15 |
| 2 | THE LION KING | $2,029,508 | 13,573 | 100.04% | $149.53 |
| 22 | THE PARISIAN WOMAN | $484,842 | 6,017 | 76.98% | $80.58 |
| 10 | THE PHANTOM OF THE OPERA | $1,016,060 | 11,154 | 86.87% | $91.09 |
| 25 | THE PLAY THAT GOES WRONG | $377,776 | 5,341 | 78.18% | $70.73 |
| 8 | WAITRESS | $1,086,096 | 7,183 | 85.92% | $151.20 |
| 3 | WICKED | $1,818,771 | 14,666 | 98.22% | $124.01 |
| | TOTALS | $26,335,056 | 213,716 | 90.91% | $120.33 |
Broadway ticket sales analysis raw data are provided courtesy of The Broadway League. All other data, text, opinion, charts and commentary are copyright © 2018 nytix.com