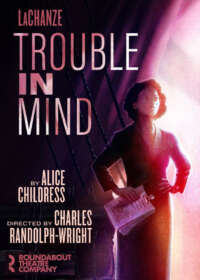 Trouble in Mind
Broadway Show Tickets: Show Closed No Longer Available
Trouble in Mind on Broadway: Show Is Now Closed
Show Status: Closed

Genre: Play

Trouble in Mind is 1 hour and 35 minutes long, including an intermission of 15 minutes

8 Shows per week

Previews Began: October 29, 2021

Show Opened: November 18, 2021

Show Closed: January 9, 2022
Deep dive exposé uncovering racist and sexist issues at Broadway show productions during the 1950's, told from a highly experienced black theatre actress
Trouble in Mind

on Broadway Background
Trouble in Mind makes its Broadway debut after more than 60 years after it was first set to debut on Broadway back in August 1957. The play is the brainchild of Alice Childress who was known in the industry as "the only African-American woman to have written, produced, and published plays for four decades." Childress was a novelist, actress and playwright from 1940's all the way through to the 1980's.
Originally Planned as an Off-Broadway Transfer in 1955
Trouble in Mind was originally produced as an Off-Broadway production in 1955, where it had a successful run for two years. It was then announced that the show would be transferred to a Broadway theatre in 1957, but the plans began to falter when the financial backers realized the show's message was very much anti Broadway establishment and the show would incur the wrath of The Shubert Organization. When the backers realized that the playwright was also black, they pulled out completely.
Real Life Art Imitates Art
The fact that the show could not make it to Broadway back then, is somewhat ironic, as the show itself tells the story of a struggling actress who finds great difficulty when trying to appear on Broadway. Just a few years before this show premiered, Childress had become the first African-American woman to professionally produce in New York theatre with her play Gold Through The Trees in 1952.
Childress Passes Away Before Seeing Her Shows on Broadway
Childress tragically died of a heart attack in 1994 at the age of 77 and unfortunately was never able to get to see one of her plays make it onto the Great White Way. Charles Randolph-Wright, who is an award winning Broadway actor and member of the Board of Directors at the Roundabout Theatre Company, directs the show and helps bring it back to life for a modern take on the subject matter. Randolph-Wright has expressed some empathy for Childress, as he too took the slow road on Broadway through racism and inequality.
What's
Trouble in Mind

Like?
The story follows an experienced black theatre actress, Wiletta Mayer, through her trials and tribulations during rehearsals for a major Broadway production in the 1950's. The show has many similarities between the author's life (Alice Childress) and the main character's, as they were both black female actresses who were trying to make a name for themselves on Broadway. In a way, this play is Alice Childress' personal story of frustration and humiliation for being black.
The show takes on a comical perspective on an increasingly serious subject matter, i.e. racism in Broadway theatre. The play is often funny at times and uses dry and sarcastic humor to make the greater point that Broadway and the New York theatre industry, as a whole, is racist. It is a place where black actors and actresses are still not treated equally, compared to their white counterparts.
This production was supposed to be a trail blazer back in 1957, sticking up for those who could not, at the forefront of both the Civil Rights movement and the second feminist movement. Now it finally speaks on Broadway, even if it is over 64 years late.
Is
Trouble in Mind

Good for Kids?
Recommended for children ages 13 and older as the show contains adult language, mild violence and racial slurs.
American Airlines Theatre
227 West 42nd Street
New York, NY 10019
Entrance:
42nd Street between 7th and 8th Avenues
Theatre Information
Roundabout Theatre Company
General Manager

Denise Cooper
Casting Director

Jim Carnahan
Director

Charles Randolph-Wright