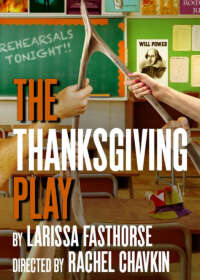 The Thanksgiving Play
Broadway Show Tickets: Show Closed No Longer Available
The Thanksgiving Play on Broadway: Show Is Now Closed
The Thanksgiving Play

Summary
Show Status: Closed

Genre: Play

The Thanksgiving Play is 80 minutes long, and does not have an intermission.

8 Shows per week

Previews Began: March 25, 2023

Show Opened: April 20, 2023

Show Closed: June 11, 2023
Satirical comedy about four white people devising a "politically correct" Thanksgiving play for "Native American Heritage Month" that goes horribly wrong
The Thanksgiving Play

on Broadway Background
Show Writer Larissa FastHorse
FastHorse is a Native American playwright who has written and produced numerous written contributions to Native American drama across the US. Her plays usually involve issues with indigenous people in American society and how poorly they are treated.
The Thanksgiving Play Format
This one-act play is developed in a traditional format with interspersed informative moments in the performance to give the audience some background knowledge on important events concerning the treatment of Native Americans in the United States.
The show was originally written by FastHorse in a country estate in the Southern Ireland.
Developed Under The Joe Dowling Fellowship Award
FastHorse had been awarded the Joe Dowling Fellowship Award in 2015 from Joseph Haj at the Guthrie Theater in Minneapolis.
Through part of this fellowship FastHorse she was able to go to Tyrone Guthrie's estate in Ireland, where she began writing the play that we now know as The Thanksgiving Play.
Caucasian Cast Attempting to Create a Thanksgiving Play About Native Americans
The Thanksgiving Play aims to provoke thought through the idea of a completely Caucasian cast attempting to create a Thanksgiving play that is respectful and politically correct towards Native Americans. The contradictory nature of this idea is unusual when considering the fact that this play is written by a Native American playwright.
The Thanksgiving Play was FastHorse's response to constantly being told her plays couldn't be produced because they included at least one Indigenous character and theaters thought that they couldn't find Native American actors for the roles.

The Show Gets An Extension
The production, which opened at the Hayes Theater on April 20 2023 was originally scheduled to run until June 4, 2023, but based on strong sales and solid critical reviews, the show will now play through June 11, 2023
What's
The Thanksgiving Play

Like?
Four white people are devising a "politically correct" Thanksgiving play for Native American Heritage Month and they are way out of their depth so the director, Logan, hires a Native American actor to be their cultural compass.
As Logan, Jaxton, and Caden defer to her for guidance, it is revealed that she is actually white and only plays Native American when she isn't playing other ethnicities.
Without the true native voice, these four white people now have to find their way through a crazy thicket of white privilege, historical accuracy, and school district rules to create their Thanksgiving Play.
Is
The Thanksgiving Play

Good for Kids?
Although not a traditional show format for children, the satirical show offers children an insight in political correctness gone wrong with a lot of historical facts thrown in for good measure.
Recommended for children over the age of 14 years.
Helen Hayes Theatre
240 West 44th Street
New York, NY 10019
Entrance:
44th street between 7th and 8th avenue
Theatre Information
The Thanksgiving Play Marquee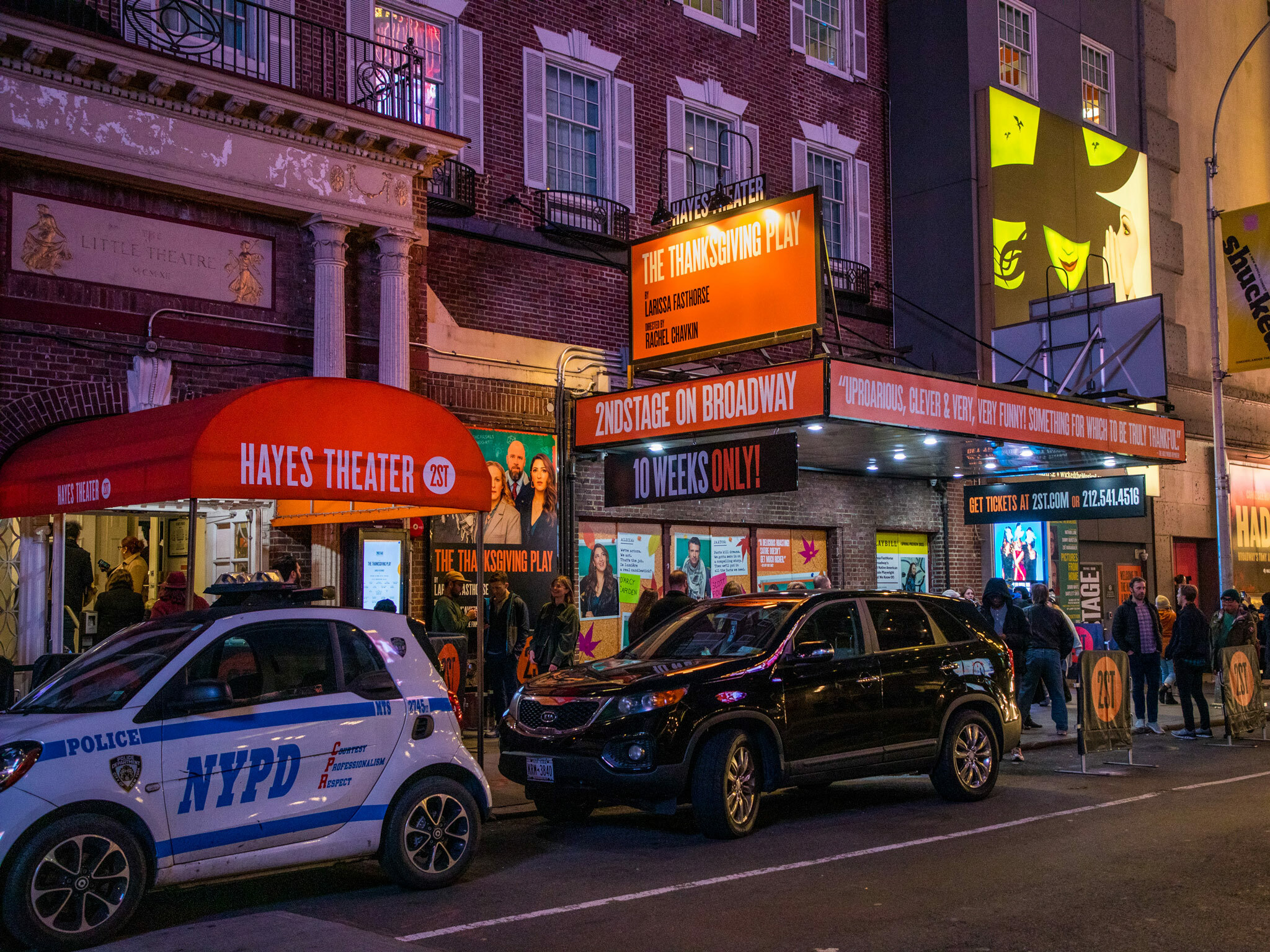 Scenic Design

Riccardo Hernández