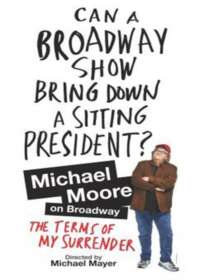 The Terms of My Surrender
Broadway Show Tickets: Show Closed No Longer Available
The Terms of My Surrender on Broadway: Show Is Now Closed
The Terms of My Surrender

Summary
Show Status: Closed

Genre: Play

The Terms of My Surrender is 1.5 Hours long, including an intermission of None

8 Shows per week

Previews Began: July 28, 2017

Show Opened: August 10, 2017

Show Closed: October 22, 2017
The Terms of My Surrender is a new theatre piece by the incendiary documentary filmmaker and author Michael Moore. The piece is meant to be both inspiring and infuriating – it is not stand-up comedy, nor is it a rally or a TED Talk – The Terms of My Surrender is a piece of theatre intended to make a serious dent in the confidence of Donald Trump's presidency.
The Terms of My Surrender

on Broadway Background
The show is directed by Michael Mayer (Spring Awakening, Hedwig and the Angry Inch), with scenic design by David Rockwell (She Loves Me, The Mountaintop). Michael Moore first became widely known through his 1989 documentary film Roger and Me about his hometown of Flint, Michigan, and has since gone on to create such groundbreaking documentaries as Bowling for Columbine, which won the 2003 Academy Award, Fahrenheit 9/11, which is the highest-grosssing documentary of all time about the September 11th attacks, and most recently, Michael Moore in TrumpLand, which correctly predicted that Donald Trump would win the presidency. Moore has also published eight books, including Here Comes Trouble: Stories from My Life, Mike's Election Guide 2008, The Official Fahrenheit 9/11 Reader, and Dude, Where's My Country? Now for the first time, Michael Moore is trying his hand on Broadway. While Moore starred in two plays in high school and is a lifelong theatre fan, this is the first time he has appeared on a professional stage in a full production.
What's
The Terms of My Surrender

Like?
Aiming specifically and unapologetically to take down Donald Trump by means of discombobulation, Michael Moore enters new territory on the Broadway stage just 10 blocks from Trump Tower in the heart of New York City. This is more or less a one-man show, in that it will be a solo piece, with guest appearances throughout the 10-week run. It is also more or less scripted, but changes will be made throughout the run in response to current events. The piece is not a play, Moore has said, but it is a theatre piece, in that he intends to cause a lot of rabble-rousing. In addition, Moore promises a series of post-show excursions to take place throughout the run, an unusual choice for a Broadway show.
Moore's Broadway debut promises to be a subversive and unprecedented theatrical coup d'etat, in which the man who predicted the Donald Trump presidency tackles some of the most pressing questions of the Trump era.
Is
The Terms of My Surrender

Good for Kids?
The show is most appropriate for children aged 12 and older. Children under the age of 4 will not be permitted in the theatre.
Belasco Theatre
111 West 44th Street
New York, NY 10019
Entrance:
44th Street between Broadway and 6th Avenues
Theatre Information
The Terms of My Surrender Marquee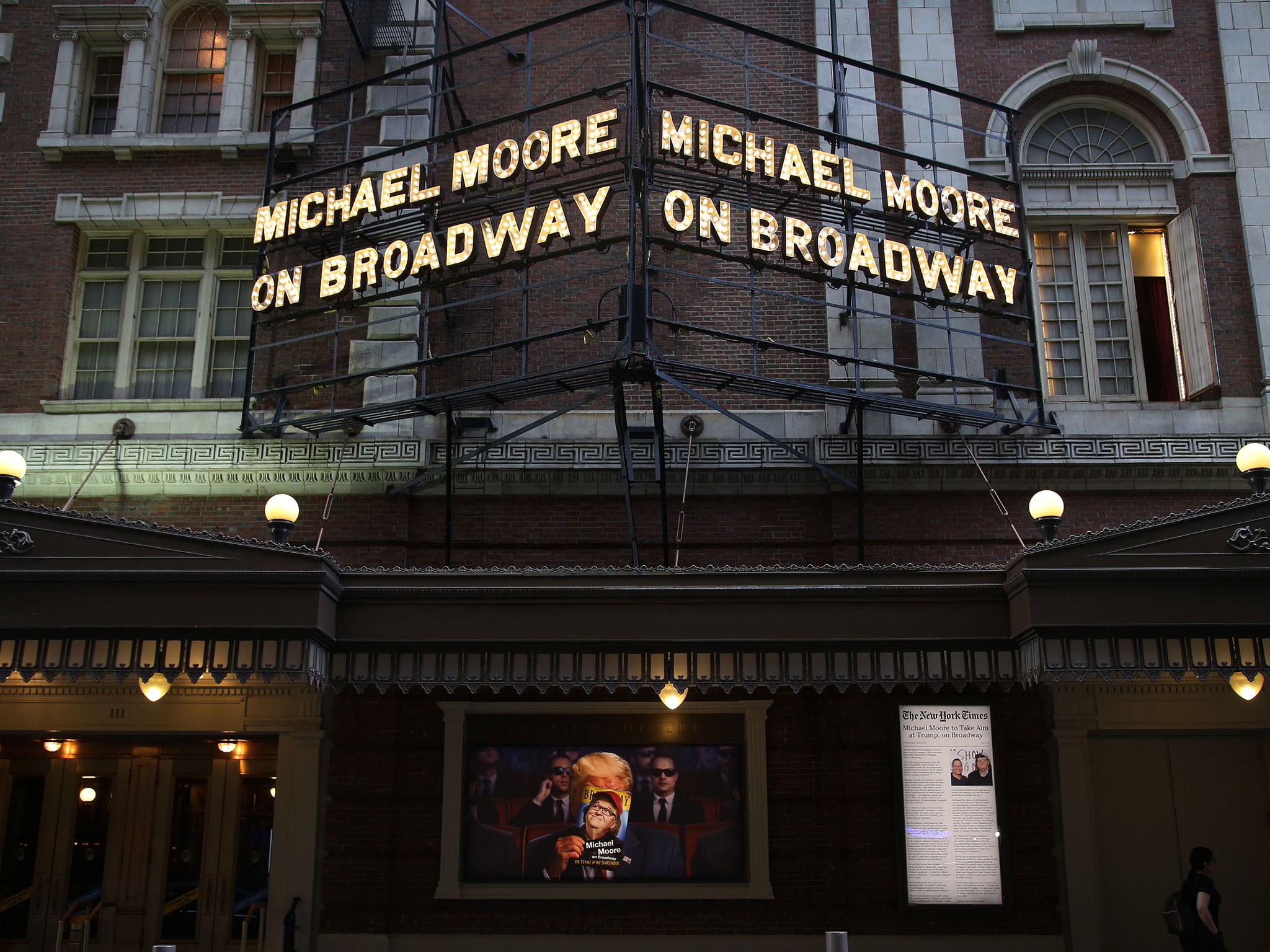 101 Productions LTD (Executive Producer)
Scenic Design

David Rockwell
Costume Design

Jeff Mahshie
Lighting Design

Kevin Adams
Projections

Andrew Lazarow
Production Stage Manager

Lisa Lacucci
Production Manager

Aurora Productions
General Manager

101 Productions LTD
Company Manager

Holly Sutton at 101 Productions
Advertising Representative

SPOTCo.