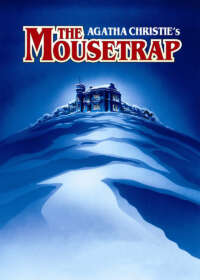 The Mousetrap
Broadway Show In Development
The Mousetrap is in Development
Show Status: In Development

Genre: Play

The Mousetrap is 2 hours and 20 minutes long, including an intermission of 20 minutes

8 Shows per week

Show Closes: Open ended
A group of people gather in a country house cut off in a snow storm discover that there is a murderer in their midst. Who can it be?
The Mousetrap

on Broadway Background
The Mousetrap is a murder mystery play by Agatha Christie that was a London theatre staple for over 70 years and had over 28,000 performances.
London West End Production
The show originally opened in London's West End in 1952 at the St Martin's Theatre and became a West End institution and popular tourist destination. The show closed in November 2022 and subsequently announced an opening on Broadway in 2023
Many of the props from the West end show have been transferred to the Broadway production. The London play has been seen by 10 million people over its 70 year history.

How Large Is The Cast?
There are eight members of the cast, and by 2012 more than 400 actors and actresses had played the roles.
What's
The Mousetrap

Like?
The news on the radio at Monkswell Manor relates a murder that has recently taken place. Mollie and Giles Ralston, the young, newly-married owners of the once-regal estate which they recently converted into a guest house, hardly notice the news.
They are far too busy preparing for the arriving of their first guests—and concerned that the blizzard raging outside may hamper their arrival.
One by one the suspicious characters reveal their sordid pasts until at the last, nerve-shredding moment the identity and the motive are finally revealed.
This "Whodunit", play has a twist ending, where the audience are traditionally asked not to reveal after leaving the theatre.

Is
The Mousetrap

Good for Kids?
The Mousetrap is not a show written with children in mind, but it is suitable for older children 11+, making it a show appropriate for all the family to enjoy.
Original Producer: Peter Saunders
Artistic Director

Denise Silvey
Playwright

Agatha Christie