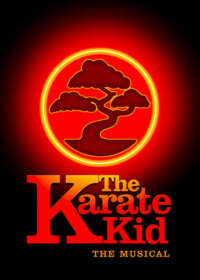 The Karate Kid
Broadway Show In Development
The Karate Kid is in Development
Show Status: In Development

Genre: Musical

The Karate Kid is 125 Minutes long, including an intermission of 15 Minutes

8 Shows per week

Show Closes: Open ended
Based on the 1984 film, Daniel moves into a new city and finds himself the target of a group of bullies. He must master the art pf Karate to survive.

The Karate Kid

on Broadway Background
The Broadway-aimed stage musical adaptation of The Karate Kid began its world premiere engagement at "Stages" St. Louis May 25, 2022 with opening night on June 1, 2022.
STAGES is at the St. Louis Kirkwood Performing Arts Center and is located just outside of St. Louis.
Based on the 1984 film of the same name, the show features a book by Robert Mark Kamen (who wrote the original film's screenplay) and a musical score by Drew Gasparini.
What's
The Karate Kid

Like?
Daniel moves to Southern California with his mother, Lucille but quickly finds himself the target of a group of bullies who study karate at the Cobra Kai dojo.
Fortunately, Daniel befriends Mr. Miyagi, an unassuming repairman who also just happens to be a martial arts master himself. Miyagi takes Daniel under his wing, training him in a more compassionate form of karate and preparing him to compete against the brutal Cobra Kai.
Plot Follows Original 1984 Movie
Though the plot closely follows that of the original film and the story is still set in the 1980s, the musical's cast and creative team of more than 40 artists is markedly more diverse.
Is
The Karate Kid

Good for Kids?
Although the show has some fighting and some rich language, it is suitable for children over the age of fourteen.
Daniel LaRusso

John Cardoza
Lucille LaRusso

Kate Baldwin
John Kreese

Alan H. Green
Johnny Lawrence

Jake Bentley Young
Freddie Fernandez

Luis Pablo Garcia
Choreographer

Keone Madrid
Choreographer

Mari Madrid
Scenic Designer

Derek McLane
Costume Designer

Ayako Maeda
Music Director

Andrew Resnick
Musical Score

Drew Gasparini.