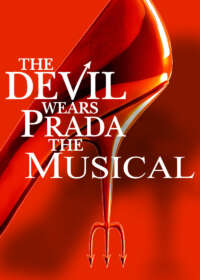 The Devil Wears Prada
Broadway Show In Development
The Devil Wears Prada is in Development
The Devil Wears Prada

Summary
Show Status: In Development

Genre: Musical

The Devil Wears Prada is 2 Hours 20 Minutes long, including an intermission of 15 Minutes

8 Shows per week

Show Closes: Open ended
An aspiring journalist attempts to survive her job as the assistant to a merciless editor at the world's most illustrious fashion magazine.
The Devil Wears Prada

on Broadway Background
The Devil Wears Prada is a Broadway adaptation of Lauren Weiseberger's 2003 novel of the same name.
New York Times Best Seller List
Upon the books 2003 release, it held a spot on the New York Times Best Seller List for six months and then went on to receive a film adaptation in 2006. The film featured an all-star cast including Academy Award winning actress Meryl Streep and Anne Hathaway, as well as a strong supporting cast including Emily Blunt, Stanley Tucci and Adrian Grenier.
Oscar Nominations and Golden Globes
The 2006 film would go on to earn multiple Oscar nominations and a Golden Globe for "Best Actress in a Musical or Comedy." The story is loosely based on Anna Wintour, the editor-in-chief of Vogue Magazine and she is infamous for allegedly treating her staff very poorly, abuse at best and slavery at worst.
The Broadway adaptation of this award winning story is directed by Anna D. Shapiro, who is an American theatre director and is the the artistic director of the Steppenwolf Theater Company. In 2008, Shapiro received a Tony Award for "Best Direction" for her work on August: Osage County and brings similar levels of enthusiasm to this production.
Music by Elton John
The show features music from songwriting legend Sir Elton John with lyrics by Shaina Taub. This creative writing duo successfully encapsulate the same feelings of passion and stress, that exist in both the book and film versions, that now exist in the new musical score.
World Premiere of the Show Delayed Twice
The premiere production of the show was originally scheduled to premiere at Chicago's CIBC Theatre from July 13 through Aug. 15, 2021, which was one year later than expected and was delayed due to COVID-19. Even that date did not happen and the show was again delayed.
The new world premiere is now at at the James M. Nederlander Theatre in Chicago ran for a five-week limited engagement July 19 – Aug. 21 2022.
The Broadway opening in NYC is anticipated to be scheduled shortly thereafter, but it really depends on how the 5 week run in Chicago looks,

London's West End Production Slated For 2024
The stage musical adaptation of The Devil Wears Prada will open in the London's Dominion Theatre in the West End in October 2024.
The Devil Wears Prada had its world premiere at Chicago's James M. Nederlander Theatre in 2023
What's
The Devil Wears Prada

Like?
The Devil Wears Prada follows protagonist Andrea "Andy" Sachs, a recent college graduate and aspiring journalist trying to forge a career in the competitive environment of New York City.
When she cannot find her dream job, she accepts a coveted position as a fashion assistant at a New York magazine.
Despite her initial reluctance about the vapid fashion industry, she accepts a position as the assistant to Miranda Priestly, the editor-in-chief of Runway magazine. Priestly is an accomplished, yet insatiable, fashion icon who pulls no punches when it comes to her employees and treats her employees much like her own slaves.
Andy begins working 15 hour workdays and slowly alters nearly every aspect of her personality to better suit her new line of work of indentured servitude. While this is an exciting work experience at first, Andy must ultimately decide who she really is, what she wants out of life and what she is prepared to give up.
This production is noted for casting a white woman as Miranda Priestly and a black woman as Andy Sachs. and may thus be attempting to portray a contemporary take on America slaver history before abolition.
Is
The Devil Wears Prada

Good for Kids?
This show is suitable for children of all ages, however certain scenes may be intense and frightening to younger children, especially when Priestly does her best to act like a real-life Cruella De Vil.
Nederlander Theatre
208 West 41st Street
New York, NY 10019
Entrance:
41st Street between 7th and 8th avenues
Theatre Information
Miranda Priestly

Beth Leavel
Andy Sachs

Taylor Iman Jones
Emily Charlton

Megan Masako Haley
Nate Angstrom

Michael Tacconi
Press Agent

Boneau/Bryan-Brown
Costume Designer

Arianne Phillips
Scenic Designer

Christine Jones
Book & Lyrics

Paul Rudnick
Music & Lyrics

Shaina Taub