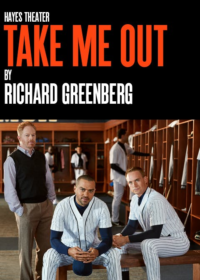 Take Me Out 2022
Broadway Show Tickets: Show Closed No Longer Available
Take Me Out 2022 on Broadway: Show Is Now Closed
Show Status: Closed

Genre: Play

Take Me Out 2022 is 2 hours 30 minutes long, including an intermission of 15 minutes

8 Shows per week

Previews Began: March 10, 2022

Show Opened: April 4, 2022

Show Closed: June 11, 2022
Broadway revival from 2002 in which a gay, black baseball player comes out of the closet and both his team and the sport reveals its prejudices as the season progresses into November.
Take Me Out 2022

on Broadway Background
First Premiering on Broadway in 2002
First premiering on Broadway in 2002 Take Me Out is the story of a baseball team's rally towards a championship season and their struggles with off-the-field factors along the way.
Broadway plays and musicals about sports often do very poorly on the Great White Way. There are a litany of fallen shows with solid sports themes that have met with great critical reception, but have been box office disasters.
This show attempts to use prejudice against race and sexuality as its main theme and may well do better in the box office as it speaks to topics that are experienced every day in the gay and black communities. To be black and gay has to be a great challenge, but to be playing in a sport that is inherently prejudice is beyond comparison.
Phones are Banned at this Broadway Show Due to Nudity
This show is requiring patrons to seal their phones in Yondr pouches throughout the performance. This Broadway production includes male nudity, and this step (in theory) prevents patrons from photographing the unclothed actors.
This step does introduce a new problem that when a phone does inadvertently ring, the phone owner cannot get to it to switch it off and it will keep ringing and interrupting the show much to the chagrin of the naked actors on stage.
What's
Take Me Out 2022

Like?
When the star center fielder of a top baseball team, Darren Lemming comes out of the closet mid-season, both the fans and players of the team reveal their own prejudice towards the situation. Darren has to overcome what it's like to be a gay African American baseball player.

On his journey, he struggles with hostile teammates, friends, and fans. Darren, his teammates, and fans must all come together to have a successful baseball season all while questioning tradition and loyalty to the sport and to the country.
Is
Take Me Out 2022

Good for Kids?
The show is recommended for children ages 16 and older. There is adult male nudity in this show.
Helen Hayes Theatre
240 West 44th Street
New York, NY 10019
Entrance:
44th street between 7th and 8th avenue
Theatre Information
Take Me Out 2022 Marquee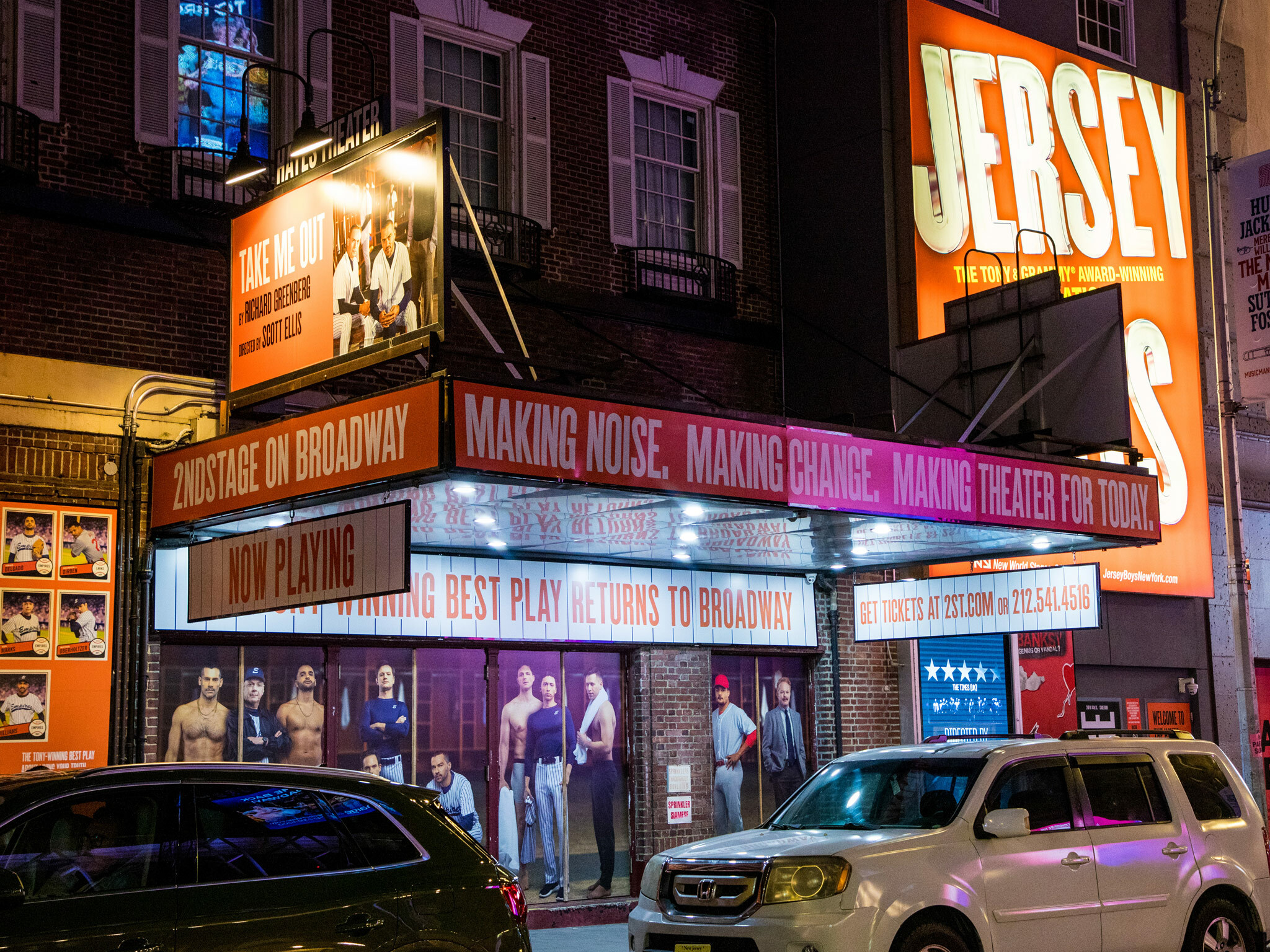 Darren Lemming

Jesse Williams
Mason Marzac

Jesse Tyler-Ferguson
Kippy Sunderstrom

Patrick J Adams
Shane Mungitt

Michael Oberholtzer
Davey Battle

Brandon J Dirden
Toddy Koovitz

Carl Lundstedt
Rodriguez/Policeman

Joel Perez
Martinez/Policeman

Hiram Delgado
Skipper/William R Danziger

Ken Marks
Jason Chenier

Will Harrison
Takeshi Kawabata

Julian Cihi
General Manager

Sara Danielson
Company Manager

Lee Poulin
Advertising Representative

RPM
Production Stage Manager

Barclay Stiff