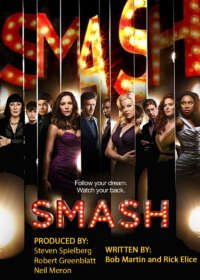 Smash: The Musical
Broadway Show In Development
Smash: The Musical is in Development
Smash: The Musical

Summary
Show Status: In Development

Genre: Musical

Smash: The Musical is 120 minutes long, including an intermission of 15 minutes

8 Shows per week

Show Closes: Open ended
Musical adaptation of the fan-favorite NBC TV show that aired in 2012, that charts the creation of a Broadway-bound musical called Bombshell.
Smash: The Musical

on Broadway Background
With a cult-like following and rocket propelled momentum, the NBC TV Series Smash has been adapted for Broadway.
The Katharine McPhee TV vehicle, was created by TV writer and playwright Theresa Rebeck in 2012, now finds its footing on Broadway.
NBC TV Demographic Ripe for the Picking
The NBC TV show debuted in 2012 and attracted solid ratings among the 18-35 year old demographic. The Broadway show reunites Marc Shaiman and Scott Wittman, who wrote over two dozen songs for the television series. They now provide the score for the Broadway show musical.
Katharine McPhee Is Out Of The Running For Broadway
News of the Smash musical coming to Broadway began a concert benefit for The Actors Fund in 2020. Katharine McPhee has expressed interest in appearing in the show, but she is reportedly not short-listed for the role.

What's
Smash: The Musical

Like?
Musical writers Julia and Tom create Bombshell, a musical based on Marilyn Monroe that is heading to Broadway. This show-in-a-show charts the budding romance of the the lead actors against a backdrop of success and failure of the stars and writers of the show and the great lengths they will go to, to have things go their way.
Is
Smash: The Musical

Good for Kids?
This is good for children over the age of 16, but the show contains adult content that may not suitable for younger audiences.
Hudson Theatre
145 West 44th Street
New York, NY 10036
Entrance:
44th Street Between 7th Ave and 6th Ave
Theatre Information
Music and Lyrics

Marc Shaiman
Music and Lyrics

Scott Wittman