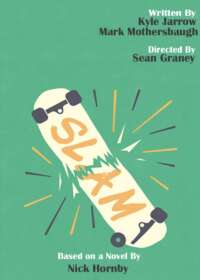 Slam
Broadway Show Tickets: Not Currently Available
Discount Broadway Tickets For Slam - This Show Is Now Shelved
Show Status: Shelved

Genre: Musical

Slam is 2 Hours 25 Minutes long, including an intermission of 15 Minutes

8 Shows per week

Show Closes: Open ended
Based on the 2007 novel of the same name, this musical follows a young man as he comes to terms with teen pregnancy through his passion for skateboarding.
Slam

on Broadway Background
Slam is a heartfelt coming-of-age tale about the dangers of teenage pregnancy, based on a novel of the same name by Nick Hornby.
Influential British Author
Hornby is an influential British author who is best known for his previous novels High Fidelity and About a Boy. In 2004, Hornby was featured in the BBC's list of the top 30 most influential people in British culture. This Broadway adaptation is written by Kyle Jarrow with music by Mark Mothersbaugh.
Jarrow is known for his previous work on Spongebob Squarepants: The Broadway Musical and has adapted the novel's melancholy plot into an earnest message of hope and reproductive safety for younger audiences.
Mothersbaugh is a musical icon and co-founder of the 70's new-wave band Devo who livens up the show with his synth-based hooks and melodies. The show features ambitiously choreographed skateboard performances, thanks to the addition of Tony Hawk as a consultant on the creative team.
The sixteen year old protagonist Sam Wheeldon lives in London and grows up with a passion for skateboarding and for his young mother, Annie, who is barely older than himself. His father is MIA and long-time estranged from the small, young family.
In this coming-of-age musical Sam gets a few hard knocks on the harsh realities of his past actions and the pain that the world can inflict upon him, all told through a skateboarding parlance of tricks, grunge and concrete. After Sam gets his young girlfriend pregnant, it seems like history is repeating itself and his life seems set on a course for destruction.
When we join him later in life, he has been separated by years of exclusion from his son and the hard slog of a working life, with all his childish pastimes long put away. He wakes up next to his new girlfriend and in a panic recounts his past experiences and missed opportunities.
After receiving some fateful news, and with encouragement from his mother, Sam rediscovers his passion for skateboarding that ultimately leads him back to his son and the happiness that he has long yearned for. If only the three women in his life could all be there, then his life would be complete. But life has a habit of giving you what you need and not what you want.
Though the show is fun and upbeat, it features a meaningful message about the dangers of unprotected sex. The show is not recommended for children under the age of 12 due to the sexual topics discussed.
Vivian Beaumont Theatre
150 West 65th Street
New York, NY 10020
Entrance:
65th Street, between 10th and Broadway
Theatre Information
Press Agent

Boneau/Bryan-Brown
Music & Lyrics

Kyle Jarrow
Music & Lyrics

Mark Mothersbaugh
Based on A Novel By

Nick Hornby