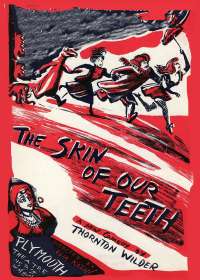 Skin of Our Teeth
Discount Tickets and Show Information
Discount Broadway Tickets For Skin of Our Teeth
Skin of Our Teeth

Summary
Show Status: Opening Soon

Genre: Play

Skin of Our Teeth is 2 hours long, including an intermission of 15 minutes

8 Shows per week

Previews Begin: March 31, 2022

Show Opens: April 25, 2022

Show Closes: June 12, 2022
Thornton Wilder's Pulitzer Prize-winning dark comedy about a family's spirit to survive under trying times
Skin of Our Teeth

on Broadway Background
Thornton Wilder's Pulitzer Prize-winning dark comedy from 1943 returns to Broadway with a new energy and a new purpose.
The show originally appeared on Broadway at the Plymouth Theatre in November 1942 and was produced by Michael Myerberg and directed by Elia Kazan.

The comedy/play is a three-part allegory about the life of mankind. When first performed it broke many established theatrical conventions. The book has many uncredited similarities with James Joyce's novel Finnegans Wake, which was published two years before Wilder's Skin of Our Teeth.
What's
Skin of Our Teeth

Like?
The lives of the Antrobus family from Excelsior, New Jersey spans many time periods and during this time they experience apocalypse after another apocalypse. The disasters that befall them include the Ice Age, Noah's biblical flood, world war, famine and AIDS.
These frightful events keep happening over and over again and the only constant is the family's spirit to get up again and keep going. Their zeal to recover speaks to the indominable human spirit.
The family's maid serves as the eternal cynic with a monologue at both the start and end of the show that serves to remind us that we cannot quiet these voices, but can only use them to help drive us forward.
Is
Skin of Our Teeth

Good for Kids?
The show does not contain any material that would be harmful to children, but the subject matter of the show is adult themed and deals with many existential issues of why 'we are here?' and 'who are we?'
Vivian Beaumont Theatre
150 West 65th Street
New York, NY 10020
Entrance:
65th Street, between 10th and Broadway
Theatre Information
Director

Lileana Blain-Cruz
Costumes

Montana Levi Blanco