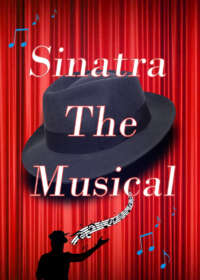 Sinatra The Musical
Broadway Show In Development
Sinatra The Musical is in Development
Sinatra The Musical

Summary
Show Status: In Development

Genre: Musical

Sinatra The Musical is 2 Hours 15 Minutes long, including an intermission of 15 Minutes

8 Shows per week

Show Closes: Open ended
New Year's Eve 1942 as a 27-year-old Frank Sinatra readies himself to step on the stage of the famed Paramount Theatre in NYC. The musical follows his ascendency to fame, the ups and downs of his marriage to Nancy, his affair with Ava Gardner, blows to his career and his determination for a comeback.
Sinatra The Musical

on Broadway Background
Sinatra the Musical is a bio-musical, which follows the life and works of the multi-talented and legendary crooner, Frank Sinatra. A musical biography encapsulating the life of Frank Sinatra, who is one of the most influential and successful music artists of the 20th century.
Sinatra was a handsome, confident high achiever in the 1950's and 1960's, who is also a best-selling musical artist and an Oscar and Golden Globe winning actor, but who is all but forgotten now.
Sinatra Family Overly-Protected The Frank Sinatra Brand For Years
Frank Sinatra is not well known among young people due to the over-protection that his family perceived to the correct course of action for his brand since his death in 1998 at the age of 82.
While saying no to every project may have seemed like a smart choice at the time, it made the Sinatra brand no longer relevant in modern society and Frank Sinatra has largely been forgotten.
Ironically This was one of the fears that Frank Sinatra had for the type of music that he honed, the slick crooner style. His fears may now have come to pass as he long-ago predicted for his type of music, but not through any fault of his own.
The 2010 Come Fly Away Musical Was Only Allowed To Use His Original Songs
While this new show on Broadway is the first appearance of a Sinatra character and songs, there have been other attempts at Broadway shows and Broadway-like renditions of his works. Those have included; Come Fly Away which was a 2010 Broadway musical that featured Sinatra's greatest hits set to a dance-only show.
The Sinatra family would only allow the 2010 show to go ahead if no spoken words were used. Sinatra's songs were set to amazing choreography that tried to make up for the indiscernible narrative that they attempted to weave through dance and Sinatra's hits.
The show was a disaster both critically and at the box office and the Sinatra family was able to sidestep the blame.
My Way: A Musical Tribute to Frank Sinatra
Other vehicles for Sinatra's music over the years included: My Way: A Musical Tribute to Frank Sinatra has been performed across the US at various theaters and clubs. My Kind of Broadway is a 1965 studio album produced and sung by the legend himself, which features various songs from famous Broadway musicals.
New Broadway Show Sinatra The Musical
This new show is written by Danny Strong, an up-and-coming screenplay writer and an Emmy Award winning actor himself, and Joe DiPietro, a Broadway stalwart.
Sinatra Only Performed on Broadway Once In His Career
Sinatra himself only performed on a Broadway stage for the 1975 concert special "Frank Sinatra, Ella Fitzgerald, and Count Basie."

Sinatra Family Realizes This Show Approval May Be Too Little, Too Late

Of the musical, Tina Sinatra said in a statement, "I'm excited to work with Universal Music Theatrical on this stage production that we believe will bring audiences new perspectives and insights into my father's renowned music and his enduring legacy."
Despite the statement, the reality is that Sinatra's legacy is only enduring in the minds of aging baby-boomers and his brand may have been reduced to just a footnote in history. This last desperate attempt to make Sinatra relevant, may be far too little, too late.

Sinatra the Musical Premieres in Late 2023 in UK
Sinatra the Musical runs September 23-October 28 at Birmingham Rep. The world premiere production is written by Joe DiPietro and directed by Kathleen Marshall. This has its eye on coming to Broadway via a stint on London's West end.
Sinatra the Musical features more than 25 songs popularized by Frank Sinatra and it explores his rise to fame, marriage to Nancy, affair with Ava Gardner, and the greatest comeback in showbiz history, which is largely unknown or completely forgotten now.
What's
Sinatra The Musical

Like?
Sinatra The Musical follows the late and great Frank Sinatra through his years.
Starting out as a boy growing up in the rough neighborhoods in Hoboken, New Jersey with his Italian mother and father, to his outstanding and legendary singing and acting career and his ultimate path to fame and fortune in Los Angeles.
Sinatra's Famous Songs Featured In The Show
The show features his most famous hits such as; New York, New York, My Way and Fly Me to the Moon, while it delivers a strong narrative of hard work and determination against the odds.
Mafia Connection and a String of Failed Relationships
The show picks up on his questionable relationship with the mafia, his bitterness towards his hometown of Hoboken and his estranged relationships with the ten women in his life, four of whom were his ex-wives; Nancy Barbato, Ava Gardner, Mia Farrow and Barbara Marx.
The show is more than just a jukebox musical as the writer refused to leave out the hard hitting details of Sinatra's life. The show has a better storyline than many of its musical predecessors on Broadway as he had a more creative freedom to deliver a solid show than the previous incarnations.
Is
Sinatra The Musical

Good for Kids?
While children may not be able to recognize the show's songs, this show is able to entertain people of all ages with little mature content.
Frank Sinatra Enterprises:
Director

Kathleen Marshall
Choreography

Kathleen Marshall