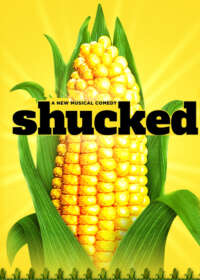 Shucked
Discount Broadway Tickets
Discount Broadway Tickets For Shucked
Show Status: Currently playing at the Nederlander Theatre

Genre: Musical

Shucked is 2 hours 20 minutes long, including an intermission of 15 Minutes

8 Shows per week

Previews Began: March 8, 2023

Show Opened: April 4, 2023

Show Closes: Open ended
Set in the Deep South, a young couple puts their wedding on hold to help save their small town. as the woman leaves home in search of someone who can figure out why all the corn in the county keeps dying

Shucked

on Broadway Background
Pioneer Theatre Company in Salt Lake City, Utah.
In the Fall of 2022 Shucked had a successful a three-week run at the Pioneer Theatre Company in Salt Lake City, Utah.
Songs Written By Nashville Hitmakers Brandy Clark & Shane McAnally
Clark and McAnally collectively have earned three Grammy Awards and 18 Grammy nominations.
Their songs have been sung by Kacey Musgraves' Miranda Lambert, The Band Perry's, Hailey Whitter, Ashley McBryde, John Legend, Blake Shelton, Kenny Chesney, Keith Urban, George Strait, Luke Bryan, Miranda Lambert, Halsey, Gwen Stefani, the Jonas Brothers, Reba and many others.
Jack O'Brien: Director
Jack O'Brien's most recent Broadway directing credit is the 2019 revival of "All My Sons." His directorial career spans more than six decades and includes the 1969 revival of "Cock-A-Doodle Dandy," the 1994 revival of "Damn Yankees," "The Full Monty," "Dirty Rotten Scoundrels" and" "Charlie and the Chocolate Factory."
O'Brien's three Best Director Tony Award wins were earned for his work on "Hairspray," the 2004 revival of "Henry IV" and "The Coast of Utopia."

Robert Horn: Bookwriter
Horn has written the book for "13" and "Tootsie," the latter for which he won a Tony Award. He also provided additional material for "Dame Edna: Back with a Vengeance."

A hilarious and audacious farm-to-fable musical about the one thing Americans everywhere can't get enough of: corn. A plucky small-town woman leaves home in search of someone who can figure out why all the corn in the county keeps dying. She meets a big-city con man and heconcocts a plan to swindle the desperate farmers.
Shucked is the new musical comedy that proves sometimes tearing down a few walls, rather than growing them, is the only way to preserve our way of life."

Is
Shucked

Good for Kids?
The show is light and bright, but isn't made for kids as there is mild cursing and some sexual innuendo, but most of it would go over their heads anyway.

Shucked

Ticket Lottery and Rush Schedule

Every day there are discounted Broadway show tickets sold as part of the Broadway ticket lotteries or as Rush Tickets Tonight. Tickets are only valid on-the-same-day of the drawing. The following is the daily schedule of the ticket lottery and RUSH ticket pricing.
Online Lottery
Monday, 8:00am
Tuesday, 8:00am
Wednesday, 8:00am
Thursday, 8:00am
Friday, 8:00am
Saturday, 8:00am
General Rush
Tuesday, 10:00am
Wednesday, 10:00am
Thursday, 10:00am
Friday, 10:00am
Saturday, 10:00am
Sunday, 10:00am
Nederlander Theatre
208 West 41st Street
New York, NY 10019
Entrance:
41st Street between 7th and 8th avenues
Theatre Information
Shucked Marquee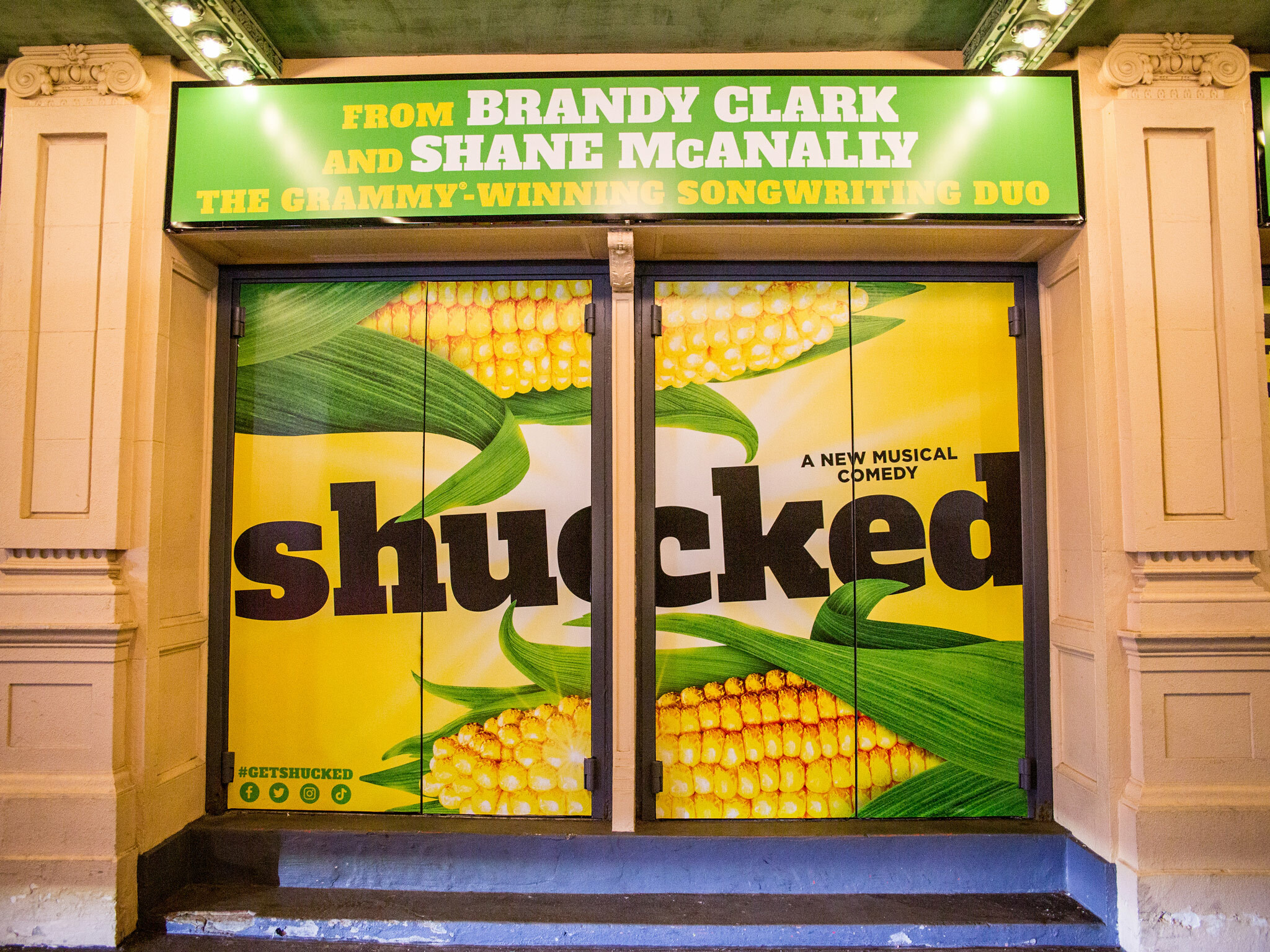 Maizy

Caroline Innerbichler
Storyteller

Ashley D. Kelley
AEG Presents / Jay Marciano / Gary Gersh
Choreography

Sarah O'Gleby
Music Supervision

Jason Howland
Music Direction

Jason Howland
Orchestrations and Arrangements

Jason Howland
Music and Lyrics

Brandy Clark
Music and Lyrics

Shane McAnally