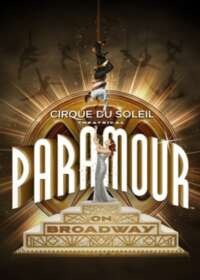 Paramour: Cirque du Soleil
Broadway Show Tickets: Show Closed No Longer Available
Paramour: Cirque du Soleil on Broadway: Show Is Now Closed
Paramour: Cirque du Soleil

Summary
Show Status: Closed

Genre: Special Event

Paramour: Cirque du Soleil is 2.5 Hours long, including an intermission of 15 Minutes

7 Shows per week

Previews Began: April 16, 2016

Show Opened: May 25, 2016

Show Closed: April 16, 2017
Paramour is the new Cirque du Soleil show, and the first Cirque du Soleil show that was created with Broadway originally in mind in the original conception of the show. It bridges the traditional Cirque du Soleil circus style with riveting acrobatics and spectacle, along with the traditional Broadway concept of a plot driven love story. The story deals with a beautiful young poet who is forced to make a decision between love and art.
Paramour: Cirque du Soleil

on Broadway Background
The show will be held in the enormous Lyric Theatre (which was previously known as the Foxwoods Theatre, and before that the Hilton Theatre), which is also where large scale musicals such as Spiderman: Turn Off the Dark have been held. The theatre is perfect for this show which will incorporate sweeping spectacle and take advantage of the full height and size of the gigantic venue. Cirque du Soleil has previously entered the Broadway market with such shows as Banana Shpeel in 2010 and Zarkana in both 2011 and 2012. Furthermore the Cirque show Wintuk played in Madison Square Garden during four holiday seasons 2007 to 2010. The show is directed by Philippe Decouflé, the French stage director and choreographer who has choreographed for the Lyon Opera Ballet, the opening and closing ceremonies for the 1992 Winter Olympics in Albertville, France, the 2007 Rugby Union World Cup Parade in Saint-Denis, Paris, and the Cirque du Soleil show Iris based in Los Angeles.
What's
Paramour: Cirque du Soleil

Like?
Not only is Paramour an exciting new work that combines the best of both Cirque du Soleil's stunts and the drama of Broadway, but it has an excellent creative team behind it. Paramour has an outstanding company of 38 actors, aerialists, dancers, acrobats and circus arts performers. The principal roles are played by experienced theatre actors including Ruby Lewis and Bradley Dean, and the company underscores the drama with gorgeous spectacle. Paramour is a groundbreaking work from the extremely successful masters of circus arts, as it will blend the best of both classic Cirque du Soleil and story driven Broadway theatre. All in all, this is an incredible show to see on Broadway, and is enjoyable for the entire family.
Is
Paramour: Cirque du Soleil

Good for Kids?
Yes, the show is appropriate for children and adults both to enjoy, although very young children may be frightened by the special effects. Children under the age of 4 will not be permitted in the theatre.
Lyric Theatre
213 West 42nd Street
New York, NY 10036
Entrance:
There are two entrances to this theatre: 42nd Street, between 7th and 8th Ave and 43rd Street, between 7th and 8th Ave
Theatre Information
Paramour: Cirque du Soleil Marquee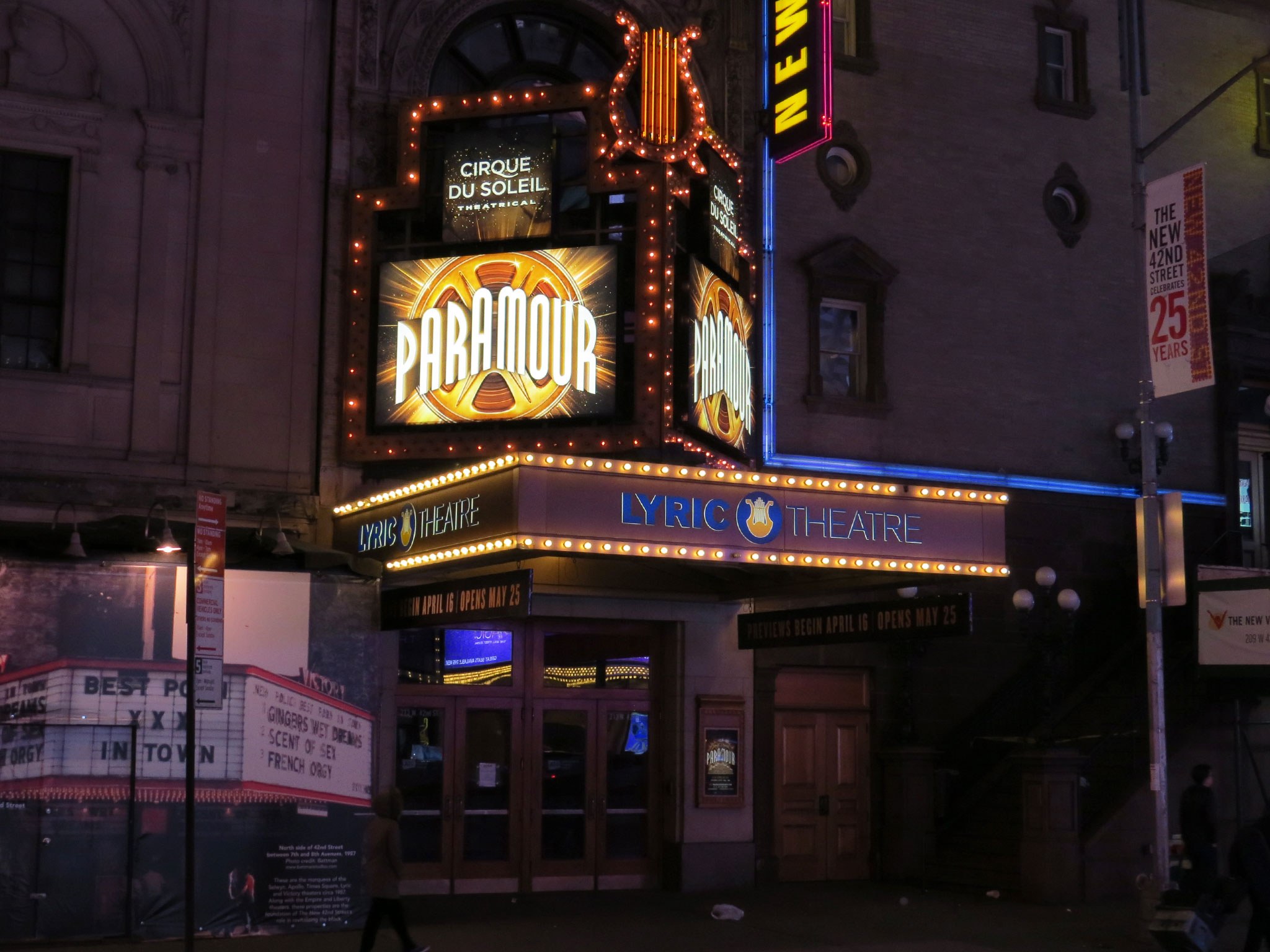 AJ Golden

Jeremy Kushnier
Direction

Philippe Decouflé
Scenic Design

Jean Rabasse
Costume Design

Philippe Guillotel
Lighting Design

Patrice Besombes
Sound Design

John Shivers
Choreography

Daphné Mauger
Associate Creative Direction

Pascale Henrot
Scene Direction

West Hyler
Props Design

Anne‐Séguin Poirier
Creative Guide

Jean-François Bouchard
President and Managing Director

Scott Zeiger
Casting Director

Cesar A Rocha at Telsey + Company
Projection Designer

Christophe Waksmann
Acrobatic Choreographer

Shana Carroll
Acrobatic Performance Designer

Boris Verkhovsky
Press Agent

Boneau Bryan-Brown
Rigging and Acrobatic Equipment Designer

Pierre Masse
Makeup Designer

Nathalie Gagné