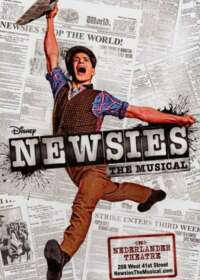 Newsies
Broadway Show Tickets: Show Closed No Longer Available
Newsies on Broadway: Show Is Now Closed
Show Status: Closed

Genre: Musical

Newsies is 2.5 Hours long, including an intermission of 15 Minutes

8 Shows per week

Previews Began: March 15, 2012

Show Opened: March 29, 2012

Show Closed: August 24, 2014
Set at the turn of last century in New York City, Newsies tells the story of newsboy Jack Kelly as he leads his young compatriots on a strike.
Newsies

on Broadway Background
Initially Newsies was only scheduled for a brief, 12-week run, from March 15-June 10, 2012. That made for a total of 101 performances, reportedly just enough for Disney to break even on its financial investment, which is substantially less than its previous extravaganzas like Beauty and the Beast and The Lion King.
Disney wasn't looking to turn Newsies into a Broadway hit so much as hoping to make it a prime musical for licensing to high schools and theaters around the world (being able to say that the show ran on Broadway is good for marketing). The popularity of the 1992 live-action film on which the musical is based has had Disney inundated with requests for the rights to license it for the stage for years. Though it was a box office flop, the movie gained an enormous cult following on video, and people (particularly teenage girls) continue to discover the movie. This puts the Newsies fan base in the 15 to 35 year old range, a group that might not have the money to buy Broadway tickets priced in the $93-$135 range. This means that Newsies' biggest fans were at risk of being shut out of seeing their favorite musical finally make it to Broadway due to lack of discount options.
However, Disney did not rule out the possibility of extending Newsies' Broadway engagement. The pre-Broadway run at the Paper Mill Playhouse was quite successful, gaining positive reviews and suspending most discounts after opening. With so much pre-Broadway buzz, the 101 performances quickly began to sell out, and Disney finally announced that they were extending Newsies' run through the summer of 2012 before the show had even opened yet. Since then, Newsies officially switched to an open-ended run and has enjoyed significant popularity (particularly with family audiences) on Broadway. In addition to making its original movie-derived fan base happy, the Broadway version has created a whole new generation of Newsies fans.
It took 20 years, but the flop-turned-cult hit movie Newsies is finally on Broadway. Stirring ensemble numbers like "Carrying the Banner," "The World Will Know," and "Seize the Day" (the score is penned by Alan Menken and Jack Feldman) are as good as ever, and all the more exciting in a live setting with an energetic cast of talented young singer-dancers. Several new songs (most of which are fine if not remarkable on first hearing) have been added to fill out the show, many existing songs have had lyric changes, and there are a number of plot and character alterations. While not all of the changes seem necessary, most serve the story fairly well. Newsiesis not without weaknesses, but overall it is an enjoyable and inspiring real-life tale with phenomenal dancing and great songs -- a perfect musical for the whole family.

Is
Newsies

Good for Kids?
Children under the age of 4 are not permitted in the theatre.
Nederlander Theatre
208 West 41st Street
New York, NY 10019
Entrance:
41st Street between 7th and 8th avenues
Theatre Information
Newsies Marquee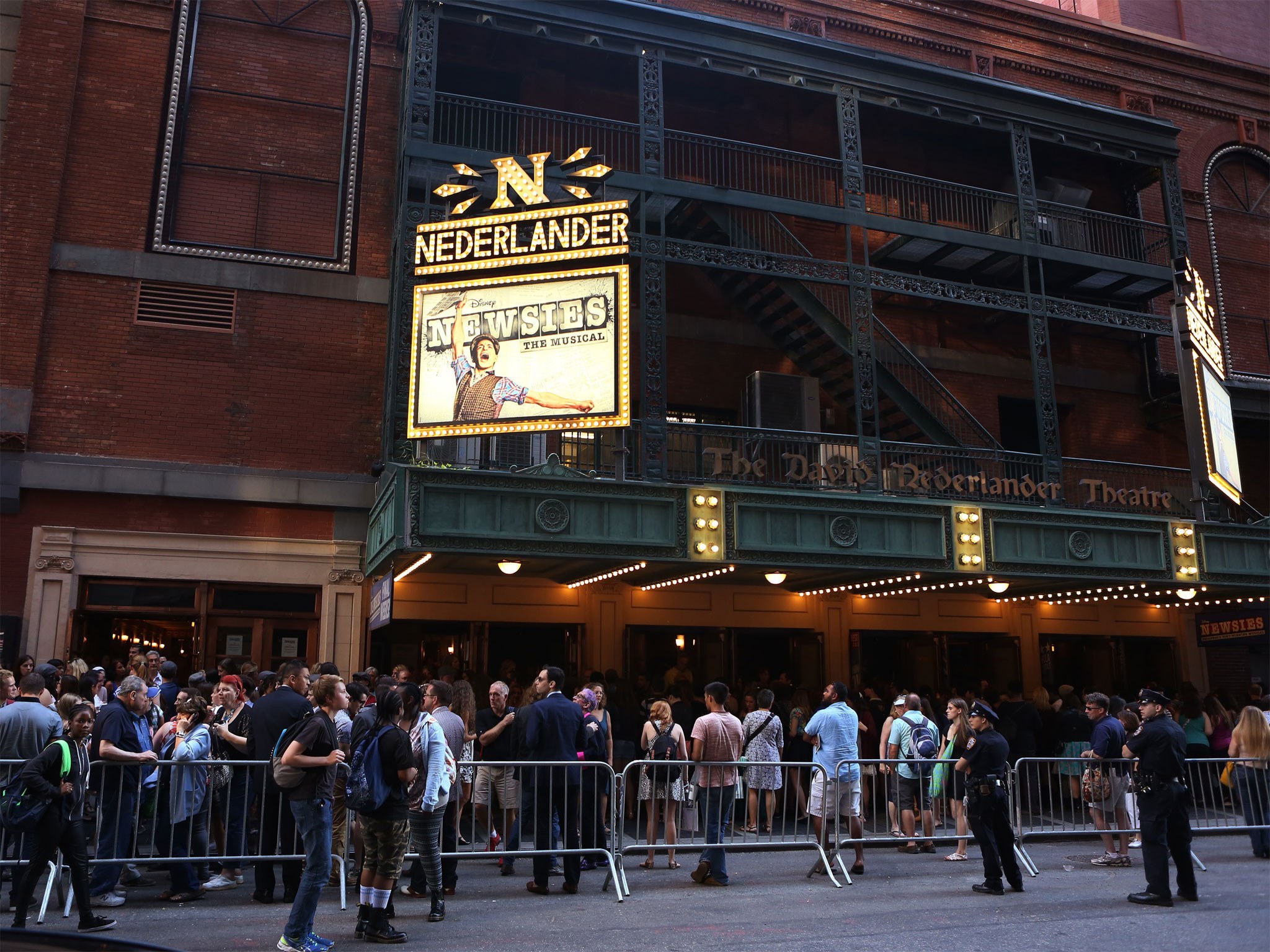 Joseph Pulitzer

John Dossett
Katherine Plumber

Liana Hunt
Medda

Lavon Fisher-Wilson
Disney Theatrical Productions
Choreography

Christopher Gattelli
Costume Design

Jess Goldstein
Lighting Design

Jeff Croiter
Projection Design

Sven Ortel
Musical Supervision, Vocal and Incidental Music Arrangements

Michael Kosarin
Orchestrations

Danny Troob
Musical Direction

David Holcenberg
General Manager

Anne Quart at Disney Theatrical Productions
Company Manager

Eduardo Castro at Disney Theatrical Productions
Casting Director

Telsey + Company
Advertising Representative

Serino Coyne
Senior Publicist

Dennis Crowley at Disney Theatrical Productions
Associate Publicist

Michelle Bergmann at Disney Theatrical Productions
Production Stage Manager

Thom Gates